MinistryWatch's Top 10 Stories for the Month of June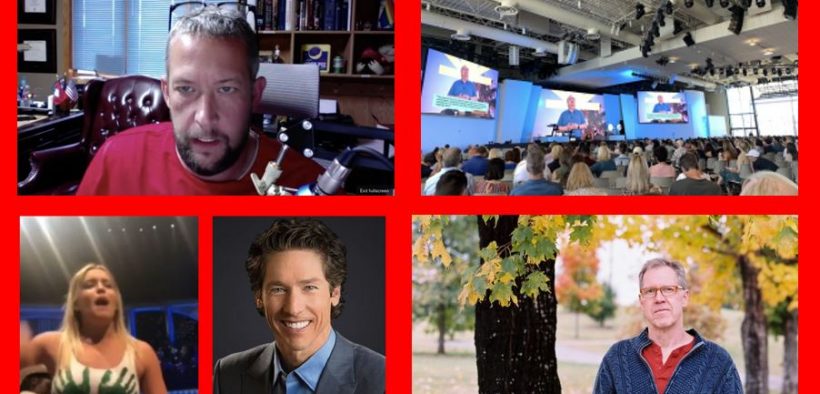 The following stories had the most page views at the MinistryWatch website during the month of June. We present them here in a "countdown" format, from 10 to 1. The first few sentences of each story are reproduced below. To read the entire story, click on the link. To read the Top 15 stories of 2021, click here.
10. GRACE Report Finds Allegations of Sexual Grooming and Abuse by Dove-Winning Musician Chris Rice to be Credible
A report on an 18-month investigation by the independent group Godly Response to Abuse in the Christian Environment (GRACE) details how Dove Award-winning Christian musician Chris Rice groomed and sexually abused a teen boy at Tates Creek Presbyterian Church, a Presbyterian Church in America congregation in Lexington, Kentucky. Rice declined to speak with GRACE investigators. The report says the grooming and abuse went on for eight years, but the teen victim didn't realize it constituted abuse or report it until Tates Creek launched a GRACE investigation in 2019 that looked into Brad Waller, one of its former pastors. That investigation concluded that Waller, who introduced Rice to the congregation, had engaged in misconduct through inappropriate touching. In a public statement about the 2022 GRACE report, Senior Pastor Robert Cunningham was contrite. "I want to begin by publicly confessing our institutional failures that surfaced," he wrote.
9. SBC Leaders Respond to Pride Month Tweet by Guidepost Solutions, Firm Used to Investigate SBC Sexual Abuse Allegations
Guidepost Solutions, the firm leading the Southern Baptist Convention (SBC) investigation into sexual misconduct allegations, tweeted support for the LGBTQ+ movement June 6 as part of "Pride" month, first designated by President Bill Clinton to celebrate homosexuality and other related lifestyles. The tweet stated, "Guidepost is committed to strengthening diversity, equity and inclusion and strives to be an organization where our team can bring their authentic selves to work. We celebrate our collective progress toward equality for all and are proud to be an ally to our LGBTQ+ community." Guidepost Solutions also has led investigations into allegations at other high-profile ministries, including Christianity Today, RZIM, Preemptive Love Coalition, and Summit Church.
8. After Church Shooting, Iowa Pastor Tells Stunned Flock 'God is Near to the Broken Hearted'
At a Friday morning prayer service (June 3), stunned and shattered worshippers gathered to weep, pray, sing, and mourn two young women killed at an Iowa church. The service was hours after a fatal shooting in the parking lot of Cornerstone Church in Ames, Iowa, home to Iowa State University. The shooting occurred on the night of the first summer gathering of the Salt Company, a ministry for college students. About 80 students were at the church that night. Church leaders did not identify the women who were killed, citing the ongoing investigation. "But I want you to know, even though people aren't named, it's not because they're not known," Mark Vance, lead pastor of Cornerstone, told mourners during the livestreamed prayer service.
7. Saddleback Remains Southern Baptist for Now, After Surprise Appeal by Rick Warren
One of the nation's best-known pastors made a surprise visit to the floor of the annual meeting of the Southern Baptist Convention. Rick Warren, author of the "Purpose Driven Life" and pastor of Saddleback Church—one of the denomination's largest churches—told delegates from local churches, known as messengers, that he was grateful for the SBC. "I love Southern Baptists," he said. He then urged Southern Baptists to set aside their differences and work together to spread the gospel around the world. Warren also said Baptists are able to overcome all kinds of theological differences and still work together. Warren's appeal came as members of the nation's largest Protestant denomination were considering expelling Saddleback for violating a ban on woman pastors.
6. Pro-Life Speaker's Career Unravels over Unverified Sexual Assault Claim
2022 was supposed to be a big year for Jennifer Christie and her ministry Love Louder. Her story of giving birth to a child conceived through rape was set to be published in a book from Focus on the Family and Tyndale House, and she signed a contract with Ambassador Speakers Bureau. Now, the book and speaking contract have been cancelled, and Abby Johnson, the pro-life speaker and author whose story was told in the 2019 movie Unplanned, has switched from being one of Christie's most visible supporters to publicly criticizing her and warning people away from supporting her financially.
Access to MinistryWatch content is free.  However, we hope you will support our work with your prayers and financial gifts.  To make a donation, click here.
5. Pro-Abortion Protestors Interrupt Joel Osteen Church Service
Three activists with a Texas pro-abortion group interrupted a service at Joel Osteen's Houston megachurch by stripping to their underwear and shouting "my body, my choice," "Overturn Roe, Hell no," and other epithet-laced slogans. Under their clothing, the women wore white sports bras with green handprints on the breasts. The activists, part of the group Rise Up 4 Abortion Rights, were protesting the possibility of the Supreme Court overturning Roe v. Wade. The women continued their protest outside after they were escorted from the church to cheers and applause from the congregation, The New York Post reported.
4. Wheaton College Joins other Large Ministries in Resigning from ECFA
The last couple of years have included several major Christian ministries and institutions voluntarily resigning their membership in the Evangelical Council for Financial Accountability (ECFA). The latest to resign on May 31 is Wheaton College, a well-known institution of Christian higher education located about 25 miles west of Chicago. It joins recent resignations by The Master's University, Bethany Christian Services, the Gospel Coalition, and the Christian Research Institute. A representative from ECFA confirmed Wheaton's voluntary resignation. It had been a member of and accredited by ECFA since 1980.
3. Presbyterian Church in America Votes to Leave National Association of Evangelicals
Commissioners for the Presbyterian Church in America approved a motion to leave the National Association of Evangelicals on June 22 at the PCA's General Assembly in Birmingham, Alabama. It's the third time in the past decade the theologically conservative Presbyterian denomination has considered a measure to leave the association, an umbrella organization of 40 evangelical Christian denominations. The decision comes at a time when the head of the NAE serves a PCA congregation.  
2. The Top Six Risky Habits of Pastors in Trouble
OPINION – Over the years I've helped quite a number of churches, ministries, and nonprofits navigate the confusing maze of communicating the news of a fallen pastor or leader to the congregation, ministry partners, donors, and the general public. During that time, I've discovered a certain pattern of behavior from leaders who fail. I'm not a psychologist or counselor, so I'm not addressing the sin, emotional problems, pride, or other issues that lead to a moral collapse, but particularly in the case of pastors and ministry leaders, there are six types of risky conduct I've seen played out time and time again. These behaviors can sometimes go on for years, but I've noticed that at least one of them is almost always in play at the time of his or her fall.
After more than four decades, the pastor of one of the nation's largest and most influential churches is ready to step down. And he has named a young couple to take his place. "This afternoon, at our all-staff meeting held at the Lake Forest campus, I was finally able to publicly announce that we have found God's couple to lead our congregation, and that they have agreed to come!" Saddleback Church pastor Rick Warren told his Orange County, California, congregation in an email June 2. The email included a link to a video featuring Warren and his wife, Kay, along with Andy and Stacie Wood of Echo Church in San Jose, California. Andy Wood, 40, is currently Echo's lead pastor, while Stacie Wood is a teaching pastor. They will have the same roles at Saddleback.