Weekly Review

Nevada Religious Liberty Case, ECFA and MinistryWatch Database Changes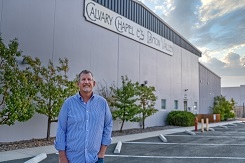 Oral Arguments in Nevada Religious Liberty Case. Alliance Defending Freedom attorneys made oral arguments on Tuesday before the U.S. Court of Appeals for the 9th Circuit in a lawsuit against Nevada Gov. Steve Sisolak that challenges his administration's coronavirus restrictions that treat churches more harshly than other venues, such as casinos.  For months, Sisolak allowed casinos to operate at 50 percent capacity while capping churches at 50 people. That meant a casino with capacity for 2,000 could host 1,000 gamblers, while a church with the same capacity could welcome only 50 worshipers. A later order increased the cap but continued the unequal treatment by allowing casinos and other secular establishments to operate at 50 percent capacity with no cap. And the governor's most recent order restored the 50-worshipper cap.  "Times of crisis do not render the vital protections of the Constitution invalid," said ADF Senior Counsel and Vice President of U.S. Litigation David Cortman, who will argue before the court on behalf of the church. "The government has a duty to respect the First Amendment, so it can't single out churches for harsher treatment than casinos. That's both illogical and unconstitutional."  As ADF attorneys argued in their most recent brief filed with the 9th Circuit, "Restricting religious gatherings for more than five months, with no end in sight, is not a rapidly changing, temporary measure that deserves substantial deference. It is government overreach in clear violation of constitutional principles."
On Today's MinistryWatch Podcast.  Each week, MinistryWatch brings you news about Christian ministries, as well as the latest in charity and philanthropy, news that we examine from a Christian worldview perspective.  Our goal is to help us become better stewards of the resources God has entrusted to us. On today's program, an update on the controversy regarding Carl Lentz and Hillsong Church.  We also examine how the COVID crisis has impacted Christmas outreaches, including Living Nativity Scenes and Singing Christmas trees.  We'll talk about how churches are adjusting.  And we have the latest in our Generous Living series.  The story of a man who died in 2015 whose legacy of generosity is still being felt today.  You can hear the podcast on iTunes, Spotify, Stitcher, and other podcast apps, or you can simply click here.
Access to MinistryWatch content is free.  However, we hope you will support our work with your prayers and financial gifts.  To make a donation, click here.
MinistryWatch Extra with Don Sweeting.  On this week's MinistryWatch Extra episode:  the president of Colorado Christian University, Dr. Don Sweeting.  Don Sweeting is a long-tenured veteran in Christian higher education leadership.  Before taking over the presidency of Colorado Christian University in 2016, he was the president of Reformed Theological Seminary's Orlando campus.  He also spent many years as a pastor in the Evangelical Presbyterian Church.  He holds degrees from Moody Bible Institute, Oxford University, and Trinity Evangelical Divinity School.  He has also served on the board of the National Association of Evangelicals.  Higher education, especially Christian higher ed, is facing daunting challenges, and the health of Christian colleges and universities are vital to the health of both the pastoral and lay leadership of the church.  That's why my interview with Don Sweeting is one of a series of interviews I have done with Christian college presidents, and why we have started tracking Christian colleges in the MinistryWatch database.  You can hear that conversation here.
Ministries Making A Difference. I want to highlight a new feature on the MinistryWatch website.  Every Monday, Christina Darnell is going to compile ministry news into a column called "Ministries Making A Difference."  This is sort of like our Shining Light articles, but much shorter, and she'll often mention 4 or 5 ministries in every column.  It's one more way we can now highlight the great work Christian ministries are doing in the world.  You can read this week's column here.
ECFA Changes.  The following organizations have had membership status changes in the Evangelical Council for Financial Accountability.  ADDITIONS: Center in Midland (Midland, Penn.), New Community Church (Maple Valley, Wash.), Made to Flourish (Overland Park, Kans.), Global Year (Woodstock, Ga.), Women's Resource Medical Centers of Southern Nevada (Las Vegas, Nev.), Good News at Noon (Gainesville, Ga.), The Good Story Co. (Lynchburg, Va.),    REMOVALS:  Presbyterian Church in America Foundation (Lawrenceville, Ga.), John Muratori Ministries (Bristol, Conn.), The Walk Church USA (Ft. Worth, Tex.)
MinistryWatch Database Changes.  MinistryWatch now has more than 720 ministries in its database.  These ministries represent more than $29-billion in total revenue, most of that donor revenue from evangelicals. The following ministries have their profiles updated with the most recent year's financial data.  The Financial Efficiency rating of each ministry is in parenthesis. If this rating represents a change from the previous year, that change is noted: Alliance for Children Everywhere (Down from 2 to 1 Star, Transparency Grade: A), Georgia Right to Life (2 Stars, Transparency Grade: N/A), God TV (3 Stars, Transparency Grade: N/A), Harding University (Up from 3 to 4 Stars, Transparency Grade: C), Institute in Basic Life Principles / Bill Gothard (1 Star, Transparency Grade: C), New Orleans Mission (4 Stars, Transparency Grade: N/A), SIL International (Down from 4 to 3 Stars, Transparency Grade: N/A). The following ministries have been added to the MinistryWatch database with the most recent year's financial data: Bethel University, Minnesota (2 Stars, Transparency Grade: C), Belhaven University (4 Stars, Transparency Grade: C), Corban University (3 Stars, Transparency Grade: C)