50 Largest Missions and Bible Translation Organizations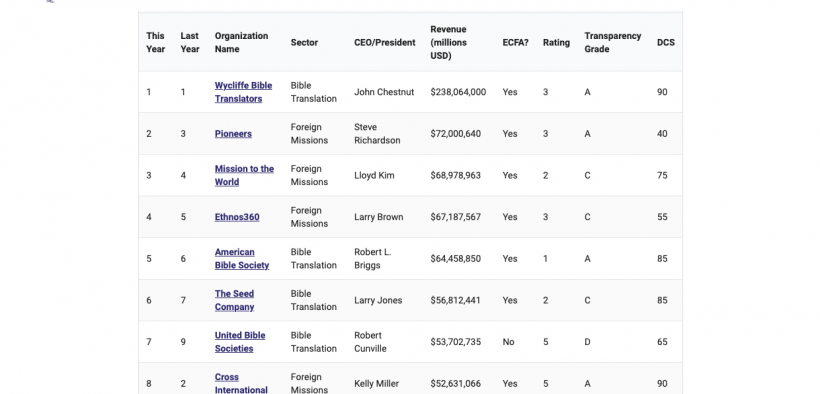 Below is a list of the largest foreign missions and Bible translation organizations in the country.  In addition to the name and revenue, you will also find MinistryWatch's Financial Efficiency Rating (1 to 5, with 5 being the highest), and the organization's Transparency Grade and Donor Confidence Score.  You can find more information about the ministries by clicking the ministry's name.  That will take you directly to the ministry's profile in the MinistryWatch 1000 database.
The MinistryWatch database has a number of categories that include missions organizations.  We have therefore included Bible translation organizations, missionary organizations, and some evangelism and support organizations.  However, we have not included evangelistic organizations that may operate globally, but are primarily US organizations.  
The size of missions organizations is growing.  Last year, revenue of $11 million would land you on the list.  This year, the smallest organization on the list has nearly $14 million in revenue.
This is the second year we have published this list, so we have also included last year's ranking on this year's list.  That is not to suggest that "bigger is better" or that an organization that has risen or fallen has problems.  However, any time we see significant changes in an organization, we think it is important to pause and ask:  why?  
Biggest Movers.  To that end, we note that the biggest mover on the list this year is Biblica, rising from 40 to 23.  Other big movers on this list (those who moved at least five places) are:  Cross International (falling from 2 to 8), TEAM (falling from 13 to 18), International Cooperating Ministries (falling from 19 to 29), One Mission Society (falling from 24 to 37), World Gospel Mission (falling from 27 to 40), Christar (rising from 49 to 41), and Partners International (falling from 33 to 45).
First Timers.  Organizations appearing on the list for the first time this year include:  Mission Of Hope Haiti, Family Legacy Missions International, English Language Institute in China, Glory of Zion International Ministries, Preemptive Love Coalition, YWAM Ships Kona, Mennonite Economic Development Associates, and The Timothy Initiative.
Dropped From List.  Organizations that dropped off the list this year include:  Kids Alive International, E3 Partners Ministry, Iris Global, Biblical Ministries Worldwide, Far East Broadcasting Company, and OC International.
A Word About Timing.  This information comes from the most recent Form 990 available, and the Internal Revenue Service has been in the news lately for its slow processing of Form 990s.  (You can read our story on this subject here.)   For most ministries on this list, the most recent year available was 2020. For a few ministries, the most recent year is 2019 or older.  To read the complete profile of the ministries (and learn which year's numbers we are using), click on the name of the ministry.  That link will take you to the ministry's profile in the MinistryWatch database.
| This Year | Last Year | Organization Name | Sector | CEO/President | Revenue (millions USD) | ECFA? | Rating | Transparency Grade | DCS |
| --- | --- | --- | --- | --- | --- | --- | --- | --- | --- |
| 1 | 1 | Wycliffe Bible Translators | Bible Translation | John Chestnut | $238,064,000 | Yes | 3 | A | 90 |
| 2 | 3 | Pioneers | Foreign Missions | Steve Richardson | $72,000,640 | Yes | 3 | A | 40 |
| 3 | 4 | Mission to the World | Foreign Missions | Lloyd Kim | $68,978,963 | Yes | 2 | C | 75 |
| 4 | 5 | Ethnos360 | Foreign Missions | Larry Brown | $67,187,567 | Yes | 3 | C | 55 |
| 5 | 6 | American Bible Society | Bible Translation | Robert L. Briggs | $64,458,850 | Yes | 1 | A | 85 |
| 6 | 7 | The Seed Company | Bible Translation | Larry Jones | $56,812,441 | Yes | 2 | C | 85 |
| 7 | 9 | United Bible Societies | Bible Translation | Robert Cunville | $53,702,735 | No | 5 | D | 65 |
| 8 | 2 | Cross International | Foreign Missions | Kelly Miller | $52,631,066 | Yes | 5 | A | 90 |
| 9 | 8 | SIM USA | Foreign Missions | Randy Fairman | $52,011,908 | Yes | 3 | C | 85 |
| 10 | 11 | Mission Aviation Fellowship | Evangelism Support | David Holsten | $48,856,443 | Yes | 1 | C | 85 |
| 11 | 10 | Wycliffe Associates | Bible Translation | Semoun Ung | $45,959,337 | No | 2 | D | 70 |
| 12 | 15 | Reliant Mission | Foreign Missions | Thomas Mauriello | $42,978,281 | Yes | 3 | C | 65 |
| 13 | 12 | SIL International | Foreign Missions | Michel Kenmogne | $38,901,371 | Yes | 2 | A | 80 |
| 14 | 14 | Trans World Radio | Foreign Missions | Lauren Libby | $37,459,018 | Yes | 2 | C | 80 |
| 15 | 18 | WorldVenture | Foreign Missions | Jeff Denlinger | $37,346,487 | Yes | 4 | C | 55 |
| 16 | 17 | Frontiers | Foreign Missions | Bob Peckham | $36,734,007 | Yes | 3 | A | 70 |
| 17 | 16 | Reach Beyond | Foreign Missions | David Johnson | $36,171,859 | Yes | | D | 65 |
| 18 | 13 | TEAM | Foreign Missions | Dave Hall | $35,474,000 | Yes | 2 | C | 65 |
| 19 | 21 | Jewish Voice Ministries International | Foreign Missions | Jonathan Bernis | $34,001,119 | Yes | 1 | A | 90 |
| 20 | 23 | Open Doors with Brother Andrew | Bible Translation | David Curry | $33,573,578 | Yes | 2 | A | 100 |
| 21 | 20 | World Help | Foreign Missions | Noel Yeatts | $32,940,723 | Yes | 4 | A | 90 |
| 22 | 22 | Operation Mobilization | Evangelism Support | Andrew Scott | $30,503,681 | Yes | 3 | C | 65 |
| 23 | 40 | Biblica | Bible Translation | Geof Morin | $29,753,000 | Yes | 2 | A | 90 |
| 24 | 23 | Africa Inland Mission International | Foreign Missions | Wade Ewing | $27,033,886 | Yes | 4 | C | 60 |
| 25 | N/A | Mission of Hope Haiti | Foreign Missions | Brad Johnson | $26,527,400 | Yes | 2 | A | 85 |
| 26 | 26 | Avant Ministries | Foreign Missions | Scott Holbrook | $26,269,866 | Yes | 2 | C | 65 |
| 27 | 28 | Faith Comes By Hearing | Bible Translation | Jerry & Anet Jackson | $25,880,984 | No | 4 | C | 60 |
| 28 | N/A | Family Legacy Missions International | Foreign Missions | Mario Zandstra | $25,856,655 | Yes | 4 | A | |
| 29 | 19 | International Cooperating Ministries | Foreign Missions | Janice Rosser Allen | $24,773,673 | Yes | 3 | A | 90 |
| 30 | 29 | Christian Missionary Fellowship | Foreign Missions | Kip Lines | $23,890,873 | Yes | 4 | C | 75 |
| 31 | 30 | Greater Europe Mission GEM | Foreign Missions | Jonathan Burns | $22,788,803 | Yes | 2 | C | 85 |
| 32 | 34 | East-West Ministries International | Foreign Missions | Kurt Nelson | $22,352,881 | Yes | 2 | C | 75 |
| 33 | 32 | Bible League International | Evangelism Support | Jos Snoep | $21,999,772 | Yes | 1 | A | 65 |
| 34 | 31 | United World Mission | Foreign Missions | John Bernard | $21,923,384 | Yes | 2 | C | 75 |
| 35 | 35 | Commission To Every Nation | Evangelism Support | Bill Barthelemy | $20,810,919 | Yes | 5 | A | 100 |
| 35 | N/A | English Language Institute in China | Foreign Missions | Tim Davis | $20,773,179 | Yes | 5 | A | 85 |
| 37 | 24 | One Mission Society | Foreign Missions | Bob Fetherlin | $20,609,298 | Yes | 1 | C | 50 |
| 38 | 36 | Serge | Foreign Missions | Mr. Bob Osborne | $19,916,639 | Yes | 4 | A | 90 |
| 39 | 37 | SEND International | Foreign Missions | Warren Janzen | $18,287,946 | Yes | | C | 50 |
| 40 | 27 | World Gospel Mission | Foreign Missions | Dan Schafer | $18,026,255 | Yes | 2 | A | 70 |
| 41 | 49 | Christar | Foreign Missions | Stephen Coffey | $17,583,373 | Yes | 2 | A | 95 |
| 42 | 38 | Pioneer Bible Translators | Bible Translation | Gregory Pruett | $17,435,862 | Yes | 2 | A | 80 |
| 43 | 41 | Global Outreach International | Evangelism Support | John Darnell | $16,971,079 | Yes | 4 | A | 85 |
| 44 | N/A | Glory of Zion International Ministries | Foreign Missions | Charles D Pierce | $16,820,826 | No | 3 | D | |
| 45 | 33 | Partners International | Foreign Missions | Bryson Vogeltanz | $16,650,780 | Yes | 4 | C | 85 |
| 46 | N/A | Preemptive Love Coalition | Foreign Missions | Jeremy Courtney | $14,216,589 | No | 1 | C | 55 |
| 47 | N/A | YWAM Ships Kona | Foreign Missions | Brett Curtis | $14,151,032 | Yes | -2 | A | 65 |
| 48 | N/A | Mennonite Economic Development Associates | Foreign Missions | Dorothy Nyambi | $14,082,886 | No | 2 | C | |
| 49 | 46 | JAARS | Evangelism Support | Woody McLendon | $14,080,218 | Yes | 3 | A | 95 |
| 50 | N/A | The Timothy Initiative | Foreign Missions | Jared Nelms | $13,992,538 | Yes | 3 | A | 95 |