Weekly Review

ECFA Membership Changes, MinistryWatch Database Changes, On This Date At MinistryWatch.com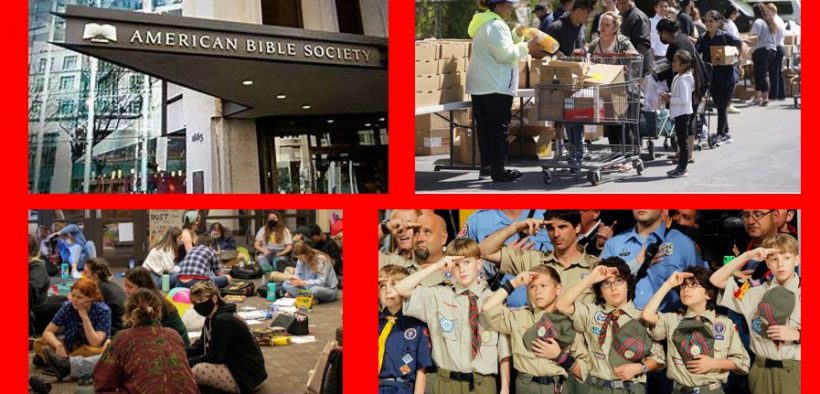 MinistryWatch 1000 Database Changes.  MinistryWatch now has more than 1,000 ministries in its database. These ministries represent more than $35-billion in total revenue, most of that donor revenue from evangelicals. The following ministries have their profiles updated with the most recent year's financial data. The Financial Efficiency rating of each ministry is in parenthesis. If this rating represents a change from the previous year, that change is noted: Jericho Road Ministries (3 Stars, Transparency Grade: A, DCS: 95), Abilene Christian University (1 Star, Transparency Grade: C, DCS: Up 50 to 55), Biola University (3 Stars, Transparency Grade: C, DCS: Up 55 to 70), Catholic Medical Mission Board / CMMB (5 Stars, Transparency Grade: C, DCS: Up 55 to 60), Christian Broadcasting Network / CBN / 700 Club / Pat Robertson (4 Stars, Transparency Grade: A, DCS: Up 50 to 75), Church Doctor Ministries (Down 4 to 3 Stars, Transparency Grade: A, DCS: 70), Covenant House (2 Stars, Transparency Grade: C, DCS: Down 75 to 70), Dare 2 Share Ministries (Up 3 to 4 Stars, Transparency Grade: A, DCS: 95), Food for the Hungry, Inc.  (3 Stars, Transparency Grade: A, DCS: Up 95 to 100), Food For The Poor, Inc.  (4 Stars, Transparency Grade: C, DCS: Up 45 to 50), Frontiers (3 Stars, Transparency Grade: A, DCS: Up 70 to 95), Haven of Rest Ministries – Anderson (5 Stars, Transparency Grade: A, DCS: 95), IF:Gathering (2 Stars, Transparency Grade: A, DCS: 90), Indiana Wesleyan University (4 Stars, Transparency Grade: C, DCS: Up 65 to 70), Interchurch Medical Assistance, Inc. / IMA World Health (4 Stars, Transparency Grade: C, DCS: Up 55 to 65), Orphan Outreach (4 Stars, Transparency Grade: A, DCS: 95), Pepperdine University (1 Star, Transparency Grade: C, DCS: Up 35 to 40), Reaching and Teaching International Ministries (Up 4 to 5 Stars, Transparency Grade: A, DCS: 90), Santa Fe Christian Schools (4 Stars, Transparency Grade: A, DCS: 90), Shepherd's Hope (N/A Stars, Transparency Grade: D, DCS: 60), Tentmakers (Down 2 to 1 Star, Transparency Grade: D, DCS: Down 75 to 70), Young Life (2 Stars, Transparency Grade: A, DCS: Up 75 to 80). The following ministry has been added to the MinistryWatch database with the most recent year's financial data: The New York City Leadership Center / Movement.org (3 Stars, Transparency Grade: A, DCS: 80)
Question of the Week.  We've started a new feature here at MinistryWatch.  Lawyer and non-profit expert Don Kramer answers a reader question about non-profits each week.  This week's question:  Would it be legal to use a recording of our board meeting as the official minutes of the meeting?   The answer:  Probably, but our legal expert Don Kramer says that while it may be legal, it wouldn't be very wise.  Find out why here.
ECFA Changes.  The following organizations have had membership status changes in the Evangelical Council for Financial Accountability.  ADDITIONS:  None  REMOVALS:  None
On This Date At MinistryWatch.com.  TWO YEARS AGO.  On June 23, 2020, Robert Briggs was named president of the American Bible Society, one of the nation's oldest and largest Christian ministries.  Read more here.  ONE YEAR AGO:   The Boy Scouts of America (BSA) reached a settlement with the largest groups of sex-abuse victims.  The deal will require the BSA to put $850-million in a fund that will compensate tens of thousands of victims.  This figure is nearly three times the $300-million the BSA offered earlier this year, a figure victim lawyers called "woefully inadequate."  The deal also signs over all insurance rights to the trust fund, a number that could end up being in the billions of dollars.  Since this announcement, the trust fund has announced other contributors that have taken the total to more than $1 billion.  Read more here.
On the Podcast:  Seattle Pacific, Food Ministries Stressed, and Pro-Life Ministry in the Post-Roe Era.  On today's program, students at Seattle Pacific University end their sit-in for LGBTQ rights, but the controversy at this Christian school is not likely to go away.  And we check in with some prominent pro-life ministries to see how the Dobbs decision, the Supreme Court decision that overturned Roe v. Wade, will impact their work.  We begin today with a report that rapidly rising prices are having a significant impact on ministries that provide food and housing for the poor.  You can hear the podcast on iTunes, Spotify, Stitcher, and other podcast apps, or you can simply click here.
Access to MinistryWatch content is free.  However, we hope you will support our work with your prayers and financial gifts.  To make a donation, click here.
Send Us Your News Tips.  Do you have a story idea for MinistryWatch?  If so, send us an email.  A lot of the stories we do originate from our readers and listeners.  They send us news tips, press releases, emails, questions, and links.  So, if you have a story you'd like us to cover, or a ministry that you think needs a closer look, please email us.  Our email is [email protected].  That will come directly to my desk, and we'll take it from there.  
Salary Data Now In MinistryWatch Database.  We now have salary information for nearly 6,000 executives from more than half of the ministries in the MinistryWatch 1000 database.  So check out this new addition by clicking on the red button at the top of this page, or click here.  That takes you to our database.  The search engine is right there, and you can type in the name of a ministry you're interested in and our profile will pop right up – now, with compensation information for the top executives.
75 Red Flags.  MinistryWatch has released a new free booklet, "75 Red Flags To Consider Before Donating For A Christian Ministry."  To read more, and to download your free, printable copy of the 18-page booklet, click here.
MinistryWatch Video.  A reminder that we have created a short (3.5 minutes) video that explains what we do here at MinistryWatch, and why.  If you're new to MinistryWatch, I hope you'll check it out.  To find it, click here.
MinistryWatch In The News.  In closing, a quick reminder that I was on NBC Nightly News on Thursday to discuss a story we've been following:  Aslan International allegedly defrauded the government of millions in Payroll Protection Plan funds.  You can see that segment here.