TBN at 50: New Faces, More Politics, but Same Old Finance and Board Problems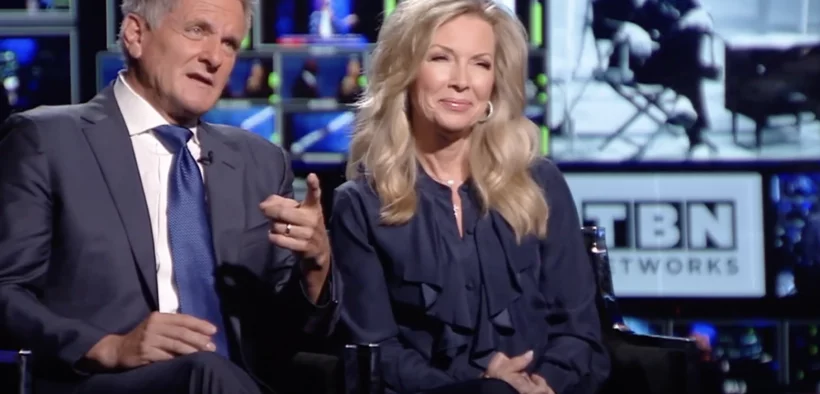 In May, 1973, Paul and Jan Crouch started broadcasting Christian programming a few hours a day from a small TV station in Los Angeles. Fifty years later, Trinity Broadcasting Network claims to be "the world's largest Christian television network," but declines to back up the claim with data.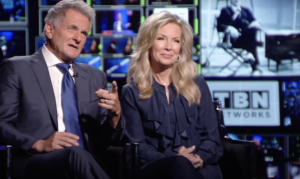 Now, son Matthew Crouch and his wife Laurie run the family-owned empire, which has experienced years of staggering financial losses, all of them covered by corporate assets that were once worth nearly a billion dollars.
Income has steadily declined, from $207 million in 2006 to $96 million in 2020, when TBN reported losses of nearly $27 million.
The new team has made changes in programming—renaming "Praise the Lord," its flagship show, as "Praise," and adding a slew of conservative political shows. But there's no changing the financial and leadership problems that have bedeviled TBN for decades.
TBN's media department did not respond to MinistryWatch's questions, and a publicist with EPIC, which represents the broadcaster, declined to answer any questions about finances, viewership or ratings, and recommended we contact TBN.
New leaders, old problems, continuing losses
Paul Crouch died in 2013. Jan, who sported a massive wig of candy-colored hair, followed in 2016. Matt and Laurie Crouch took their places on TBN's three-member board alongside long-time attorney Colby May. Together, the three earn nearly $2 million a year.
The lack of independent voting board members is one reason watchdogs like Charity Navigator give TBN a failing grade and only 2 of 4 stars. MinistryWatch has long given TBN an F grade on accountability. Its current grade is a D.
Lack of financial transparency is a recurring problem. TBN does not release audited financial statements and declined to release its 990 forms for 2020 and 2021, which are not yet available from the IRS because of backlogs.
But ProPublica's brief summary of TBN's 2020 990 shows that while the ministry had revenues of $96 million, including $49 million in contributions, it lost nearly $27 million.
Access to MinistryWatch content is free.  However, we hope you will support our work with your prayers and financial gifts.  To make a donation, click here.
TBN invested some $70 million in its money-losing Holy Land Experience in Florida, a Jan Crouch pet project, before finally closing the theme park in 2021.
Net assets decreased nearly $20 million from 2019, when TBN sold its California studios and transferred $860 million in assets from Trinity Christian Center of Santa Ana to Trinity Broadcasting Network of Texas, listing the transfer as "contributions." In 2019, TBN of Texas also gave $40 million in grants to Trinity Christian Center of Santa Ana.
It's impossible to know the true financial status of TBN because it operates 15 related tax-exempt organizations in California, Florida, Texas, Washington, Indiana, New York, Arizona, Oklahoma, and Georgia. TBN lists the organizations' addresses but not their names in its 990.
TBN and its leaders also use shell companies to acquire expensive residential properties, further obscuring the ministry's finances. In 2019, TBN acquired a $10.9-million ranch with three houses near Ridgway, Colorado, but did so through Little Papoose Ranch LLC, which is controlled by an Oklahoma attorney that works with TBN. The properties feature custom millwork and metalwork, dry stack stone walls, 100-year-old hand hewn timber walls and beams, rare random width wide plank mesquite flooring, and reproductions of Navajo rugs, woods, linens, wools, and leathers.
Another TBN attorney told a Colorado newspaper that TBN had acquired the remote ranch because Matt and Laurie Crouch "tend to value their privacy." The attorney also said TBN employees would "meld" with the local population, patronize local businesses, and promote the region on their shows. But phone calls to tourism and Chamber of Commerce representatives in Ridgway and nearby Ouray failed to find any evidence of such melding, patronizing, or promoting.
TBN attorney and Board Member Colby May once told The New York Times that spending on  opulent houses "is necessary to convey the ministry's position of accomplishment."
The ministry also owns a mobile home park in Broward County, Florida, and has asked residents—many elderly and on fixed incomes—to leave. "It breaks our heart that they're doing that to your community," said Geoffrey Jacobs, mayor of Pembroke Park.
TBN claims it is "the world's largest Christian television network," "the world's most-watched Christian media outlet," "the World's Largest Faith-and-Family Broadcaster," and "the world's most influential non-profit religious broadcaster."
But it declines to provide any information about viewership or ratings. Meanwhile, Christian Broadcasting Network's income is nearly five times larger than TBN's, and CBN tops MinistryWatch's list of the "50 Largest Media Ministries," where TBN ranks sixth.
Political programming
After Fox News canceled Mike Huckabee's TV show, he took the program to TBN in 2017, where it quickly became the network's top rated show. Since then, TBN has pivoted to conservative political content, following the model of Salem Media Group, the for-profit company that calls  itself "a growing powerhouse in the conservative media marketplace."
Centerpoint, a weeknight news program hosted by Doug McKelway, formerly of Fox News,  launched last year. His first guest was former President Donald Trump, who called Russian dictator Vladimir Putin "a good guy" and praised Putin's approach to Ukraine in the war. In an August broadcast, McKelway featured Franklin Graham, who said the FBI's raid of Mar-a-Lago in search of classified documents was religious persecution, and compared the raid to "what we saw in the Soviet Union," and to the 1992 federal siege at Ruby Ridge, Idaho, where three people died.
The Rosenberg Report with Joel Rosenberg, offers reports on the Middle East and Israel from a bestselling author who formerly worked for Rush Limbaugh and Israeli Prime Minister Benjamin Netanyahu, and who operates two nonprofits, The Joshua Fund and Near East Media.
Route 60: The Biblical Highway features Mike Pompeo, Trump's former Secretary of State, and David Friedman, the U.S. Ambassador to Israel under Trump, on a road trip examining Israel's history.
As part of its 50th anniversary celebration, TBN has produced a four-part documentary film about itself that aired Feb. 3.
Main photo: Matt Crouch and wife, Laurie / Screenshot from TBN's 50th Anniversary documentary, Part 1