MinistryWatch List: The Largest Media Ministries in the Country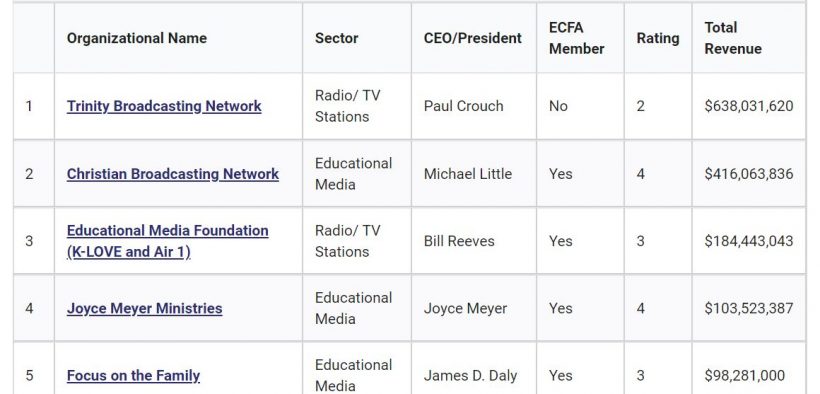 Below is a list of the largest media ministries in the country.
These days, almost all ministries have some media component,  Pastors write books.  Journalists have podcasts.  However, the list below is a list of those ministries whose work is primarily media-driven.  They include media organizations — such as television and radio networks — as well as "teaching and preaching ministries" whose presence is primarily on radio and television.
It is important to note that this list does NOT include a number of for-profit organizations, including the Salem Radio Network and the Bott Radio Network.
Also, MinistryWatch has identified a growing trend among Christian ministries to identify as churches and thereby withhold their Form 990s.  Many of these organizations have a significant media presence.  Indeed, some of them are primarily media organizations.  They include: Joel Osteen, David Jeremiah, Benny Hinn, Creflo Dollar, and Kenneth Copeland.
A word about timing: This information comes from the most recent Form 990 available on Guidestar.org. For some ministries the most recent year available was 2016. For most years, the most recent year available was 2017. For a few ministries, the most recent year is 2018.
| | Organizational Name | Sector | CEO/President | ECFA Member | MinistryWatch Rating | Total Revenue |
| --- | --- | --- | --- | --- | --- | --- |
| 1 | Trinity Broadcasting Network | Radio/ TV Stations | Matthew Crouch | No | 2 | $638,031,620 |
| 2 | Christian Broadcasting Network | Educational Media | Michael Little | Yes | 4 | $416,063,836 |
| 3 | Educational Media Foundation (K-LOVE and Air 1) | Radio/ TV Stations | Bill Reeves | Yes | 3 | $184,443,043 |
| 4 | Joyce Meyer Ministries | Educational Media | Joyce Meyer | Yes | 4 | $103,523,387 |
| 5 | Focus on the Family | Educational Media | James D. Daly | Yes | 3 | $98,281,000 |
| 6 | In Touch Ministries | Educational Media | Charles Stanley | Yes | 4 | $95,320,511 |
| 7 | Life Outreach International Association of Churches | Educational Media | James Robison | Yes | 2 | $54,090,508 |
| 8 | Our Daily Bread Ministries (previously RBC Ministries) | Educational Media | Richard DeHaan | Yes | 5 | $46,833,459 |
| 9 | Ravi Zacharias International Ministries | Educational Media | Ravi Zacharias | Yes | 2 | $39,040,458 |
| 10 | Ligonier Ministries | Educational Media | Chris Larson | Yes | 2 | $30,418,453 |
| 11 | Inspirational Network | Radio/ TV Stations | David Cerullo | No | 1 | $29,654,965 |
| 12 | Lutheran Hour Ministries | Educational Media | Rodger Hebermehl | No | 1 | $29,486,482 |
| 13 | Eternal Word Television Network | Educational Media | Michael Warsaw | No | 2 | $27,573,839 |
| 14 | Grace to You | Educational Media | John F. MacArthur, Jr. | Yes | 3 | $25,056,859 |
| 15 | Radio Training Network | Radio/ TV Stations | James Campbell | Yes | 3 | $24,866,029 |
| 16 | Messianic Vision | Educational Media | Sid Roth | Yes | 3 | $22,467,262 |
| 17 | Insight for Living | Educational Media | Cynthia Swindoll | Yes | 3 | $22,256,394 |
| 18 | Leading The Way | Educational Media | Michael Youssef | Yes | 3 | $18,053,920 |
| 19 | Bible Broadcasting Network | Radio/ TV Stations | Lowell Davey | No | 3 | $13,958,219 |
| 20 | Precept Ministries International | Educational Media | David Arthur | Yes | 2 | $12,307,449 |
| 21 | The Urban Alternative | Educational Media | Anthony T. Evans | Yes | 2 | $12,294,894 |
| 22 | Truth For Life | Educational Media | Alistair Begg | Yes | 3 | $12,205,051 |
| 23 | It Is Written | Educational Media | Mark Finley | No | 5 | $11,563,445 |
| 24 | God's World Publications | Educational Media | Kevin Martin | No | 3 | $10,107,207 |
| 25 | Family Life Communications | Radio/ TV Stations | Randy Carlson | Yes | 3 | $9,664,087 |
| 26 | Christianity Today International | Educational Media | Paul D. Robbins | Yes | 3 | $9,185,398 |
| 27 | SAT 7 / SAT-7 North America | Radio/ TV Stations | Rex M. Rogers | Yes | 3 | $8,600,677 |
| 28 | Back to God Ministries International | Educational Media | Robert Heerspink | Yes | 1 | $8,228,797 |
| 29 | Jack Van Impe Ministries | Educational Media | Jack Van Impe | No | 1 | $7,048,896 |
| 30 | Back to the Bible/ Good News Broadcasting Association | Educational Media | Arnie Cole | Yes | 2 | $6,427,822 |
| 31 | Ankerberg Theological Research Institute | Educational Media | John Ankerberg | Yes | 3 | $6,090,542 |
| 32 | Coral Ridge Ministries Media | Educational Media | Frank W. Wright | Yes | 2 | $5,608,631 |
| 33 | Family Radio / Family Stations | Radio/ TV Stations | Harold Camping | No | 1 | $5,401,582 |
| 34 | Love Worth Finding Ministries | Educational Media | W.R. Skelton | Yes | 2 | $5,397,371 |
| 35 | Cornerstone Televison Network, Inc. | Radio/ TV Stations | | Yes | 1 | $4,152,431 |
| 36 | Haven Ministries | Educational Media | Charles Morris | Yes | 4 | $3,842,053 |
| 37 | Voice of Prophecy | Educational Media | James W. Gilley | No | 4 | $3,599,167 |
| 38 | Quiet Hour | Educational Media | William Tucker | No | 1 | $2,985,320 |
| 39 | Total Living Network | Radio/ TV Stations | Jerry Rose | Yes | 1 | $2,980,140 |
| 40 | Lowell Lundstrom Ministries, Inc. | Educational Media | Lowell Lundstrom | Yes | NULL | $2,342,689 |
| 41 | Impact Productions | Educational Media | Thomas Newman | No | 3 | $2,271,180 |
| 42 | Touching Lives/ James Merritt | Educational Media | John Courtney | Yes | 3 | $2,198,830 |
| 43 | Alberto Mottesi Evangelistic Association, Inc. | Educational Media | Alberto Mottesi | No | 3 | $2,059,535 |
| 44 | Harvest USA | Educational Media | John Freeman | Yes | 2 | $2,011,219 |
| 45 | Key Life Network, Inc. | Educational Media | Stephen Brown | Yes | 3 | $1,940,094 |
| 46 | Herald of Truth | Educational Media | Steve Thomas | No | 1 | $1,499,656 |
| 47 | LifeWord Broadcast Ministries, Inc. | Radio/ TV Stations | Donny Parrish | No | 1 | $1,494,524 |
| 48 | The Christophers, Inc. | Educational Media | Dennis W. Heaney | No | 3 | $1,398,406 |
| 49 | Praise Network, Inc./ Herb Roszhart | Radio/ TV Stations | Lloyd Mintzmyer | Yes | 3 | $1,133,343 |
| 50 | Keys for Kids Ministries previously CBH Ministries | Educational Media | Terre Ritchie | Yes | 1 | $1,102,742 |
| 51 | Loving Grace Ministries, Inc. | Educational Media | Wayne Monbleau | Yes | 3 | $1,050,662 |
| 52 | Mars Hill Broadcasting Co, Inc. | Radio/ TV Stations | Clayton R. Roberts | Yes | 2 | $995,129 |
| 53 | Faith Broadcasting, Inc. | Radio/ TV Stations | Mark Williams | Yes | 3 | $890,065 |
| 54 | Your Story Hour | Educational Media | Franklin Horne | No | 2 | $858,813 |
| 55 | Guidelines/ Harold Sala | Educational Media | Bonnie Craddick | Yes | 4 | $820,032 |
| 56 | Christian Renewal Ministries, Inc. | Educational Media | Ting Lee | No | 3 | $804,439 |
| 57 | Bible Basics International | Educational Media | Eugene Priddy | Yes | 3 | $794,086 |
| 58 | Breath of Life, Inc. | Educational Media | Walter L. Pearson Jr. | No | 5 | $782,759 |
| 59 | Faith for Today, Inc. | Educational Media | Mike Tucker | No | 5 | $746,499 |
| 60 | Guido Evangelistic Association, Inc. | Educational Media | Ellis Wood | No | 4 | $594,782 |
| 61 | Songtime, Inc. | Educational Media | John DeBrine | Yes | 5 | $570,169 |
| 62 | Hermano Pablo Ministries | Educational Media | Charles Ray Stewart | No | 3 | $371,937 |
| 63 | Carl Richardson Ministries, Inc. | Educational Media | Carl Richardson | No | NULL | $332,479 |
| 64 | Radio Bible Hour, Inc. | Educational Media | J. Donald Smith | No | 5 | $292,254 |
| 65 | Changed Lives | Educational Media | Scott Probasco, Jr. | Yes | 1 | $223,935 |
| 66 | The Christian Working Woman/ Mary Whelchel | Educational Media | Mary Whelchel | No | 5 | $221,161 |
| 67 | Creation Moments/ Ian Taylor | Educational Media | Ian Taylor | Yes | 1 | $219,058 |
| 68 | Live the Word, Inc. with John Nieder | Educational Media | John W. Nieder | No | NULL | $209,689 |