Newly Released Footage Shows Pastor Charged With Capital Sexual Battery Denying Allegations, Praying During Interrogation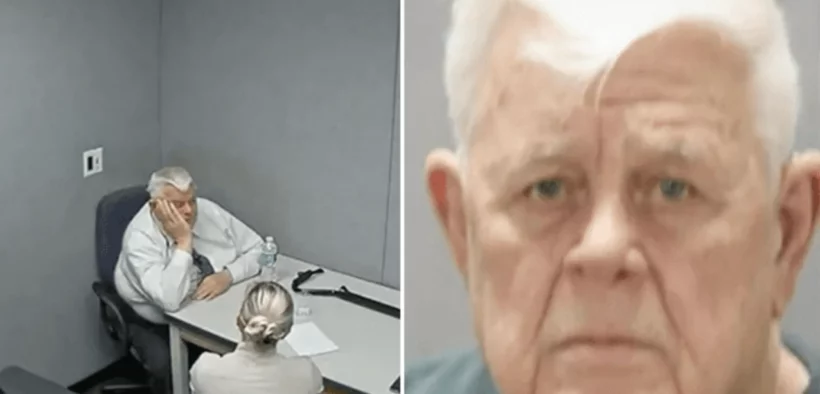 Police footage of the interrogation of Florida pastor Paul Dyal and his sons, Shawn and Darrin, has been released in advance of Dyal's trial for two counts of sexual battery on a child. Dyal was charged alongside two members of his church, Jerome Teschendorf and Vernon Williamson, last year.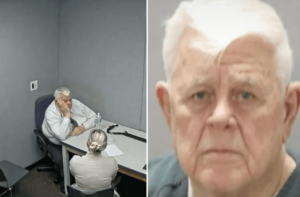 Longtime pastor of The Jacksonville Assembly of the Body of Christ, Dyal has been accused of sexual and physical abuse dating back at least 30 years. His charges, along with the charges against Teschendorf and Williamson, are capital offenses.
Dyal's alleged abuse was perpetrated against a victim under the age of 12 at the time of the assault. The survivor told police that Dyal molested her five to six times per year for five to six years—a total of 20 to 30 individual instances of sexual assault.
Police interrupted a service at the church in March 2022 to bring Dyal and his sons in for questioning. Dyal was taken into custody that same night.
"It should be noted that through the course of the investigation we have identified and spoken to numerous victims and witnesses," said the Jacksonville Sheriff's Office at the time of the arrest. "As a result, investigators believe there are additional suspects involved in the reported crimes. This long-term investigation was conducted in partnership with the U.S. Marshals, State Attorney's Office, and the Florida Department of Children and Families."
Following the arrest, eight women shared accounts of the physical, mental, financial and emotional abuse they experienced at the hands of people at The Jacksonville Assembly of the Body of Christ, revealing that the crimes for which Dyal had been charged had occurred within the broader context of a church culture that was oppressive and abusive.
"Oppression doesn't seem like oppression if it's really all you've ever known," said Lisa Stroud, one of the survivors.
One of the women said when she was a teenager, church leadership set her up with a 40-year-old man who sought to court her. Another said Dyal beat her with a paddle until she was bruised all over her body.
Newly released footage of Dyal's interrogation reveals some of the moments leading up to Dyal's arrest. The interrogation spanned multiple hours.
Access to MinistryWatch content is free.  However, we hope you will support our work with your prayers and financial gifts.  To make a donation, click here.
Throughout the course of their interviews, Dyal and his sons denied that Dyal had committed any wrongdoing.
In reference to the accusations, Dyal's son Darrin told investigators, "I have a hard time believing that, because my father, just, you know—he don't even like music. He's, you know, that's not his thing. You know, it's just not his proclivity."
Dyal's other son, Shawn, told police, "I just know that the ones that brought up the allegations at the time were people that always stir up trouble and were looking to cause problems."
Neither of the two sons has been charged with a crime.
When Dyal himself was questioned by detectives, he roundly denied the allegations against him.
"What are you suggesting?" Dyal asked the interrogator, to which she replied, "Well, there was definitely some sexual abuse that was going on with her."
"That's not true, not by me," Dyal said. "And if it was, you'll have to tell me who."
The detective replied, "Well, it was you."
"I deny any sexual abuse with anybody, at any time—young, old, or otherwise," Dyal went on to say.
"We have another person that came forward as well, saying you sexually abused her while…in the bathroom," the detective later informed Dyal.
"In the bathroom," Dyal echoed.
Dyal later told detectives he would need an attorney if "you've got people saying this."
At one point, Dyal was left alone in the interrogation room, and he could be seen praying and talking to himself.
"[I'm] 78 years old and having to go through such as this. I've served God. I've served you honorably, Lord. Not perfectly, but honorably," Dyal prayed with his hands crossed and feet propped up on a chair. "Well, it all ended in shame. I guess that's how it's being. Just amazing."
Later in the video, detectives placed Dyal in handcuffs and informed him that he would be arrested and charged with sexual battery.
"You are being arrested tonight," the detective informed Dyal, to which he replied, "I figured as much."
Dyal is being held without bond, and he is scheduled to appear in court again on February 28. Teschendorf and Williamson are also still being held at Duval County Jail.
This article was originally published by ChurchLeaders.com.