Students Sue Hillsdale Over Investigation of Sexual Assaults

The Christian college in western Michigan takes no federal funds and is not subject to Title IX.
One present and one former Hillsdale College student filed a federal lawsuit alleging the institution failed to adequately investigate their claims of rape and misrepresented how safe they would be on campus, according to reporting by USA Today.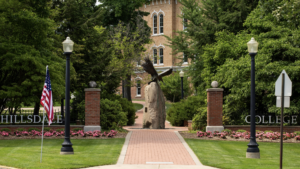 Grace Chen and Danielle Villarreal filed the suit in the U.S. District Court for the Western District of Michigan on October 25. The lawsuit states, "Hillsdale College has deliberately fostered a campus environment that exposes students to an unacceptable and unusually high risk of sexual assault."
Chen, a current Hillsdale junior and track athlete, claims she was raped by a fellow athlete in November 2021 when she was a freshman. She alleges that she reported the assault to the proper college authorities, but they failed to adequately investigate it nor was she provided with a written report of the investigation findings.
Villarreal, a former Hillsdale student, claims she was raped by a fellow student in August 2021. She says she reported the rape to police and sought support from Hillsdale, but says she was instead blamed for the rape and threatened. Villarreal subsequently withdrew from Hillsdale, but sought treatment to deal with the consequences of the rape and lack of response by Hillsdale. She has transferred to Vanderbilt University.
Hillsdale is a private Christian college in western Michigan that does not accept federal dollars, and is therefore exempt from federal Department of Education Title IX regulations regarding sexual assault and other forms of sexual violence. The lawsuit asserts that because Hillsdale accepts the benefit of federal tax exempt status, it should still be subject to Title IX requirements.
Access to MinistryWatch content is free.  However, we hope you will support our work with your prayers and financial gifts.  To make a donation, click here.
An attorney who spoke to USA Today was skeptical about the willingness for courts to accept that theory of liability, saying it would then "affect every parochial school in the country."
Brigid A. Harrington, whose practice includes Title IX compliance, said if the litigation got to the U.S. Supreme Court, she's not sure "how friendly the Supreme Court would be to that idea."
In a statement reacting to the lawsuit, Hillsdale College said it contained "serious mischaracterizations of Hillsdale College's campus culture and sexual assault policies and procedures which have been developed with the utmost concern for the protection of our students."
The lawsuit asserts that Hillsdale's policy regarding handling sexual assaults is deficient because it doesn't discuss consent, leaves investigation and enforcement to the school's discretion, and fails to guarantee confidentiality.
"Over the past decade, Hillsdale College has worked with expert third parties to ensure its policies and procedures regarding investigations of sexual assault are exceptional with respect to ascertaining the true nature of the alleged incident while also protecting the rights and reputation of both the accused and the alleged victim," Hillsdale responded.
Additionally, its policy requires that an independent counsel investigate any claims brought forward "promptly and thoroughly."
Aside from Title IX claims, the lawsuit also alleges that Hillsdale was negligent in its duty of care toward Hillsdale students, that it intentionally inflicted emotional distress, and that it engaged in deceptive practices in advertising a safe environment for students.
The plaintiffs are seeking injunctive relief along with compensatory and punitive damages.
The original judge in the case, Judge Paul L Maloney, recused himself from the case due to "a potential conflict of interest."
In the MinistryWatch database, Hillsdale College gets a one-star efficiency rating, a C transparency grade, and donor confidence score of 38, which means MinistryWatch suggests donors withhold giving.
Main photo: Photo via social media