The Signatry Helps Connect "Doers and Donors"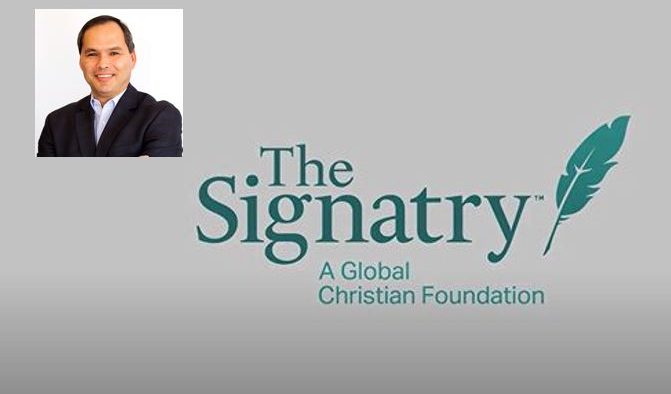 The Signatry is a Kansas ministry that connects donors, financial advisors, and ministries to help them increase their impact and address some of the world's greatest problems. Since its founding in 2000, it has distributed more than $3 billion to ministries and organizations around the world.
For CEO Bill High, who grew up "dirt poor" in the Ozarks, and whose family depended on both personal charity and government assistance, connecting doers (those who perform hands-on ministry) to donors (those who can fund it) is deeply personal.
"I'm very much a wounded healer," says High. "I saw brokenness inside of my own family. That's where I got my passion for working with families."
And as the son of a Japanese mother, he was also shaped by experiences of racial prejudice and exclusion.
"I was often on the receiving end of violence and hate. I know what it's like. That's what led me to the idea that all of us need and want reconciliation and redemption."
He described his experiences in a blog post entitled: "Anti-Asian Prejudice and the World of the Generous," writing, "generosity includes the way we view others, the way we think of them, how we speak about and speak to people…including people who look different from us, but also people who think and vote differently from us."
High recalls days when the family refrigerator held nothing but a bowl of beans and a quart of milk. They finally had their first working toilet when he was 16. Heat was sparse during winters, with ice covering the insides of windows in their poorly wired house, which eventually burned down. After that, High's dad's alcoholism and emotional abuse grew worse until he died at age 46.
Access to MinistryWatch content is free.  However, we hope you will support our work with your prayers and financial gifts.  To make a donation, click here.
The family would have likely wound up homeless without Social Security survivor's benefits and gifts from caring individuals. Their faith in Christ came in response to committed Southern Baptist church planters who brought fiery preaching and Christian love to their tiny town of Waldron, Missouri, located on the edge of Kansas City.
"From the pages of scripture, I learned to dream," High says.
Fast forward: High worked as an attorney for the firm Husch Blackwell. In his spare time, he volunteered with an urban ministry working in Kansas City. That's when he encountered his first fundraising challenge.
"The leaders couldn't raise money from their constituents, and didn't know where else to go," High says. "That's when I first knew I wanted to find a way to connect the doers with the donors."
He remains committed to the cause of leveraging donor dollars to do godly work.
"We're in the midst of the greatest wealth transfer in world history," says High, who is a member of the Forbes Nonprofit Council. "Some $68 trillion will be changing hands. If only 1% of that wealth is given to charity, that's $680 billion. That can give us an opportunity to save some of the world's greatest problems."
Servant Foundation becomes The Signatry
In 2000, he founded the Servant Foundation, which for the next 17 years would partner with the National Christian Foundation, the leading provider of Donor Advised Funds for Christians, which performed its accounting and other back-room tasks. That marriage ended in 2017 as High determined to offer his clients lower fees than NCF, in order to better compete with DAFs operated by Fidelity, Schwab, and Vanguard.
Newly independent from NCF, High decided to create a new word for the ministry's new name.
"The idea was that you have a signature and legacy," he says. In giving, individuals sign their names to great legacies when they write checks to solve the world's greatest problems and bring the Gospel to the world's unreached people."
High says the ministry's distinctives include its emphasis on giving as part of a Christian's  lifestyle, and its work with families, including the Green family of Hobby Lobby fame. Founder David Green is a longtime client.
In some cases, the wealthy families High advises are more dysfunctional than his own impoverished clan. "It's worse in some ways, because in wealthy families, money multiplies issues," he says.
The Signatry also works with clients' financial advisors—something other Christian firms prohibit.
The Signatry received $406,491,946 in contributions during the fiscal year ending March 2020, and distributed grants of $332,544,623—a flow-through rate of 82%. Assets include investments ($521,946,006), and tangible property and equipment ($245,629,576).
Its largest grant went to Every Home for Christ. The $56 million grant is equivalent to the ministry's average annual income. Additional grants included OneHope ($31 million), Alliance Defending Freedom ($19 million), and Wycliffe Bible Translators ($9 million).
Additional large grants went to two other large Christian DAFs: National Christian Foundation ($26.7 million), and TrustBridge Global Foundation ($17 million). The Chronicle of
Philanthropy reported that DAFs gave other DAFs $1 billion in 2019, making it more difficult to know how much DAFs actually distribute to working charities.
Debating DAFs
High has heard the chorus of complaints about the billions of dollars sitting on DAFs, and thinks some of the complaints are misguided. "Not much is being said about private foundations," he says.
Citing 2020 numbers from the National Philanthropic Trust, he says the $142 billion sitting in America's 873,228 DAF accounts pales in comparison to the $1 trillion held by some 90,000 private foundations.
He says growth is relatively flat in the Christian DAF space, which accounts for about 4% of all U.S. DAF account value. Meanwhile, DAFs offered by Fidelity, Schwab, and Vanguard are experiencing "mushrooming growth." The Associated Press estimates that one of every eight American charitable dollars currently goes into DAFs.
But High says DAFs, which distribute an average of 20% of their funds every year, are already doing better at flow-through than private foundations, which give only 5%.
That's part of why High is among the growing chorus of Christian voices criticizing proposed legislation that would require DAFs to give more and stockpile less. He says The Signatry's already high flow-through rates mean "the Grassley-King legislation won't even touch us."
High also believes that as the world responds to major challenges, like pandemics, earthquakes, and hurricanes, it makes sense to have money in DAFs ready to meet these challenges.
"I always try to keep some money in DAFs so we can respond to these situations," he says. "There's biblical wisdom about the idea of a storehouse."
Editor's Note: Many wealthy families and individuals use consultants to help them manage their finances.  A growing number of high-capacity donors are using philanthropy consultants.  These organizations help the donors develop giving strategies, and then make sure they stay on the plan over time.  MinistryWatch will be profiling several of these organizations in the months ahead.  To read our previous profile of Financial Planning Ministries, click here.  To read our profile of Excellence in Giving, click here.