MinistryWatch's Top 10 Stories for the Month of May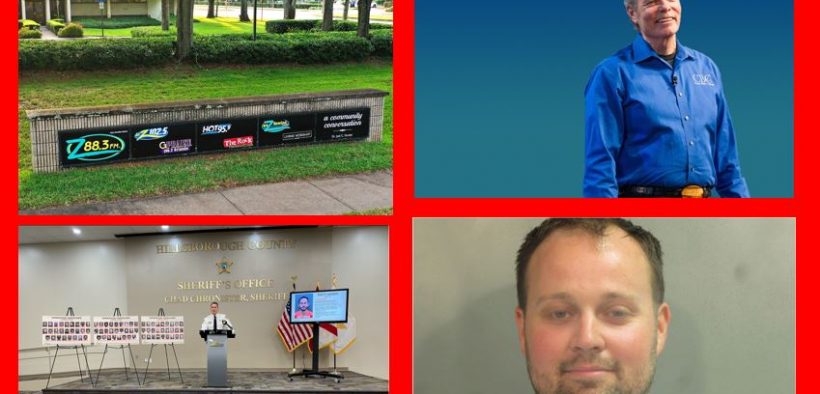 The following stories had the most page views at the MinistryWatch website during the month of May. We present them here in a "countdown" format, from 10 to 1. The first few sentences of each story are reproduced below. To read the entire story, click on the link. To read the Top 10 stories of 2020, click here.
10. Andrew Wommack Urges Followers to Take Over Colorado City
In 2014, Andrew Wommack moved his ministry from Colorado Springs to the nearby city of Woodland Park to launch Charis Bible College. Now, he would like his followers to run the city and the surrounding Teller County. "Man, as many people as we have in this school here, we ought to take over Woodland Park," said Wommack during an April Citizen's Academy that was hosted by the 501(c)4 political organization he founded in 2017, the Truth & Liberty Coalition, and was designed to help believers get involved in politics. "This county ought to be totally dominated by believers." Wommack said local believers needed to quit focusing on their personal relationship with Christ, or simply praying for the nation, and begin getting involved, starting with the local school board.
9. Former Reality Star Josh Duggar Arrested by Homeland Security
Former reality star Josh Duggar has been arrested by the U.S. Department of Homeland Security and is being held without bond in an Arkansas jail on unspecified charges, People reported. An Arkansas car dealership where he worked was previously raided by Homeland Security in November 2019. It is unclear whether the current arrest is related to that raid. He also is named in an ongoing civil case for real estate fraud, per TMZ. Duggar, 33, was featured along with his family on the TLC program 19 Kids and Counting, which ran for seven years until its cancellation in 2015. The show focused on his parents, Jim Bob and Michelle Duggar, and their conservative lifestyle with multiple children. (This story includes updates.)
8. Global Fire Ministries Founder Asked to Step Down for Unbiblical Behavior
Evangelical Pastor Jeff Jansen, who as recently as early May was still promoting his belief that God would take action to reinstall Donald Trump as president, has been asked to step down as co-senior leader of Global Fire Ministries and Global Fire Church in Murfreesboro, Tennessee, due to "unscriptural and unbiblical behavior." A statement from the ministry's leadership team, board, and advisors said Jansen had made an "intentional decision" to leave his wife and family and "pursue his own desires."
7. Story deleted.
6. Pastors Caught in Sex Crimes Sting
Three pastors were recently arrested and charged with sex crimes. One, Earnest Benjamin of Breath of Life Worship Church in Tampa, Florida, was arrested as part of Operation Takedown, a week-long effort to arrest men involved in sexual trafficking, using female detectives posed as prostitutes. Another, Kevin Troy Daniels of New Jerusalem Missionary Baptist Church in Fountain, Colorado, was arrested on suspicion of sexual assault after a girl who is an alleged victim told her school counselor about the abuse. The third, Oscar Vera Jimenez of Iglesia Pentecostes Espirito Santo in Siler City, North Carolina, faces more than 100 charges relating to the sexual abuse of at least two children.
5. Ministries with an 'F' Transparency Grade
MinistryWatch stands for transparency and accountability. That's why we think it is important for Christian ministries to be as transparent as possible with donors and with the public. So MinistryWatch will grade every ministry in its database based on transparency.  Today, we release a list of the ministries who have received a failing or "F" grade—approximately 20 ministries. Our transparency grade evaluates the ease with which donors can see into the finances of a ministry.  The ministries on this list have failed to comply with three requirements.
4. Saddleback Ordains 3 Women, Violating SBC's Baptist Faith and Message Doctrinal Statement
Saddleback Church, one of the largest churches in the Southern Baptist Convention and home to influential pastor Rick Warren, ordained three women as staff pastors, a move that critics say violates the denomination's statement of faith. "Yesterday was a historic night for Saddleback Church in many ways!" the Southern California megachurch's Facebook page announced on May 8. "We ordained our first three women pastors, Liz Puffer, Cynthia Petty, and Katie Edwards!" The three newly ordained pastors are long-time Saddleback staffers. Petty has worked with children's ministry and Edwards has been in youth ministry, while Puffer's Linked-In profile lists her as a "minister" at Saddleback.
3. Southern Baptist Pastor, Church Planter, and Author Arrested for Child Porn
T. Elliott Welch, the pastor of First Baptist Church in Stanleyville, North Carolina, was arrested April 27 after local law enforcement officials received a tip from the National Center for Missing and Exploited Children that he uploaded a video showing a young girl being raped by an adult. Three days later, he resigned from the church he had served for more than six years. "We are shocked and saddened by the criminal charges brought against T. Elliott Welch, the senior pastor of First Baptist Church in Stanleyville," said the church in a statement posted on the home page of its website. "We in no way condone the behavior for which Pastor Welch has been accused." Welch, 34, was charged with one count of second-degree sexual exploitation of a minor for uploading a copy of a video showing a nude girl approximately 10-12 years old being raped by an adult male.
2. Josh Duggar Released with Strict Conditions as He Awaits Trial on Possession of Child Sexual Abuse Materials
In a virtual hearing on May 5, a federal judge granted former reality TV star Joshua Duggar release from detention as he awaits trial on child pornography charges. Magistrate Judge Christy Comstock at the U.S. District Court in Fayetteville, Arkansas, said her decision to allow Duggar's release was "a close call" and comes with many conditions. Duggar, the eldest child in a large conservative Christian family made famous by TLC's 2008—2015 reality show "19 Kids and Counting," was taken into custody by U.S. marshals on April 29 at the car dealership he owns in Springdale, Arkansas. According to court documents, he was accused of downloading pornography that included the sexual abuse of children under the age of 12. He was indicted the following day and has pleaded not guilty.
1. Story deleted.