MinistryWatch's Top 10 Stories for the Month of August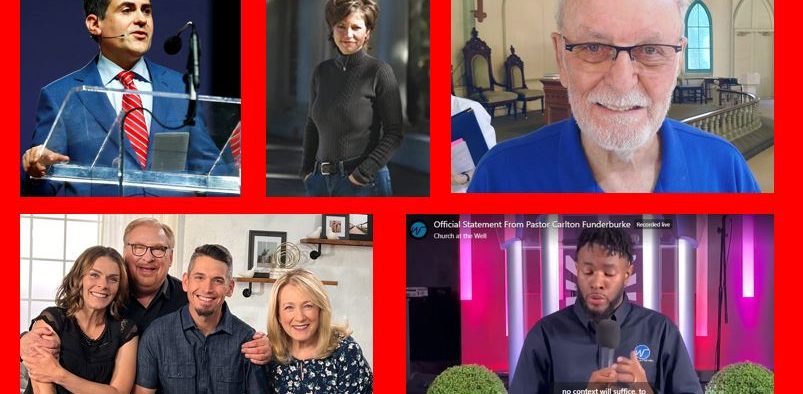 The following stories had the most page views at the MinistryWatch website during the month of August. We present them here in a "countdown" format, from 10 to 1. The first few sentences of each story are reproduced below. To read the entire story, click on the link. To read the Top 15 stories of 2021, click here.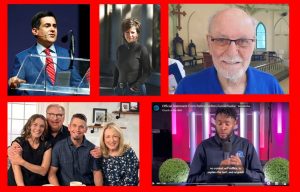 10. Wisconsin Megachurch Pastor Stuart Briscoe, Lifelong Broadcast Evangelist, Dies as 91
Prominent Wisconsin pastor Stuart Briscoe, recognized for founding the broadcast ministry series "Telling the Truth" and authoring over 40 books, died on Aug. 3. Briscoe died of "natural causes unexpectedly," according to a Twitter post from his son, Peter "Pete" Briscoe. He was 91. The British-born Briscoe transformed Elmbrook Church, in the Milwaukee suburb of Brookfield, into a megachurch with an attendance of 7,000 people, making it the largest in the state. But his evangelism went far beyond the congregation to encompass books and a radio ministry.
9. Russell Moore Named Christianity Today Editor, Lynn Vicent to Lead WORLD Magazine
Two of the most influential evangelical Christian magazines in the country named new leaders this week, hoping to set a new direction for the publications in tumultuous times. Russell Moore, the former Southern Baptist ethicist, was named editor in chief at Christianity Today. Lynn Vincent, a motorcycle-riding Navy veteran and New York Times best-selling author, was recently named executive editor at WORLD Magazine.
8. Wisconsin Pastor Arrested in Child Prostitution and Human Trafficking Sting
A Wisconsin pastor was among six people arrested last week in a solicitation of minors and sex trafficking sting operation carried out by the Minnesota Bureau of Criminal Apprehension. Jason James Taylor, a pastor at Calvary Chapel Solid Rock in New Richmond, Wisconsin, was among five people booked on probable cause felony solicitation of a minor under 18 years of age for prostitution. A sixth person was charged with promotion of prostitution and sex trafficking.
7. Ep. 201: Venue Church Foreclosed, and What Is Spiritual Abuse?
On this program, we look at spiritual abuse. At what point is a difference in opinion, or a disagreement with the pastor, real abuse? It's a question lots of churches, pastors, and church members are having to grapple with. Also, we look at an online ministry that started as a hobby, but is now generating more than 100-million page views a year from people wanting answers to tough spiritual questions. We begin with news about a Tennessee megachurch that has defaulted on its building payments.  
6. Conflict at Diverse Austin Church Leads to Claims of Spiritual Abuse
When Cristal Porter and her family first visited Hope Community Church in Austin, they felt a sense of relief. Led by pastor Aaron Reyes and his wife, Michelle Ami Reyes, known for their expertise in helping Christians talk about race, the congregation of about 135 was filled with people of color and diverse couples like the Porters. The church aspires to be a "meaningful community where people can find lifelong relationships, mutual support, and a sense of belonging," something the Porters had longed for. The Porters threw themselves into the life of Hope, becoming small group leaders and making friends in the congregation. By the fall, Porter had joined the staff part time, with the hope of a full-time role in the future. Within a year, everything had fallen apart. Disagreements among the staff led one of the pastors to resign, turning long-simmering tension at Hope into all-out conflict and eventually into public allegations of spiritual abuse and calls for an investigation of church leaders.
Access to MinistryWatch content is free.  However, we hope you will support our work with your prayers and financial gifts.  To make a donation, click here.
5. Rick Warren Successor Andy Wood Apologizes for 2021 Mark Driscoll Interview; Critics Push Back
Andy Wood, named as Rick Warren's successor at Saddleback Church after Warren retires, has apologized for inviting Mark Driscoll to speak at the 2021 Echo Leadership Conference. In July, Saddleback said Wood was cleared of allegations of abusive leadership, but critics say there are still too many unanswered questions. "In the past I interviewed Mark Driscoll to help pastors learn from his mistakes," Wood tweeted on Friday, Aug. 12. "Since then additional controversy and pain has come out. My choice hurt and confused many people. I regret the pain, confusion & distraction this caused. I humbly apologize for my mistake and error."
4. WCA Calls on Conservative Churches to Withhold Dues from United Methodist Church
"Let our people go!" reads a statement by the Wesleyan Covenant Association, a network of theologically conservative United Methodists. While the phrase might be borrowed from Moses in the Book of Exodus, the WCA is not exactly calling for a series of escalating plagues. Nevertheless, the outcry is not without threat. The organization is calling for churches to stop paying dues, or apportionments, to regional annual conferences it believes are making disaffiliation for churches difficult to impossible amid the United Methodist Church's slow-moving schism, largely centered on the ordination and marriage of members who identify as LGBTQ.
3. Pastor Apologizes for Rebuking Congregation over Luxury Wristwatch
Pastor Carlton Funderburke, senior pastor of The Church of the Well in Kansas City who rose to sudden fame for calling his congregation "poor, broke, busted and disgusted" because they had not gifted him a luxury wristwatch, has apologized in a public statement. During a sermon titled, "Honoring God's Shepherds," Funderburke, dressed in a tailored black suit, white cuffs, and a clergy collar, announced that despite his request for a Movado watch last year—a watch that retails between $400 and about $3,330—the church had yet to provide him with one. "I'm not worth your McDonald's money? I'm not worth your Red Lobster money? I ain't worth your St. John's knit? Y'all can't afford it no-how," he lectured into the microphone. 
2. When Does Conflict Become Spiritual Abuse? Churches Large and Small Face that Question.
Concerns about spiritual abuse have become common in recent years — at churches large and small — following the fall of megachurch pastors like Mark Driscoll, of the now-disbanded Mars Hill Church in Seattle, and Bill Hybels, founder of Willow Creek Community Church outside Chicago, both accused of creating toxic cultures ruled by fear and intimidation. Elders at Saddleback Church, one of the nation's largest congregations, recently said an investigation found "no pattern of abuse" at a church run by Andy Wood, who has been named successor to Saddleback founder Rick Warren. The elders noted there had been conflict at Echo Church, where Wood and his wife, Stacie, were longtime pastors, but added that "disappointment and hurt are not the same as abuse."
Nathan Zacharias, son of the late disgraced apologist Ravi Zacharias, has posted his first blog in seven months to explain that his recent silence is not due to him having changed his mind about his father's character. "Many people have written in to ask if a quiet blog means something has changed," said Zacharias in a post dated Aug. 4. "As was the case before, no, nothing has changed. We still believe in Dad's innocence, we still believe the investigation was biased and unethical, and we believe RZIM's leadership mishandled many things, as well."