50 Largest Media Ministries in the US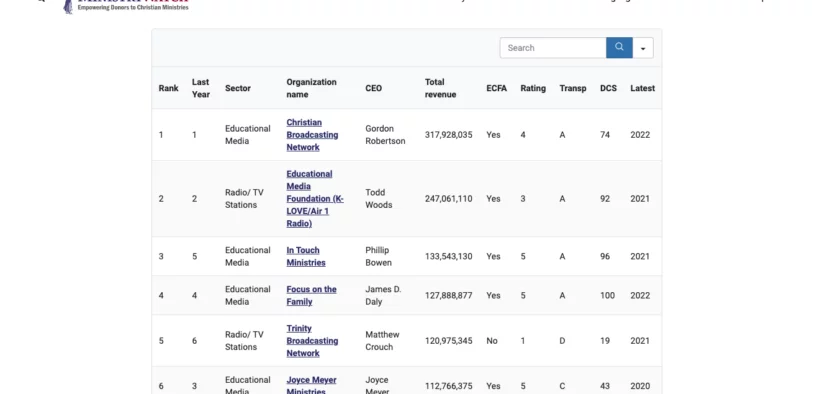 Below is a list of the largest media ministries in the country.
These days, almost all ministries have some media component, Pastors write books. Journalists have podcasts. However, the list below is a list of those ministries whose work is primarily media driven. They include media organizations — such as television and radio networks — as well as "teaching and preaching ministries" whose presence is primarily on radio and television.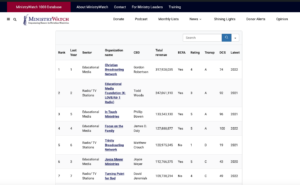 For those of you who are fluent in the MinistryWatch 1000 database, this list includes the "Educational Media" and the "Radio/TV Stations" categories.
It is important to note that this list does NOT include a number of for-profit organizations, including the Salem Radio Network and the Bott Radio Network. If Salem was on this list, it would be the number two ministry on the list, just behind the Christian Broadcasting Network. Bott Radio Network is a privately held, for-profit corporation and does not disclose revenue, but it likely has revenue in excess of $100 million, which would put it in the top five on this list.
This is the fourth year we have produced this list, and we have seen some significant movement among media organizations. Five ministries on this year's list were not on the list last year. These ministries are River Radio Ministries (50), Media Dream/Alkarma TV (48), Third Millenium Ministries (42), Three Angels Broadcasting Network (27), and – making the highest debut on the list – Pulse Outreach (22).
Access to MinistryWatch content is free.  However, we hope you will support our work with your prayers and financial gifts.  To make a donation, click here.
The "biggest mover" on the list (besides Three Angels and Pulse) is KSBJ/Hope Media Group, which jumped from 28 to 17, largely because of a merger with WAY Media.
Four ministries have fallen off this list. They are Hal Lindsey Ministries (last year's rank: 50), Jack Van Impe Ministries (46), Back to the Bible (48), and Ravi Zacharias International Ministries (15).
Also, MinistryWatch has identified a growing trend among Christian ministries to identify as churches and thereby withhold their Form 990s. Many of these organizations have a significant media presence. Indeed, some of them are primarily media organizations. They include: Joel Osteen, Benny Hinn, Creflo Dollar, and Kenneth Copeland. They should likely be on this list, but we have no way of accurately evaluating them.
A word about timing: This information comes from the most recent Form 990 available. For most ministries on this list, the most recent year available was 2021 or 2022. For a few ministries, the most recent year is 2020 or older. As we have previously reported, the IRS has a significant backlog of Form 990s they have yet to process. That problem is getting better, but it is not fully solved. To read the complete profile of the ministries, which will identify the most recent year we have financial information available, click on the name of the ministry. That link will take you to the ministry's profile in the MinistryWatch database.