MinistryWatch Introduces "Donor Confidence Score"

March List: Ministries With "Donor Confidence Score" of 100 Percent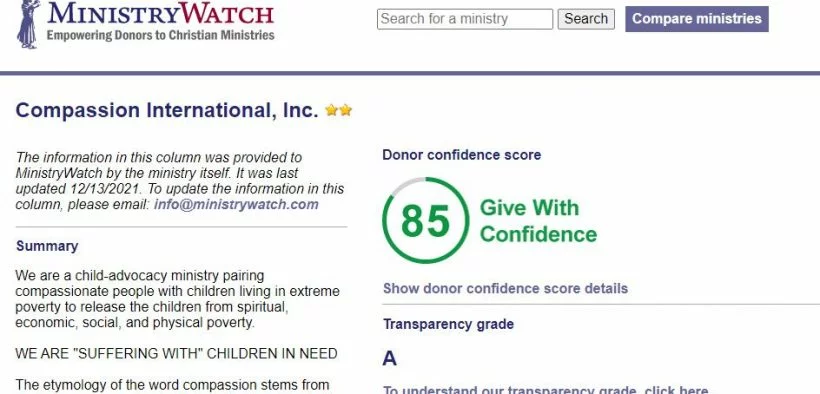 There are many ways to evaluate a sports team, a corporation, even a rock band or dance company.  Is the most successful organization the one that makes the most money, has a winning record, does the most good for the community, produces a high quality product, or achieves artistic excellence?  And even if you could decide which measurements mattered, it is not always easy to quantify the results.
Christian ministries are the same way.  How do you evaluate excellence?  Here at MinistryWatch, we have been asking ourselves this question for a long time – for more than two decades.  We still don't know all the answers, but we do know some of the right questions to ask.
That's what the Donor Confidence Score is all about:  asking some of the right questions.
We have identified 20 questions we think donors should ask ministries.  We have asked these questions of the ministries in the MinistryWatch 1000 database, and we have given each ministry a score from 0 to 100.  If a ministry scores more than 65, we believe it is possible to "Give With Confidence" to this ministry.  If a ministry scores from 40 to 64, we recommend that you "Give With Caution."  For these ministries, we recommend that you do a bit of additional research to make sure that you are comfortable with these ministries before you give.  If the ministry scores less than 40, we recommend that you "Withhold Giving" from this ministry.
We have posted the answers to these questions on the profile of the ministry in our MinistryWatch 1000 database.  (We currently have 800 ministries rated, with ratings for the remaining ministries in our database coming in the next month or so.)
Below, we have compiled a list of ministries with a perfect 100 score in our rating system.  As you will see, this list has less than 50 ministries on it – less than 5 percent of the total number of ministries in our database.
It's important to note that this list is dynamic and could – indeed, likely will – change over time.  This list is accurate as of March 1, 2022, you should look at the page for an individual ministry to find the "latest and greatest" information about the ministry that interests you.  You can find the ministry you're looking for by clicking here.
| Sector | Organization name | CEO/Senior Leader | Total revenue | Rating |
| --- | --- | --- | --- | --- |
| Adoption/Foster Care | FaithBridge Foster Care | Bob Bruder-Mattson | $7,125,438 | 4 |
| Adoption/Foster Care | ORPHANetwork | Bob Cleary | $6,078,347 | 2 |
| Adoption/Foster Care | All God's Children International | Hollen Frazier | $5,899,335 | 4 |
| Advocacy | American Family Association | Tim Wildmon | $31,046,881 | 4 |
| Advocacy | Concerned Women for America | Penny Young Nance | $4,349,197 | 2 |
| Bible Translation Organizations | UnfoldingWord | David Reeves | $5,268,126 | 4 |
| Christian Growth | Institute for Creation Research | Randy Guliuzza | $12,912,501 | 3 |
| Christian Growth | The Mailbox Club | John Mark Eager | $3,898,260 | 4 |
| Colleges/Universities | William Jessup University | John Jackson | $63,758,751 | 2 |
| Community Development | Hope International | Peter Greer | $19,135,745 | 3 |
| Community Development | Attack Poverty | Brandon Baca | $7,753,411 | 4 |
| Community Development | Medical Ambassadors International | Ravi Jayakaran | $2,820,297 | 3 |
| Educational Media | Focus on the Family | James D. Daly | $100,912,000 | 4 |
| Educational Media | Leading The Way with Dr. Michael Youssef | Michael Youssef | $22,871,533 | 3 |
| Educational Media | Truth For Life | Alistair Begg | $17,905,822 | 3 |
| Educational Media | Living on the Edge with Chip Ingram | Chip Ingram / Andrew Accardy | $9,018,713 | 2 |
| Evangelism | DiscipleMakers | Peter Krol | $4,863,936 | 3 |
| Evangelism | International Fellowship of Evangelical Students USA | Kevin Van Horne | $4,224,470 | 3 |
| Evangelism Support | Commission to Every Nation | Bill Barthelemy | $20,810,919 | 5 |
| Evangelism Support | Paraclete Mission Group | Glen Volkhardt | $2,718,548 | 3 |
| Foreign Missions | Open Doors with Brother Andrew | David Curry | $33,573,578 | 3 |
| Foreign Missions | One Collective | Scott Olsen | $10,964,257 | 4 |
| Foreign Missions | AMG International | Anastasios Ioannidis | $8,819,185 | 2 |
| Foreign Missions | Heart for Lebanon Foundation | Camille Melki / James Ward | $7,348,775 | 4 |
| Foreign Missions | Joshua Fund | Carl A. Moeller | $6,133,564 | 3 |
| Foreign Missions | VisionTrust International | Devlin Donaldson | $3,374,782 | 3 |
| K-12 Schools/Academies | Colorado Springs Christian Schools | Roland DeRenzo | $9,138,441 | 5 |
| Leadership Training | Community Bible Study | Kimm Carr | $13,392,069 | 4 |
| Radio/ TV Stations | Far East Broadcasting Company | Edward Cannon | $11,879,557 | 3 |
| Radio/ TV Stations | SAT 7 | Rita El-Mounayer / Terence Ascott | $9,289,132 | 3 |
| Relief and Development | Water Mission | George C. Greene IV | $32,883,896 | 3 |
| Relief and Development | Kinship United | Craig Muller | $7,419,513 | 5 |
| Relief and Development | Lifewater International | Dave LeVan | $6,246,597 | 2 |
| Relief and Development | Echo | David Erickson | $4,714,775 | 2 |
| Relief and Development | Bright Hope International | C.H. Dyer | $2,917,812 | 2 |
| Rescue Missions/Homeless Shelters | Union Rescue Mission, Los Angeles | Andy Bales | $41,013,000 | 3 |
| Rescue Missions/Homeless Shelters | Rescue Mission Alliance | Dave Chittenden | $27,363,364 | 5 |
| Rescue Missions/Homeless Shelters | Union Gospel Mission Twin Cities | Pam Stegora Axburg | $18,610,483 | 2 |
| Rescue Missions/Homeless Shelters | Central Union Mission | Joseph J. Mettimano | $16,830,233 | 3 |
| Rescue Missions/Homeless Shelters | Redwood Gospel Mission | Jeff Gilman | $11,437,340 | 4 |
| Rescue Missions/Homeless Shelters | Coachella Valley Rescue Mission | Darla Burkett | $8,785,056 | 4 |
| Rescue Missions/Homeless Shelters | City Mission of Schenectady | Michael Saccocio | $7,395,307 | 3 |
| Rescue Missions/Homeless Shelters | Peoria Rescue Ministries | Jonathan Rocke | $4,367,000 | 3 |
| Rescue Missions/Homeless Shelters | Lexington Rescue Mission | Laura E. Carr | $4,125,811 | 2 |
| Rescue Missions/Homeless Shelters | Winston-Salem Rescue Mission | Lou Carrico | $3,156,362 | 3 |