Falwell Says Wife's Affair Contributed to Depression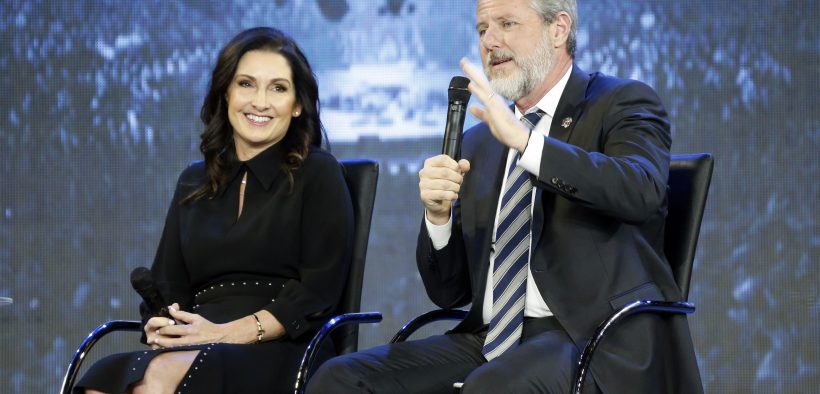 Jerry Falwell Jr. says that his wife's affair and the strain of keeping it secret has contributed to his depression.
Falwell, who was placed on indefinite leave from his role as president of Liberty University after a string of controversial social media activity, broke the news about his wife's brief affair with a family friend in a statement Sunday (Aug. 23), released through the Washington Examiner. Falwell claims the man has repeatedly threatened to expose the affair to the public unless he was paid "substantial monies." 
Falwell said in his statement that he and his wife, Becki, met an ambitious pool attendant—identified by various news organizations as Giancarlo Granda—during a family vacation in Miami more than eight years ago. Impressed with his initiative, Falwell says he and Becki worked a real estate deal with him and developed a closer relationship. 
That's when Falwell says Becki had an "inappropriate personal relationship" with Granda, who was 21 at the time. Falwell said it was while he was working extensive hours at Liberty University after taking over his late father's role. 
After learning about the affair, Falwell says he lost 80 pounds and appeared to many as "physically unwell." He said it led to a season of introspection, and he and Becki reconciled.
"Becki and I forgave each other, because while her indiscretion may have been more obvious and apparent, I realized that there were important smaller things I needed to do better too," he says.
Falwell claims that in the years following, Granda went from being thankful for the career opportunities to becoming "increasingly angry and aggressive," threatening to expose the affair unless they paid him "substantial monies." 
Falwell described it as a rollercoaster. "While completely dedicating ourselves to Liberty, we were also suffering in silence during our personal time together, while simultaneously trying to manage and deal with this increasingly threatening behavior, which only worsened over time," he says. "We were doing our best to respectfully unravel this 'fatal attraction' type situation to protect our family and the University."
In the past few months, Falwell says Granda's behavior "has reached a level that we have decided the only way to stop this predatory behavior is to go public."
Granda, on the other hand, has refuted the charges of threats in an email to the Examiner. "Any allegation of extortion is falsely, defamatory and belied by clear documentary evidence," he said. "The Falwell's attempt to sandbag me, and the Examiner, with a last minute story without providing the Examiner clear evidence that this was not simply an 'affair' with concocted allegations of extortion reeks desperation. The WHOLE truth will come out."
The Examiner says the Falwell team did supply evidence that the Falwells say substantiates their claims. 
In his statement, Falwell says the events of his wife's affair and the following extortion "took a toll on [him]." 
"During this time of reflection for us and this especially challenging year, and even more so following the events of the past few weeks, my wife Becki and I agreed that this was the right time for me to share more of our story, because the Liberty community deserves to hear it directly from me and from us," he says."
The Executive Committee of Liberty University's Board of Trustees placed Falwell on indefinite leave earlier this month after he posted a photo of himself on Instagram with his wife's assistant, Kathleen Stone. He and Stone, who is pregnant, had their shirts hiked up and their pants unzipped at a party on his yacht. The photo came with the caption, "Lots of good friends visited us on the yacht. I promise that's only black water in my glass." 
Falwell later deleted the photo and apologized for the post, but it had already sparked a firestorm of protests calling for his resignation. He has faced further scrutiny of his social media activity for "liking" Instagram photos of students in bikinis.
Falwell says he is now "seeking to address the emotional toll this has taken" and stressed the importance of seeking counseling instead of "thinking you need to be tough and try to bear these things on your own. I am in the early stages of addressing these issues."