MinistryWatch's Top 10 Stories for the Month of September

Andy Stanley Tops The List
The following stories had the most page views at the MinistryWatch website during the month of September. We present them here in a "countdown" format, from 10 to 1. The first few sentences of each story are reproduced below. To read the entire story, click on the link. To read the Top 25 stories of 2022, click here.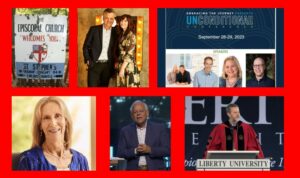 By Jeffrey Walton. As the sixth largest cathedral in the world, the Episcopal Church's landmark Washington National Cathedral seats about 4,000 worshippers. Across the Potomac River in Arlington, Virginia, Restoration Anglican Church, a congregation planted in 2009 as part of the Anglican Church in North America, has a building completed in 2014 that seats about 360. Yet Restoration reported an Average Sunday Attendance (ASA) of 495 persons in 2022, while the National Cathedral reported 423 the same year. The Anglican parish also reported congregational giving (known as plate-and-pledge) of nearly three times the number ($2,613,723) of the Episcopal Cathedral ($967,872), despite larger membership rolls of 1,517 and a significant endowment at the latter, compared to membership of 1,074 and no endowment at Restoration.
By Steve Rabey. Marisol Berrios, a pastor, a preacher, and a volunteer at a Chicago-area church food pantry, prioritized helping others and sharing the Gospel. But her charity led to her death over Labor Day weekend when a man she had helped killed her. Berrios was 53. Marvin Wells, 59, had received help from the food pantry where she volunteered as well as cash gifts from Berrios. He admitted killing and robbing her on Saturday Sept. 2 after police found him with her purse in the car he'd stolen.
By Kim Roberts. A pastor in Southeast Texas has spoken out publicly about the Chi Alpha college ministry scandals. He is the first known Assembly of God pastor to do so. J.R. Armstrong, pastor of Mauriceville All Gospel (MAG) Church, a congregation of about 175 in Orange, Texas, spoke about the scandal from the pulpit on August 13. Armstrong has been a pastor in the Assemblies of God for over a decade and has been at MAG Church since April 2019.
By Dale Chamberlain. A Kansas children's pastor was arrested and charged on Sept. 16 after he allegedly attempted to stab his wife and five children before setting his home on fire. Matthew Lee Richards, 41, had been a children's pastor on staff at Crossroads Christian Church in Shawnee. The Shawnee Police Department said in a statement that Richards faces five counts of attempted murder and one count of aggravated arson with risk of bodily harm. Four of Richards' children are minors, with his eldest child being 19 years old.
By Bob Smietana. The crowds seen buzzing outside the Bridgestone Arena, a regular host to the NCAA basketball tournament and a hometown venue for country music acts, were coming not to take in a game or a concert, but to sing, write and bond over Christian hymns. The annual Sing! Global conference, held Sept. 4-6, drew some 8,500 Christian worship music leaders and other church musicians, pastors, vendors and hymn composers from as many as 35 countries. (An estimated 80,000 others in 120 countries participate online.) Most of all they come to sing together — tunes from historic hymnals, from Celtic traditions and new creations — and to share a common love and culture of sacred music.
Access to MinistryWatch content is free.  However, we hope you will support our work with your prayers and financial gifts.  To make a donation, click here.
By Bob Smietana. Sarah Young, a former missionary whose devotional prayers became a Christian publishing juggernaut, has died at age 77. The author of "Jesus Calling," which has sold more than 40 million copies, died Aug. 31 after struggling for years with chronic illness and Lyme Disease. News of the Nashville native's death, first reported by Christianity Today, came a day after Publisher's Weekly reported that the author's health was "rapidly failing."
By Bob Smietana and Jack Jenkins. The ongoing legal battle between Liberty University and Jerry Falwell Jr. has taken yet another twist, with the disgraced former president of the school alleging misconduct by its board of directors and attempting to ban the university from using images of his late father. In an amended complaint filed in federal court, Falwell Jr., who resigned from his post in August 2020 in the wake of multiple scandals, alleged that several board members, including former interim Liberty President Jerry Prevo and former Southern Baptist Convention President Jerry Vines, diverted university funds to their private causes.
By Bob Smietana. In the middle of 2010, not long after his term as Southern Baptist Convention president ended, Johnny Hunt took time off for his annual vacation. He planned to return to the pulpit at First Baptist Church in Woodstock, Georgia, in early August. But just before his first Sunday back, Hunt announced he was taking a leave of absence, citing his health and a sense of exhaustion. What no one knew at the time was that Hunt had another reason for his leave.
The Editors. Below is a list of the 50 largest Christian colleges, universities, and seminaries in the MinistryWatch database. This list is compiled from the most recent data available from the Internal Revenue Service, which in all cases but one (North Park University) means we used 2022 data. This list should not be interpreted as a list of recommended ministries.  They are ranked by total revenue, and not by effectiveness, financial efficiency, or any other measure.  That said, the Financial Efficiency rating and the Transparency Grade of the ministries are listed. We also listed the 2022 rank of each college. This list is usually fairly static from year to year. However, this year saw some big movers.
By Kim Roberts. North Point Community Church, led by pastor Andy Stanley, is hosting the Unconditional Conference, which is billed as a "premier event for Christian parents with LGBTQ+ children, ministry leaders, and health care professionals." The conference is being held Sept. 28 and 29 at the suburban Atlanta church. Andy Stanley, son of the late Charles Stanley, is an influential pastor in evangelical Christianity. Some Christian leaders have expressed concern about recent comments he has made about homosexuality. In an opinion piece published by WORLD Magazine in January, Southern Baptist Seminary professor Denny Burk addressed a video in which Stanley contended that churches must adapt and learn how to include gay people in the life of the church.