All The News That Fits… Its Own Point of View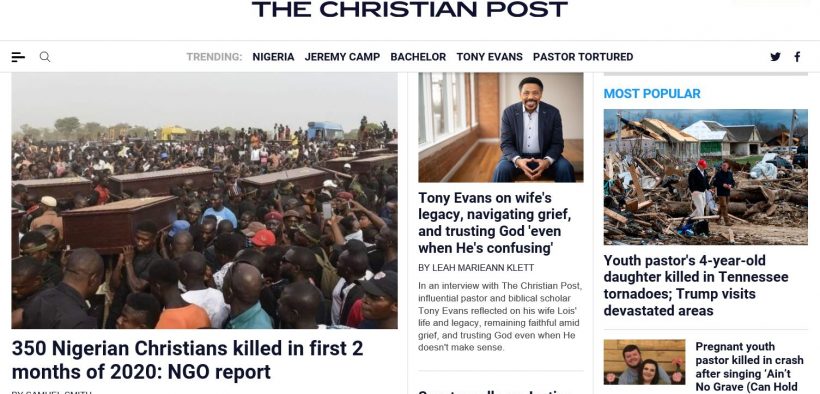 The Christian Post Failed To Cover Guilty Plea of Former CEO
Editor's Note:  This article is the second in an ongoing series about controversial South Korean religious leader David Jang and a business empire that includes Olivet University and The Christian Post newspaper. 
 To read Part 1 in this series, click here.  It examines the money-laundering scheme to which former Christian Post CEO William Anderson pled guilty.
 Future articles in the series will examine the hear-no-evil, see-no-evil approach embraced by many evangelical leaders who bask in the glow of Jang's influential empire.
During the time Les Moonves was investigated and finally stepped down as CEO of CBS over claims of sexually harassing female employees, his own network repeatedly reported on his departure prominently during its prime-time evening news broadcast.
Likewise, when executives or on-air personalities of other media companies got into trouble, those media companies reported on the misdeeds of Roger Ailes, Bill O'Reilly, Charlie Rose, Garrison Keillor, Matt Lauer, Tavis Smiley, Tom Brokaw, Eric Boling, Mark Halperin, and others.
But The Christian Post follows a different model of journalism.
The Post claims to be "the nation's most comprehensive Christian news website," but it has failed to publish a single word on its own growing five-year scandal.
In 2018, the Manhattan District Attorney's office announced that it after a multi-year investigation, it was indicting William Anderson, its former senior executive, for his role in a $35 million money laundering and fraud scheme designed to prop up The Post and other business tied to controversial South Korean pastor David Jang.
Then in February 2020, Anderson and executives in other Jang-related companies pled guilty.
Dozens of Christian and mainstream news outlets have reported on the growing scandal. The Post has remained silent.
But The Post isn't always silent. It has responded forcefully when Jang comes under fire, publishing a series of articles attacking Christianity Today and one of its reporters after the magazine published a 2012 investigation into Jang's controversial theology and businesses empire. None of The Post's articles let readers know that it is owned by Jang.
What kind journalism does The Post practice? When it comes to its own problems, the motto seems to be: "All the News That Fits Our Point-of-View."
Real Journalism "Harder Than People Realize"
William Anderson was the CEO of Christian Media Corporation, which in addition to The Post operates these websites: christiantimes.com, christianitydaily.com, christiantoday.com, christianexaminer.com, crossmap.com, breathecast.com, bibleportal.com and gnli.com.
Anderson promoted a vision of creating a Christian publication that rivaled The New York Times. But reality hasn't lived up to this grand vision. Instead, the focus is generating fresh content that's short, personality-driven, and tempting to click on.
Some of The Post's content is provided free from Christian ministries, speakers, and authors, and published with minimal if any editing. Some content is generated by writers—including unpaid foreign students at Jang's Olivet University—who rewrite articles published elsewhere without giving credit to these articles or performing any original reporting.
A common technique used by The Christian Post is to have a writer watch the live stream of a conference and write stories using extensive quotes from the speakers.  Stories are often posted within minutes of the speaker leaving the platform, but they are often not fact-checked or scrutinized for theological or other errors.  The result tended to be coverage that was more promotional than journalistic, and it tended to favor celebrities with large media platforms, both because their events were easier to cover, and because these celebrities provided the kind of click-bait business model of The Christian Post demanded.
Using this technique, a Christian Post writer is sometimes expected to writer four or five or even more stories per day.  Writers are also evaluated by the number of page views their stories generate.
Barry Bowen had been running the website Christian Headlines for years when he applied for a job at The Post in 2011. He interviewed personally with Anderson, and was "impressed." Bowen worked for The Post from 2011 to 2014, and now works for the Trinity Foundation.
"Real journalism is harder than people realize," Bowen said. "To break major news stories consistently requires close contact to important sources. In recent years, The Post's journalists have worked on cultivating relationships with political insiders and religious leaders."
Attacking the Attacker
Bowen was at The Post in 2012 when Christianity Today published its investigation of Jang, but he was not involved in the company's response.
"There's not anything to it," one editor told Bowen when discussing CT's article.
The Post assured its readers there was nothing to CT's claims, and published a series of responses attacked Christianity Today's coverage.  Christian Post's responses also failed to acknowledge the publication's connection to the controversial leader.
One article, "Sources in 'Second Coming Christ Controversy' Face Scrutiny," attacked CT's sources and dismissed all the article's claims:  "U.S. and Korean evangelical leaders are rallying around Olivet University and its founder Dr. David Jang in the wake of an article published by Christianity Today which attempts to rekindle in the U.S. a decade-old Asian controversy over alleged Second Coming Christ beliefs regarding Jang. All of the allegations against Jang have been dismissed as false."
Another Christian Post article claimed did not dispute the facts in the Christianity Today story, but said one of the writers, Ken Smith, had ties to a child porn company.
The Post's longest response disputed claims that Jang, who ran a theological institute that was part of the Unification Church's Sun Moon University, ever claimed to be a Second Christ or Messiah.
"Christianity Today's 'Second Coming Christ Controversy' Collapses" was written by Jonathan Park, head of the school of journalism at Olivet College, one of the organizations in Jang's global business empire.
In short, Park forgot one of the key lessons of Journalism 101: Reveal conflicts of interest. Both Park and his students contributed content to The Post.  If readers knew these connections as they read Park's article, it would have provided additional context for Park so easily dismissing claims that Jang claimed to be a "second Messiah."
Missing a Big Story
William Anderson's guilty plea got The Christian Post coverage in The New York Times, if not the kind of coverage he hoped for.
But The Christian Post has overlooked this major story about itself for the past two years. It's not that the story fails the test of newsworthiness. After all, Christian executives pleading guilty to conspiring to undertake a major criminal operation is big news.
The Manhattan District Attorney's office says Anderson and the other executives engaged in "brazen attempts to disguise the fraud – by creating a fictitious auditor, and laundering their transactions through a series of corporate accounts."
The DA's Valentine's Day press release called the scheme "a massive fraud scheme through which a group of sophisticated criminals illegally moved tens of millions through our Manhattan marketplace by brazenly overstating the financial health of their companies."
In fact, if the story had not been about a Christian Post executive, it would have been a tailor-made Christian Post story:  easy-to-produce because of all the government's press releases, and personality-driven.
And that story would have been easy to understand.  Anderson and executives of Olivet and other Jang-related companies:
engaged in a conspiracy to overstate the value of their companies.
used the inflated numbers to borrow millions of dollars, allegedly to purchase computer servers.
spread the loaned funds through The Christian Post and other companies, offsetting deficits, funding daily operations and salaries, and buying more real estate.
It's the kind of story readers of "the nation's most comprehensive Christian news website" would love to click.
Next Up In Our Series: The Christian Post's Evangelical Advisers.