IN FRAUD WE TRUST: Did Money-Laundering and Advertising Scam Help "Christian Post" Stay Afloat?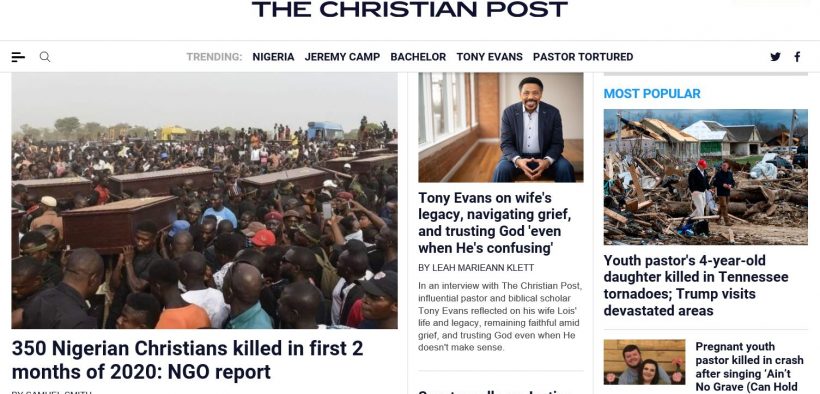 First in a Series
David Jang's Un-"Righteous Media"
Editor's Note:  Media have been an important part of controversial South Korean religious leader David Jang's strategy for building the kingdom of heaven on earth. His followers would create "righteous media to spread the words of God in this era," he said in 2002.
But the means and methods Jang's disciples have used to keep The Christian Post, the UK's Christian Today, and their other media properties afloat over the last five years were often unethical and illegal, as a string of recent guilty pleas by key executives has made clear.
MinistryWatch covered these guilty pleas here.
This article is the first in a series that takes a deeper look at the increasingly obvious lawlessness at the heart of Jang's "righteous media."
The series will also examine the hear-no-evil, see-no-evil approach embraced by many evangelical leaders who bask in the glow of Jang's influential empire.
In 2018, after a multi-year investigation, the Manhattan District Attorney's office issued an indictment charging The Christian Post and other Jang-related businesses, including the near-defunct Newsweek magazine and Olivet University in California, of fraudulently acquiring bank loans worth millions of dollars and using that money to fund The Christian Post and other companies, with the help of make-believe company accountants and financial documents.
According to the indictment:  "The objects of the conspiracy were fraudulently to obtain financing from financial institutions, divert the proceeds of the financing and conceal its origins in order to fund day to day operations and meet other needs unrelated to the stated purpose of the financing, and maintain a credit profile sufficient to continue promoting the financing scheme."
The DA also condemned the companies' "brazen attempts to disguise the fraud – by creating a fictitious auditor, and laundering their transactions through a series of corporate accounts."
In February, executives with The Christian Post, Newsweek, Olivet and a fourth Jang-related company called Oikos, pled guilty for their roles in a scheme involving "fraudulently obtaining over $35 million in financing…and then laundering the money through a network of corporate bank accounts to mask the origin of the funds, and to disguise the fact that the funds were not being used" for their intended purposes.
The District Attorney's Feb. 14 press release called the scheme "a massive fraud scheme through which a group of sophisticated criminals illegally moved tens of millions through our Manhattan marketplace by brazenly overstating the financial health of their companies."
Fraudulent Traffic Claims
Jang's companies didn't merely launder money, they also laundered web traffic.
A damning 2018 exposé by BuzzFeedNews tells how researchers at a tech firm called DoubleVerify found that Jang-related websites—both secular and "righteous"—used malignant codes in a plan to fraudulently overstate their viewer traffic, thus generating greater advertising revenue, often at the expense of competing media outlets that told the truth about their web traffic and charged lower rates.
The Christian Post has long claimed to be "the #1 Religion/Spirituality website in the world," but that claim is apparently based on these overstated numbers, according to DoubleVerify, who identified the malicious code on The Christian Post site and on eight other sites owned by the Christian Media Corporation parent company:
christiantimes.com
christianitydaily.com
christiantoday.com
christianexaminer.com
crossmap.com
breathecast.com
bibleportal.com
gnli.com.
Disciples' Dark Deeds
The fraud amounted to this:  lying about their financial health to secure loans, using the loaned funds for unapproved purposes, and moving the finds around to conceal the fraud.
First, executives in various Jang-related companies conspired to overstate the value of the companies.  For example, they falsely claimed that Newsweek, the once storied magazine which they purchased in 2013, had a large readership and solid bottom line.  The fraud including "provid[ing] false financial statements to the lenders."
They also made false claims about the financial health of Olivet University (which is not to be confused with Olivet Nazarene University in Illinois or Olivet College in Michigan). Although the school had a sizable student body, most were Korean and Chinese citizens here on student visas who were actually working for no or little pay to prop up both the college and the various Jang-related companies.
Second, they borrowed millions and millions of dollars, allegedly to purchase very expensive computer servers from a previously unknown but Jang-related company called Oikos Networks, Inc.
Third, the companies paid Oikos much less money for inexpensive computer servers, but claimed they had paid the full amount.
Fourth, they took all the millions they had saved by purchasing the cheaper computers and spread it around among the various companies, offsetting deficits, funding daily operations and salaries, and buying more real estate.
$1.5 million went to the Christian Media Corporation, parent company of The Christian Post. And the eight other "righteous media" properties.
Bottom line: if you received payments from these companies between 2015 and 2017, you may have received dirty money.
And if you bought advertising from these companies, you may have paid more than you should have for the audience you actually reached.
Quiet Pleas, Loud Denials
A succession of Jang-related executives have quietly pled guilty in a Manhattan courtroom
But publicly, Jang's media outlets have either ignored the pleas, or denied the charges, typically repeating three false claims:
We've done nothing wrong.
Our organizations are not related to each other, or to Jang.  As they claimed in one official company statement: "Dr. David Jang is an evangelical theologian who loves the Lord Jesus Christ and the Bible. He has no role" in the company.
We are not being justly prosecuted, but unjustly persecuted for our faith
After the ad fraud was exposed, Jang's disciples blamed foreign technology, then blamed two lowly employees, then released an official statement that played the persecution card:
"To imply that this code originated from a university or a church that the co-founders and executives may attend is categorically false and amounts to clear defamation and religious discrimination."
COMING SOON:  Some of the nation's most prominent evangelicals served as advisors and writers for The Christian Post.  What are they saying now?