Coronavirus Crisis Leads SBC to Cancel Annual Meeting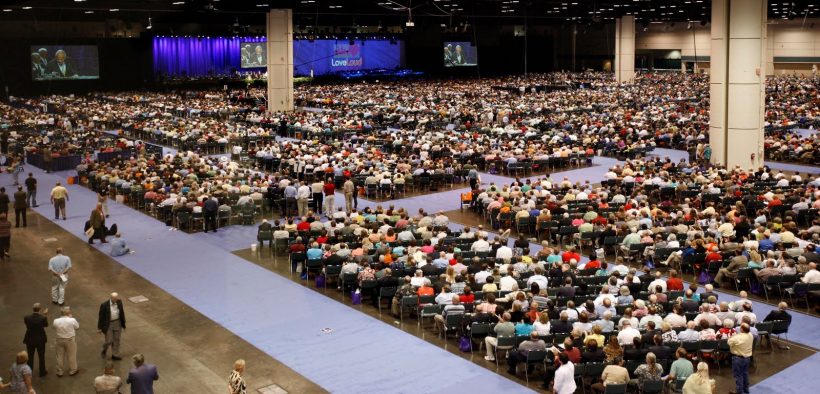 The Southern Baptist Convention (SBC) announced Tues. Mar. 24, that it has canceled its annual meeting in response to the COVID-19 pandemic. It's the first time in 75 years that the SBC's annual meeting will not be held, the convention's news service Baptist Press (BP) reported. 
This year's meeting was scheduled for June 9-10 in Orlando. The decision to cancel the gathering was made in a unanimous vote that included SBC officers, the SBC Executive Committee and leaders of the SBC's boards and institutions, BP reported. The last time the meeting was canceled was in 1945, during World War II, when the U.S. government banned meetings of 50 or more people.  
SBC leaders described it as necessary decision given the uncertainty of the crisis and not knowing what restrictions will be place in the coming months.  
As of March 25, more than 435,000 confirmed cases of COVID-19 infection had been reported worldwide, with nearly 19,600 deaths, according to Johns Hopkins University & Medicine Coronavirus Resource Center. In the United States, more than 55,200 confirmed cases had been reported, with more than 800 deaths. 
"We are a people committed to keeping the Gospel above all," SBC President J.D. Greear said, "and our sole purpose in coming together is to support one another in that mission, catalyzing our collective mission efforts. This year, our unusual circumstances mean we can best meet that goal by not meeting together." 
Greear, pastor of The Summit Church in the Raleigh-Durham, N.C., area, and other SBC officers will remain in office until their successors are elected at the next annual meeting, BP reported. Members of many committees are also expected to remain in office until then. And all of this year's ancillary meetings that would have been held during the annual gathering in Orlando have also been canceled. 
Last year's meeting drew more than 8,000 messengers and a total of nearly 12,000 in attendance, BP had reported. SBC leaders were reportedly expecting this year's meeting to draw its largest crowd since 2010, when it was last held in Orlando.  
"We know it is the right thing to do," said Ronnie Floyd, president and CEO of the SBC Executive Committee, calling the decision "heartbreaking." "… We know our churches need to focus on ministering to their communities and to those who have been impacted by the COVID-19 global pandemic."
"The reality around us nationally and globally cannot be ignored," he noted. 
While annual meetings have been live-streamed for years, BP reported, holding it either online as a virtual meeting or at various satellite locations is not an option under the SBC's governing documents. And any changes to those documents would need to be made by the convention's messengers at an annual meeting. For now, BP reported, all business conducted during the meeting must be done by "messengers present and voting in person."
For more information on the cancellation, SBC leaders pointed to FAQ section published on the SBC website. Those with other questions are asked to send them to SBC EC staff at [email protected]
The SBC's 2021 Annual Meeting is scheduled to be held in Nashville, June 15-16.