Shepherd's Conference Notification of COVID-19 Death Raises Questions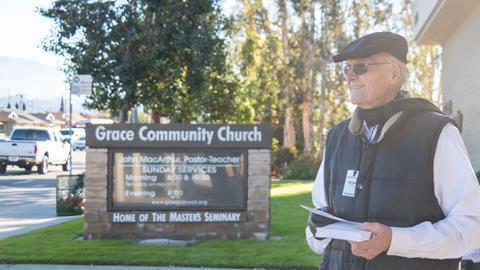 The leadership team of the 2020 Shepherd's Conference has confirmed that a pastor who attended the conference earlier this month has died of the coronavirus. The disclosure, however, has raised questions about transparency in a time of crisis and pandemic.  
On Thurs., Mar. 19, Word of Grace Bible Church in Battleground, Wash., announced on Facebook that 90-year-old Alexey I. Kolomitsev, the church's pastor emeritus, had died.  The church made no mention of the coronavirus, but a family member on Mar. 20 posted that Kolomitsev was a "highly suspected case" of COVID-19 and the family was "waiting for results." He and his son Alexey A. Kolomitsev, the church's lead pastor, attended the Shepherd's Conference together a couple weeks prior.  
The conference, hosted March 4–6 by John MacArthur's Grace Community Church in Sun Valley, Calif., alerted attendees of the man's passing only after journalist Julie Roys published a story claiming the conference knew of the death and hadn't notified guests of their possible exposure. 
The conference team sent out an email Sat., Mar. 21, to its nearly 5,000 guests: 
"We wanted to bring to your attention that a 90-year-old man who attended our conference recently passed away. There are posts online that he passed away from the coronavirus, but the physicians who treated him have not confirmed that information at this time. We encourage you to pray for the family of the deceased as this is a trying time for all of them. 

"Other than the potential situation above, we have had no confirmation of COVID-19 cases associated with anyone who attended the 2020 Shepherds' Conference."
On Mon., March 23, the conference team sent another email saying doctors had confirmed Kolomitsev had indeed died from COVID-19. Both messages are also posted on the conference website.
"At this time, there have been no other conference guests, Grace Church staff, or volunteers who have reported a positive diagnosis of the coronavirus," the email update said. "We are now outside the incubation period for the virus set by the CDC, but we encourage you to continue to take the necessary steps to ensure your personal health in this season." 
Roys published her initial story after Phil Johnson, a speaker at the conference and executive director of Grace to You, the broadcast arm of Grace Community Church, deleted a post about Kolomitsev's death. She shared a screenshot of Johnson's post from Thursday, Mar. 19, that said, "Alexey Kolomiytsev and his father were at the Shepherd's Conference two weeks ago, and shortly after returning home, Alexey's dad tested positive with the Wuhan virus." He also linked to Alexey's post announcing his father's passing.  
In an update, Roys said Johnson told her he removed the post because "someone close to the family told him the cause of Kolomiytsev's death has not been determined." 
On Monday, Roys posted an updated story containing an email sent by the Shepherd's Conference team that said doctors have confirmed that Kolomiytsev had indeed tested positive and died from the virus. 
On Twitter, Johnson pushed back on the idea of a coverup. "The fact that [Roys] would assume some sinister motive in the disappearance of that link demonstrates her lack of objectivity," he tweeted Sunday. "What, after all, would we have to gain from a deliberate coverup?" 
Yet, even without a "deliberate coverup," questions arise about the responsibility of ministries and organizations to alert people of cases that may have exposed them to this virus ransacking the world—even if they are just "highly suspected" cases. 
Roys defended her position. "I was very concerned that 5,000 conference guests, spread throughout the globe, might have been exposed to COVID-19 and were not being notified," she said. "As National Institute of Allergy and Infectious Diseases Director Anthony Fauci has said, '(I)f it looks like you're overreacting, you're probably doing the right thing.' This is a time of crisis, and I'd rather err to the side of informing people than not."