Yelp Labels Pregnancy Resource Centers with Consumer Notice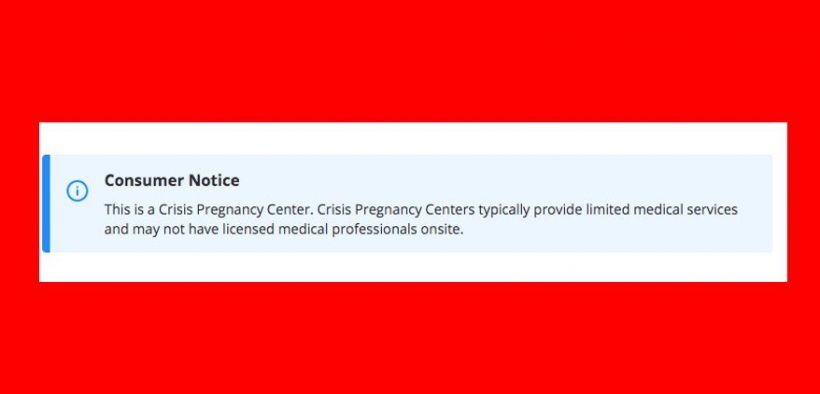 Pregnancy resource centers face another obstacle in their continued mission to provide services to women in crisis: Yelp is adding a "consumer notice" to their listings, a move first reported by Axios.
Yelp announced last week that it would add a notice stating that centers "provide limited medical services and may not have licensed medical professionals onsite."
In 2018, the consumer review website began recategorizing pregnancy help centers as "faith based pregnancy crisis centers" rather than medical clinics. While pregnancy centers offer help because of their faith, they don't require clients to adhere to a particular faith to receive services, Cary Wilcox, a pregnancy center director in California told Pregnancy Help News. Additionally, many clinics provide medical services.
Heartbeat International, a nationwide network of pro-life pregnancy centers said this Yelp "consumer notice" is just part of an "ongoing saga" because Yelp has made its pro-abortion views known.
Earlier this year, the San Francisco based company announced it would provide funds for its female employees who live in a pro-life state and travel out of state to get an abortion.
"Ironically, in their quest to label pregnancy centers so that women only see abortion providers when seeking pregnancy help, they actually remove any semblance of 'choice,'" Heartbeat spokesperson Andrea Trudden told MinistryWatch.
"Logic tells me that the organization operating the pregnancy center has a better idea of the services they offer rather than a Yelp employee with an agenda," she added.
Heartbeat suggests Yelp disclose where it received this list of pregnancy help organizations it is now labeling for the sake of transparency.
"The abortion lobby is doing everything in its power to limit the reach of pregnancy centers, and why? Women who utilize their services overwhelmingly give pregnancy centers satisfactory ratings for the care they receive. Women are smart and capable beings – they do not need Yelp to tell them where to go when pregnant."
Access to MinistryWatch content is free.  However, we hope you will support our work with your prayers and financial gifts.  To make a donation, click here.
Google has also joined the move, announcing that it would add labels to search and map functions to identify those clinics that provide abortions and those which don't.
In June, Democratic members of the U.S. House and Senate sent a letter to Google expressing concern that it had been "directing users who search for abortion services to toward anti-abortion 'fake clinics' … without any disclaimer."
"It is disappointing that Google has kowtowed to pro-abortion politicians and lobbyists' demands to keep a woman from receiving information on all her pregnancy questions," Trudden offered.
"Women are smart, capable beings who deserve all the information on her pregnancy options so she can make an informed decision. For companies that classify themselves as 'pro-choice' they are certainly doing everything in their power to give women facing unexpected pregnancies only one choice — abortion."
Heartbeat International has been in communication with its network of pregnancy centers regarding the recent developments with Yelp and Google.
"We always advise pregnancy help organizations to use a multipronged marketing approach — beyond Yelp and Google — to reach pregnant women in need. Traditional marketing through fliers, billboards, and bus benches are still quite effective, as is social media," Trudden said about outreach. 
Often clients come to the pregnancy centers through referrals from a friend who had a good experience, she added.
"Pregnancy help organizations have been around longer than Yelp and Google, and they will continue to serve women and families in need long after today's Big Tech bullies fade."