Weekly Review: Graham Going to UK Anyway, James MacDonald Rides Again, Central American Ministries Lose Funding, and Trump at the NPB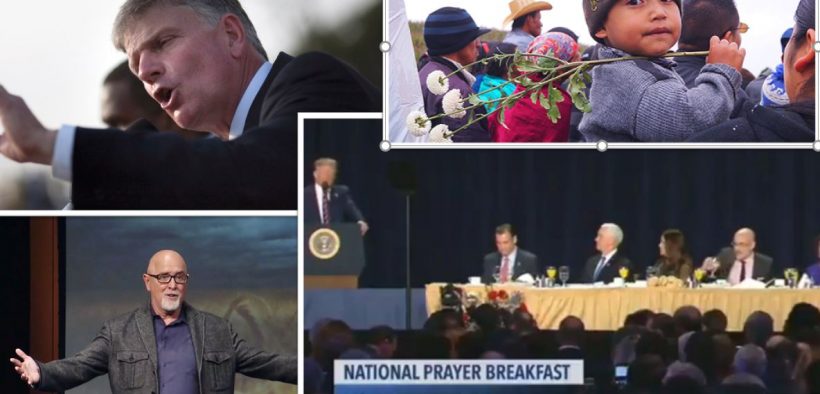 Franklin Graham Going To UK Anyway.  Franklin Graham said he will do his summer tour of the United Kingdom even though all eight venues have cancelled his appearance.  The venues are citing Graham's biblical, pro-family views – which they are misrepresenting as "anti-LGBTQ" — as the reason for the cancellation.  Graham said in a statement that the opposition is coming from a "small but vocal minority."  He added that Billy Graham, his father, experienced resistance in the UK during his 1954 tour of the country.  "When my father first came to Harringay, there was a petition circulated by many churches demanding he not be allowed in the country," Graham added.  "Throughout history, the Gospel has consistently faced opposition." 
James MacDonald Begins New Ministry.  Barely a year after being fired from Harvest Bible Chapel for conduct "harmful to the best interests of the church," disgraced former pastor, James MacDonald, has launched a new online ministry and Home Church Network.  The news was first reported by The Roys Report.  According to Julie Roys, "Last November, the elders at Harvest Bible Chapel formally disqualified MacDonald from public ministry, saying his behavior did not meet the standards for leadership outlined in Scripture.  The church also released the results of financial review, which found that under MacDonald, the church had suffered a 'massive corporate governance failure.' The review also found that MacDonald had used secret accounts to funnel millions in church funds to himself for personal use." 
Christian Ministries Lose Funding.  Christian ministries in Honduras, Guatemala, and El Salvador will lose funding because of a Trump Administration decision to drastically cut aid to the three Central American countries.
According to Christianity Today, "Some of the more than $500 million of US taxpayer money was going to Christian nonprofits working on economic development, anti-corruption efforts, and helping children in poverty in the three countries." 
According to Chet Thomas, director of Proyecto Aldea Global in Honduras, though the cuts are designed to force these countries to stem the flow of migration to the United States, they in fact indiscriminately cut funding to "projects are designed to … reduce the number of people migrating to the US."  His group stopped a job training program that "gave teenagers alternatives to working for criminal gangs."  According to the Christianity Today report, "Association for a More Just Society (AJS) lost $2 million in US aid for 2020, forcing it to lay off 42 of 130 people on staff in Honduras."  International Justice Mission (IJM) had to layoff 40 percent of its Guatemalan staff, many of whom were Guatemalan.  It also had to "drastically scale back" Project Sentinel, which was funded in part by $10 million over four years from the US government.  That project had shown "promising results in strengthening institutions—especially the police, the ministry of education, and the Catholic church. The report found that mentors placed within the criminal justice system helped triple the number of convictions in child sexual assault cases."
Trump Speaks At National Prayer Breakfast.  The annual National Prayer Breakfast has become something of a "family reunion" for Christian ministry leaders, and it has traditionally been a time when partisan messages are set aside in favor of "the ties that bind."  Not so this year.  Keynote speaker, Harvard University professor and author Arthur Brooks, told the crowd that Christians are commanded "love your enemies.  He then asked the crowd, "How many of you love somebody with whom you disagree politically?"  Many people in the audience raised their hands. Trump, sitting quietly a few feet away from Brooks, did not.  Later, when he spoke, he returned to the question Brooks posed at the start of the breakfast. "I'm sorry, I apologize. I'm trying to learn," he said. "When they impeach you for nothing, you're supposed to like them? It's not easy, folks. I do my best."
ECFA Membership Changes.  The following ministries have seen changes to their Evangelical Council for Financial Accountability (ECFA) membership.  Removals:  Love Has Come (Missoula, Mont.), Timothy Barnabas (Woodstock, Ga.).  WBGL (Champaign, Ill.)   Additions: Center for Faith and Flourishing (Siloam Springs, Ark.). 
MinistryWatch Database Updates.  The financial information of the following ministries have been updated in the MinistryWatch database.  Click on the name of the ministry to go to the full MinistryWatch profile.  Our rating of the ministry is in parenthesis (1 to 5 stars, with 5 stars being our highest rating).  Marriage Today (3 Stars). Romanian Missionary Society (3 Stars).  Stand To Reason (3 Stars).  Tentmakers (1 Star).  Trinity Broadcasting Network (2 Stars).  World Evangelistic Enterprise Corporation (1 Star).  YMCA (3 Stars).  Answers in Genesis.