WEEKLY REVIEW: Church Feeds Neighbors, Barna Partners with Arizona Christian, ECFA Gets New President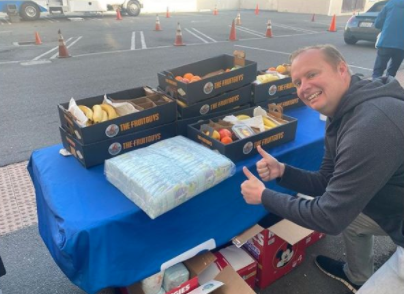 LA Dream Center Feeds Neighbors.  Last week, the Pentecostal megachurch Angelus Temple in Los Angeles canceled its public church services and fed families in the neighborhood instead.  Its neighborhood in LA's Echo Park, was hit hard by job loss in the midst of the coronavirus pandemic.  The Dream Center, the church's nonprofit, has been open from 7:30 a.m. to 6:30 p.m. to provide free hot and boxed meals all week — not just to families with children from the Los Angeles Unified School District, but to anyone who stops by for its drive-thru or pick-up service.  The center will also be distributing meals this weekend.  The church is averaging 5,000 meals a day as well as 150 daily visits to the elderly to provide them with food. Chick-fil-A and Pink's Hot Dogs have donated food, said Pastor Matthew Barnett. 
Barna and Arizona Christian.  Arizona Christian University will announce next week the launch of the Cultural Research Center at ACU.  The new center claims to be "the country's premier worldview research organization."  Researcher and bestselling author Dr. George Barna will be the center's director of research.   
ECFA Gets New President.  The Evangelical Council for Financial Accountability (ECFA) announced today the appointment of Michael Martin as its seventh president. After launching a national search in October 2019, ECFA's Board of Directors unanimously confirmed Martin, previously ECFA's executive vice president.  Since joining ECFA staff in 2011, Martin has served as a leader of ECFA's professional compliance team and supported several key ECFA initiatives, including the Commission on Accountability and Policy for Religious Organizations and the launch of the ECFA.church website.  Former ECFA President Dan Busby is now president emeritus. Busby will continue to actively assist in advancing the work of ECFA. 
Christmas in March?  A video of quarantined Italians gathering in their windows to sing inspired Nashville's Bekah Stoneking.  "That really challenged me to think, 'OK, what are some ways that we can create joy for one another?'" she said.  So she switched on the lights on her Christmas tree, which she keeps up year-round because "it just makes me happy."  She placed her Christmas tree by the window of her apartment so it would make others happy, too.  It's not clear that the trend originated with Stoneking, but turning on Christmas lights as a way to "light a candle in the darkness" has clearly become "a thing."  Last Sunday, Lane Grindle, a member of the Milwaukee Brewers' radio broadcast team, suggested putting up lights and driving around to admire others' as a "fair social distancing activity."  Stoneking hopes others will adopt the trend, at least until the current crisis passes.  "It brings humanity into a situation that feels especially cruel and inhumane," she said. 
ECFA Membership Changes.  The following ministries have seen changes to their Evangelical Council for Financial Accountability (ECFA) membership.  Removals:  Christian Aid Mission (Charlottesville, Va.), Life Covenant Church (Canton, Mich.)   
MinistryWatch Database Updates.  The financial information of the following ministries have been updated in the MinistryWatch database.  Click on the name of the ministry to go to the full MinistryWatch profile.  Our rating of the ministry is in parenthesis (1 to 5 stars, with 5 stars being our highest rating). If the ministry has experienced a change in its rating, that change is also noted.   MAP International (5 Stars), Medical Teams International (4 Stars), Mercy Corps (4 Stars), Mercy Ships (1 Star), Mission America/US Lausanne Committee (4 Stars), Christian Missionary Fellowship (4 Stars), Jews For Jesus (Down from 2 stars to 1 Star), Georgia Right To Life (3 Stars, New to our Database), Union Rescue Mission/Los Angeles (2 Stars, New to our Database).