Church That Promoted Abstinence From Alcohol Bellies Up To The Bar To Help Laid-Off Workers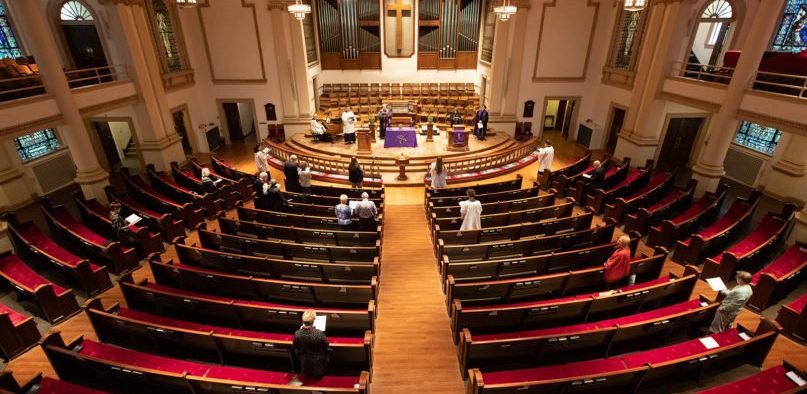 The United Methodist Church has long promoted abstinence from alcohol. 
But that didn't stop City Road Chapel in the suburbs of Nashville, Tennessee, from announcing a Bar and Restaurant Workers Help Fund this week to assist locals whose food-service jobs have been impacted by the coronavirus outbreak.  
"The reality is we're a community-based church, and we've been located here for over 100 years," said the Rev. Jay Voorhees, City Road's lead pastor. "Many of the folks we serve are in the restaurant and bar business. So this is just a continuation of the normal command to love your neighbor." 
City Road has a relationship with a bar down the street that closed down in accordance with the city's recommendation to mitigate the spread of the virus, leaving staffers without a livelihood. Voorhees' own daughter works in restaurant management and had to lay off staff because of the coronavirus situation. 
Across the country, houses of worship like City Road and other faith organizations have shut down their in-person services but are mobilizing to assist vulnerable community members who require assistance with grocery shopping, paying bills, picking up prescriptions and other tasks during the outbreak. 
A poll conducted last week found that 18 percent of U.S. households already reported someone being laid off or having hours reduced because of the pandemic. Experts say it's likely just the beginning of a massive economic downturn. 
"In the midst of this crisis, we're all having to rethink what it means to be church," Voorhees said. "Church has been defined so often by what happens on Sunday morning when people show up for worship. … We're trying to find the balance between keeping our people safe, keeping everybody safe, and being available to help those in need. This fund is one way we'll do that."  
The church, which has received about $500 and five requests for assistance so far, will provide grocery store gift cards to local residents who can provide letters from former employers saying they have been laid off due to the pandemic.  
The need appears to be growing ahead of actual cases, as schools are shuttered and layoffs begin. Georgia's New Birth Missionary Baptist Church's new food pantry has already fed more than 1,400 people this week. Philadelphia's New Kingdom Baptist Church has opened its basement to provide free hot meals for children and families over the next two weeks.  
Milwaukee's Life Church is distributing meals to the local public school system and offering delivery to members in need. Florida's Lake Gibson Church of the Nazarene is holding a "PB & Jesus" food drive event all week to collect food donations and prepare hundreds of meals for children at a local elementary school. 
Other groups are focusing on providing for those isolated at home. At Colorado's Cherry Hills Church, Texas' Milestone Church and Ohio's Centerburg Church of Christ, staffers are reaching out to congregants who are unable to get out for groceries and other supplies.