Pastors, Ministry Leaders, and Evangelical Thought Leaders Who Left Us in 2022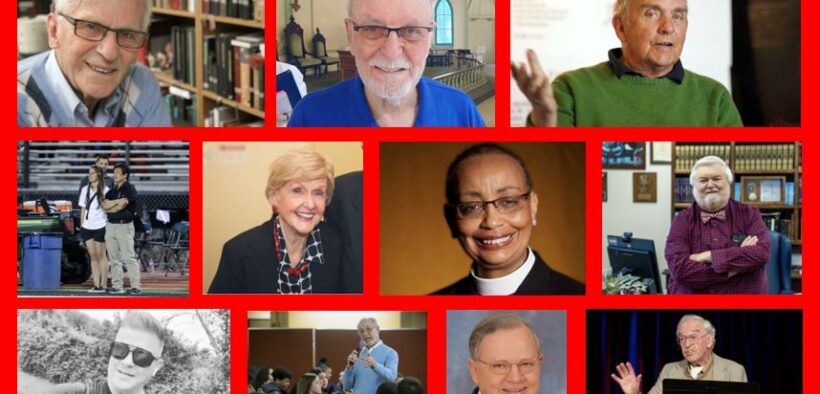 I have always been fascinated by obituaries, and my experience as a journalist tells me I'm not alone. I used to think it was because they reminded me of my mortality. Even the Bible says it is better to go to a funeral than to a banquet (Ecclesiastes 7:2), because it sets our minds on eternal things.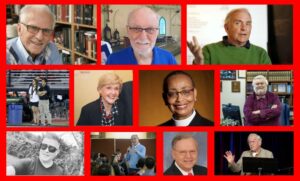 I think the obituaries of famous people add an even deeper understanding to this verse. John Calvin famously said the human heart is an idol making factory. Remembering that we are all subject to physical death – all of us, even the mighty — is a partial antidote to the kind of idol making Calvin described.
On the other hand, it's also important to remember what C.S. Lewis once wrote: "You have never met a mere mortal?" What he meant by that is that we all live forever. I think that's also what I find fascinating about obituaries: not just that they remind me of my mortality, but that they remind me of my duty – daily, even minute-by-minute — to live fully coram deo: before the face of God. On earth as it is in heaven.
With that in mind, we remember ministry leaders, pastors, and others who died in 2022, presented in alphabetical order. If MinistryWatch did a more extensive obituary during the year, that link is included.
Access to MinistryWatch content is free.  However, we hope you will support our work with your prayers and financial gifts.  To make a donation, click here.
Stuart Briscoe.  The prominent Wisconsin pastor, recognized for founding the broadcast ministry series "Telling the Truth" and authoring over 40 books, died on Aug. 3.  Briscoe died of "natural causes unexpectedly," according to a Twitter post from his son, Peter "Pete" Briscoe. He was 91.  The British-born Briscoe transformed Elmbrook Church, in the Milwaukee suburb of Brookfield, into a megachurch with an attendance of 7,000 people, making it the largest in the state. But his evangelism went far beyond the congregation to encompass books and a radio ministry.
Brother Andrew.  Anne Van der Bijl, the founder of international nonprofit Open Doors, and known around the world as "Brother Andrew," died Sept. 27 at the age of 94 at his home in the Netherlands.  Brother Andrew was the founder of Open Doors, the oldest worldwide ministry to persecuted Christians. Under Brother Andrew's leadership, Open Doors' presence expanded through more than 60 countries, where it currently provides Bibles, emergency relief, vocational training, community rebuilding and other essential help to Christians who are persecuted because of their faith. Open Doors is celebrating 67 years of ministry in 2022. Brother Andrew earned the nickname "God's Smuggler" for his daring Bible deliveries behind the Iron Curtain at the height of the Cold War and was known by many for his adventurous faith and intensely devoted prayer life.
Frederick Buechner died peacefully in his sleep on Aug. 15 at age 96.  Born Carl Frederick Buechner on July 11, 1926, in New York City, he moved frequently with his family in his early childhood as his father searched for work, settling in Bermuda after his father's death by suicide when he was 10. His studies at Princeton University were interrupted by World War II, but he completed his bachelor's degree in English in 1948. He quickly achieved fame with the 1950 publication of his first novel, "A Long Day's Dying." Over the course of his life, Buechner wrote nearly 40 books across a number of genres: fiction, autobiography, theology, essays and sermons. Among his novels, "Lion Country" was a finalist for the 1972 National Book Award and "Godric" a finalist for the 1981 Pulitzer Prize for fiction. His short story "The Tiger," published in The New Yorker, took third prize in the O. Henry Awards in 1955.
Dan Busby, who was president of the Evangelical Council for Financial Accountability for more than a decade, has died after a monthslong bout with cancer. The expert on nonprofit finance and tax issues, who served the ECFA for more than three decades in all, died Sept. 28 at his Winchester, Va., home, according to the organization. He was 81.
John Cheng was known by all as Dr. John — a quiet, calm physician who mentored kids in kung fu, finding time between patient appointments to encourage people to learn self-defense. So it was no surprise to friends and colleagues that John Cheng spent his final moments saving others by rushing a gunman who fired on a Southern California church luncheon of mostly older Taiwanese people, including Cheng's recently widowed mother.  The incident took place on May 15. Cheng charged a gunman who had disrupted the service at a Presbyterian Church.  He was shot and died at the scene, but his quick action disrupted the shooter, who was then hit by a chair thrown by the church's former pastor, Billy Chang, and jumped on by three members of the congregation who used an extension cord to tie him up until police arrived.
Michael Gerson died on Nov. 17 at the age of 58.  He was a speechwriter for President George W. Bush who was instrumental in shaping the president's message in the aftermath of 911.  Be began his career as a writer for Chuck Colson and Prison Fellowship.  While in the White House he helped shape the president's PEPFAR program, which spent billions of dollars on AIDS relief.  He mobilized evangelical groups to support the program, and to do much of the boots-on-the-ground implementation of the program.
Bishop Mildred "Bonnie" Hines, the first female bishop of the African Methodist Episcopal Zion Church, has died on May 23 at age 67. Hines was the 98th bishop of the AME Zion Church. She was the sole female bishop of the historically Black denomination that dates to 1796. The Rev. George McKain, director of public affairs for the denomination, said Hines was known as an "unbelievable teacher" as well as a powerful preacher. She was also the chairperson of the board of trustees of Clinton College in Rock Hill, S.C.
Don Hinkle, a longtime Southern Baptist newspaper editor known for his conservative politics and colorful bowties, died at age 68. For two decades, Hinkle was editor of The Pathway, the official publication of the Missouri Baptist Convention, founded in 2002 amid a feud between conservatives and moderates in the state. Conservative leaders hired Hinkle, a former newspaper editor turned seminarian and Christian journalist, to lead the new publication—meant to rival Word&Way, a longtime Missouri Baptist publication.
Jeff Jansen, who as recently as May 2021 was still claiming he thought God would take action to reinstall Donald Trump as president, died unexpectedly on Aug. 10. Global Fire Ministries and Global Fire Church in Murfreesboro, Tennessee, which Jansen formerly co-led with his wife, posted the news on its website.  Jansen and his wife Jan were married for more than 25 years and had eight children and 18 grandchildren. Jansen was asked to step down from Global Fire Ministries and Global Fire Church in May 2021 because of what the church called "unscriptural and unbiblical behavior," saying he had made an "intentional" decision to leave his wife and family and "pursue his own desires."
Duane King, a pastor who founded Deaf Missions, a ministry providing evangelism and discipleship materials in sign language, died on Jan. 25.  He was 84.  In 2020 Deaf Missions produced the entire Bible in sign language.
Tom Minnery, longtime senior executive of Focus on the Family, died on Christmas Eve in an ice skating accident.  He was 74.  Minnery was also instrumental in the formation of Alliance Defending Freedom, the nation's largest Christian religious liberty law firm, and the Family Policy Alliance, an alliance of state family policy organizations.
Robert Miranda's death was announced May 22 during services at Congregation Lion of Judah in Boston.  He was a prominent Boston Hispanic Pentecostal pastor, known for his church's social programs and conservative teaching, has died, according to his church.  Miranda, who was born in 1955, became pastor of what was a modest Hispanic congregation of about 60 people after earning a doctorate from Harvard. He had hoped to become a professor of Romance languages but gave up his dreams of teaching for the pastorate.  Under his leadership, Lion of Judah grew to a congregation of about 1,000 people, which draws people from 30 countries. The congregation runs social programs to minister to immigrants, serve the poor, and help people overcome "anything that prevents people from becoming what God intended them to be," Miranda told Religion News Service in 2019. He also did not shy away from addressing hot button issues from the pulpit, including his support for pro-immigration policies and his opposition to same-sex marriage.
Gary North was a Christian reconstructionist and author who taught that the Bible supports free market economics and the gold standard. He died on Feb. 24 at the age of 80.  North promoted libertarian Ron Paul and in the 1990s called on Christians to stockpile supplies ahead of a feared Y2K economic collapse.
Adele "DeDe" Robertson, the wife of Christian Broadcasting Network founder and 700 Club host Pat Robertson, died at her Virginia Beach home April 19. She was 94.  She is survived by her 92-year-old husband and four children as well as 14 grandchildren and 23 great-grandchildren. DeDe Robertson was a founding member of the boards of the Christian Broadcasting Network, Regent University, and Operation Blessing International Relief and Development Corporation, and traveled extensively to bring humanitarian and medical aid to people throughout the world. In 1982, she was appointed as principal U.S. delegate to the Inter-American Commission of Women, where she played a key role in elevating the status of Latin American women. She was selected Christian Woman of the Year in 1986.
Ron Sider, an author, seminary professor, and evangelical social justice activist, died July 27.  Sider, a longtime professor at Palmer Theological Seminary, is best known for his 1977 book, Rich Christians in an Age of Hunger: Moving From Affluence to Generosity, and for founding Christians for Social Action, which seeks to rally evangelicals and other Christians to put their faith to work in support of the common good.
Rodney Stark died on July 21.  He was 88 years old.  Stark was a sociologist whose books influenced a generation of evangelical authors and scholars.  They included The Future of Religion and The Rise of Christianity.
Kenneth Starr died Sept. 13 at the age of 76.  He was a federal appeals court judge, U.S. solicitor general, and – perhaps most famously – served as independent counsel who investigated President Bill Clinton.  That investigation led to his impeachment.  He also served as the dean of Pepperdine University's law school and as president of Baylor University.
Jay Weaver, bassist for the Christian band Big Daddy Weave, died on Jan. 2 at the age of 42.
George Oliver Wood, the longtime Assemblies of God leader who died Jan. 12 at age 80.  During Wood's decade-long tenure as the general superintendent of the denomination, the percentage of women ministers in the U.S. Fellowship increased, from 19.2% to 24.3%.  It would become one of his signature accomplishments as superintendent of the Pentecostal denomination and a hallmark of his legacy as a leader deeply invested in diversity.  Wood was the first general superintendent to have been a missionary kid, to China;  the first to graduate from the AG's Evangel University, and the first with an earned doctorate, to which he later added a law degree. His tenure in the leading office was the fourth longest in the denomination's 107-year history.