Weekly Review

Mercy Ships in the Ministry Spotlight, Chuck Bentley on the Podcast, and RZIM Removed from ECFA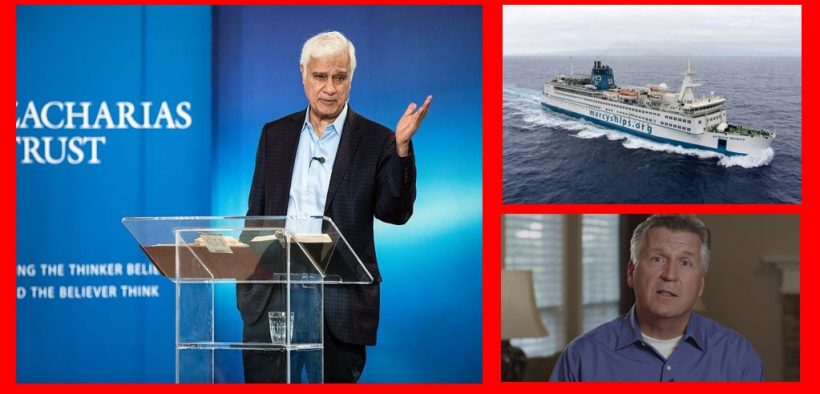 In The Ministry Spotlight.  Each week, MinistryWatch selects a ministry from our database to spotlight.  We do this so you can see some of the powerful information we have in our database, information we hope will inform your giving decisions.  This week we shine our spotlight on Mercy Ships, which topped $140-million in revenue last year, but which spent more than $20-million on fundraising.  Rod Pitzer, who was on the MinistryWatch staff for many years, is compiling these Ministry Spotlights for us. Read this week's Ministry Spotlight, click here.
On Today's MinistryWatch Podcast.  Each week, MinistryWatch brings you news about Christian ministries, as well as the latest in charity and philanthropy, news that we examine from a Christian worldview perspective.  On today's program, a Southern Baptist church in the Atlanta area rebels against the denomination on the issue off homosexuality, and pastors who participated in the events in Washington DC on Jan. 6 are facing consequences from their home churches.  We begin with more news from the rapidly evolving situation at Ravi Zacharias International Ministries.  You can hear the podcast on iTunes, Spotify, Stitcher, and other podcast apps, or you can simply click here.
Crown's Chuck Bentley On The "Extra" Podcast.  Chuck Bentley is the CEO of Crown Financial Ministries, and he's the host of two daily radio broadcasts himself, "The Crown Money Minute" and "My MoneyLife."  He's heard on more than 1100 Christian radio stations around the country.  He's also the author of a new book called Seven Gray Swans:  Trends that Threaten Our Financial Future.  Today, we talk about his new book, and a lot more.  You can hear our conversation by clicking here.
Access to MinistryWatch content is free.  However, we hope you will support our work with your prayers and financial gifts.  To make a donation, click here.
Salary Data In MinistryWatch Database. We now have salary information for 3,000 executives from about 500 of the 800 ministries in our database posted in our profiles.  So check out this new addition by clicking on the red button at the top of this page, or here.  That takes you to our database.  The search engine is right there, and you can type in the name of a ministry you're interested in and our profile will pop right up – now, with compensation information for the top executives.
ECFA Changes.  The following organizations have had membership status changes in the Evangelical Council for Financial Accountability.  ADDITIONS: None.  REMOVALS:  Ravi Zacharias International Ministries (Alpharetta, Ga.), Support Circle (San Leandro, Calif.)
MinistryWatch Database Changes.  MinistryWatch now has more than 800 ministries in its database.  These ministries represent more than $30-billion in total revenue, most of that donor revenue from evangelicals. The following ministries have their profiles updated with the most recent year's financial data.  The Financial Efficiency rating of each ministry is in parenthesis. If this rating represents a change from the previous year, that change is noted: ChildFund / Christian Children's Fund / CCF (2 Stars, Transparency Grade: C), Christian Medical & Dental Associations / CMDA (3 Stars, Transparency Grade: A), International Friendships, Inc.  (2 Stars, Transparency Grade: A), African Enterprise (Down 2 to 1 Star, Transparency Grade: A), Amazima Ministries International (Up 2 to 3 Stars, Transparency Grade: A), Amazing Facts (N/A Stars, Transparency Grade: From F to D), Biblical Ministries Worldwide (Up 4 to 5 Stars, Transparency Grade: D), Christ for the City International (N/A Stars, Transparency Grade: From C to F), Christian Berets, Inc.  (From N/A to 2 Stars, Transparency Grade: D), Covenant College (Up 2 to 3 Stars, Transparency Grade: C), Fresno Pacific University (Up 2 to 3 Stars, Transparency Grade: C), Home School Legal Defense Association (Up 4 to 5 Stars, Transparency Grade: A), InterFACE Ministries, Inc. / IFACE (Down 4 to 3 Stars, Transparency Grade: A), International Justice Mission / IJM (Down 3 to 2 Stars, Transparency Grade: C), John M. Perkins Foundation (Up 2 to 3 Stars, Transparency Grade: C), King University (Up 1 to 2 Stars, Transparency Grade: C), Medical Ambassadors International (Up 3 to 4 Stars, Transparency Grade: A), Mississippi College (Down 4 to 3 Stars, Transparency Grade: C), Ohio Christian University (Down 5 to 4 Stars, Transparency Grade: C), Partners Worldwide (Down 2 to 1 Stars, Transparency Grade: A), Wall Watchers / MinistryWatch.com (Up 4 to 5 Stars, Transparency Grade: C), WorldVenture (Up 4 to 5 Stars, Transparency Grade: C). The following ministries have been added to the MinistryWatch database with the most recent year's financial data: Attack Poverty (4 Stars, Transparency Grade: A), BigLife International (2 Stars, Transparency Grade: A), Bryan College (5 Stars, Transparency Grade: A), By The Hand Club For Kids (2 Stars, Transparency Grade: A), Calvary University (1 Stars, Transparency Grade: A), Casas Por Cristo (2 Stars, Transparency Grade: A), Center for Mission Mobilization (4 Stars, Transparency Grade: A), Christian Community Action (3 Stars, Transparency Grade: A)