The Museum of the Bible Re-Opens After Covid Shutdown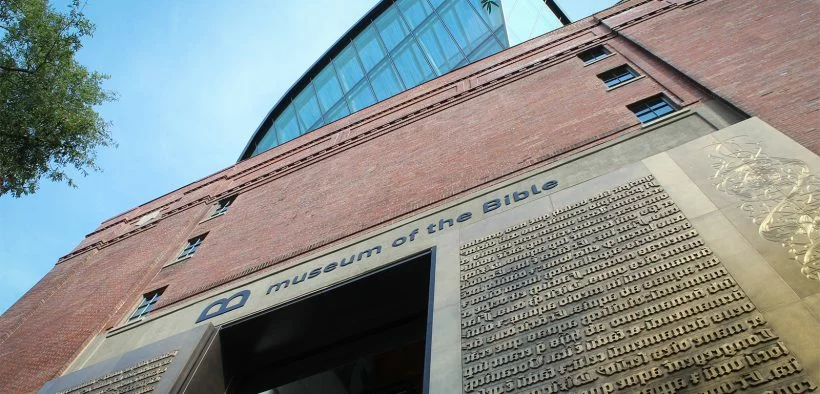 The Museum of the Bible is among Washington, D.C.'s first museums to allow visitors back in after a months-long closure.
Prior to re-opening last Monday, June 22, the museum released a list of ten "Covid Commandments," including "Thou shalt wear a face mask" and "Thou shalt practice social distancing" to ensure guest safety. In compliance with guidelines from D.C. Mayor's Office, the museum is operating at limited capacity with staggered entry.
"We have missed our guests and have worked hard to prepare the museum for their return," said Harry Hargrave, CEO of Museum of the Bible, in a statement. Museum employees have been equipped with personal protective equipment (PPE), and plexiglass panels have been installed at all ticket counters, the admission desk, the Milk+Honey Café, Manna restaurant and the gift shop. Guests will receive styluses for touch screens and are encouraged to download digital maps on their phones.
In an effort to thank healthcare professionals for their service, the museum is offering free admissions for all U.S. health care workers with an employee ID. "We consider it a privilege to give back to those who've sacrificed to keep America healthy," says Hargrave. As the region adapts to a post-quarantine reality, the museum will be highlighting exhibits related to the Bible and healing. One of these exhibits is a spotlight on Corrie Ten Boom which begins in early July.
In a recent press release Hargrave said, "Some of us may feel at a loss for what exactly to do right now. I believe history itself can lead us toward a better and brighter future if we heed the hard-learned wisdom of its years." Hargrave remains optimistic about the re-opening despite the fact that all Smithsonian museums in Washington, D.C., including the National Zoo, continue to be closed and have not announced any re-opening dates.
The International Spy Museum, another private, non-governmental museum, has also reopened.
"We are looking forward to offering our guests engaging new experiences this summer," said Hargrave. Some of these new experiences include virtual trivia and kids story time for people who want to connect at home.
Advanced tickets are recommended and available via the museum website.