The Christian Post's "Editorial Advisors" Surprised to Learn of Company's Crimes

Third Article In An Ongoing Series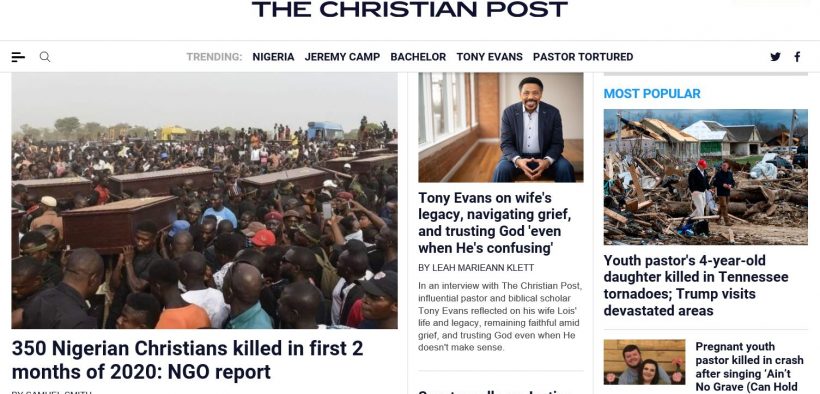 Editor's Note:  This article is the second in an ongoing series about controversial South Korean religious leader David Jang and a business empire that includes Olivet University and The Christian Post newspaper.   
To read Part 1 in this series, click here.  It examines the money-laundering scheme to which former Christian Post CEO William Anderson pled guilty.  Part 2 examined The Christian Post's influence in the Christian world, and its coverage of the misdeeds of its current and former leaders. 
This article examines the "hear-no-evil, see-no-evil approach" embraced by many evangelical leaders who bask in the glow of Jang's influential empire. 
The Bible praises those who provide good advice. "Plans fail for lack of counsel, but with many advisers they succeed" (Proverbs 15:22). 
But what about advisors who don't advise? At The Christian Post, they call them "editorial advisors." 
We reached out to the dwindling list of evangelical leaders listed as "editorial advisors" on The Christian Post's website multiple times by e-mail and/or phone to see if they were aware of the crimes committed by the company and its former CEO, who pled guilty in February to fraud, money laundering, and conspiracy. 
Only half of them have responded so far, and the responses we received were all over the board.  
One thing's already clear. It turns out that most of the advisors haven't been doing much advising—or having any personal contact—with anyone at the publication for years.  But their names remained on The Christian Post, lending credibility to an organization trying to legitimize itself with evangelical Christians, and padding their own resumes. 
"YIKES!" 
Dr. Dan Kimball is founding pastor of Vintage Faith Church in northern California and professor at George Fox University.  He said he had not heard about the illegal activities admitted to by executives with The Christian Post's and other companies connected to controversial South Korean leader David Jang.   
This plea of ignorance was a common refrain from the advisors contacted by MinistryWatch, despite the fact that WORLD, Christianity Today, MinistryWatch, and other publications have been reporting questionable activities by David Jang – and his association with The Christian Post – since at least 2012.  In recent months, coverage of fraud associated with The Christian Post has also found its way into Mother Jones, Buzzfeed, and The New York Times. 
Nonetheless, when MinistryWatch asked Kimball about his involvement with The Christian Post, he responded via email: 
YIKES! I had no idea any of that was going on. Thank you SO much for letting me know about this. It was really sad reading the articles about what happened with the upper leadership. 

I haven't had any conversation with the CP editorial team for years. At some point, they asked me if I would want to be on advisory team to help them think about articles to write. We had two phone calls that I was part of. I think six years ago was the last time. I assumed that editorial advisory team wasn't in existence anymore. 

I emailed them to take me off that list, and they did remove me from the web site.  
As we reported earlier, not only did former leaders at The Christian Post engage in criminal financial fraud, they also engaged in advertising fraud, manipulating online traffic numbers to fool advertisers into paying to reach phantom readers. 
The ignorance of The Christian Post's own editorial advisors is difficult to understand, but at least a part of the explanation is this:  unlike legitimate news organizations, The Christian Post doesn't report on The Christian Post. The self-proclaimed "most comprehensive Christian news website" has totally ignored the whole scandal in the two years since the first indictments came out of the Manhattan District Attorney's office, even though the news has been covered in Christianity Today and dozens of other news sources.
Editorial Advisors:  Missing In Action
Most of people listed on The Christian Post masthead as editorial advisors did not respond to repeated requests by MinistryWatch for comment about William Anderson's criminal activity, or of accusations that The Christian Post manipulated its web-traffic numbers.  Those we reached out to included: 
Dr. Richard D. Land

 

is 

President of Southern Evangelical Seminary

, a seminary which specializes in Christian apologetics.  

He is also 

The Christian Post

's Executive Editor. 

We reached out to him to see if he was aware of his employer's crimes.

  

We also 

asked Land if, as a theologian, he was concerned about lending his credibility to 

an organization that has views do not align with Scripture.  He told MinistryWatch, "I never experienced any interference

.  I could write 

what I wanted.  The Christian Post has a massive audience, and I thought it would be irresponsible not to take advantage 

of that."

 

Johnnie Moore

 is 

founder and CEO of The KAIROS Company

.  

This 

influential young evangelical leader

's 

website says his experience "uniquely prepares him to serve as a spokesperson

.

" 

 However, he did not respond to our repeated requests for comment.  

 

Rev. Samuel Rodriguez

is

President of The National Hispanic Christian Leadership Conference.

Dr. Robert P. George

 who 

holds Princeton

 University'

s

 

McCormick Chair in Jurisprudence.

Dr. Bishop Harry R. Jackson, Jr.

,

  is

S

enior 

P

astor of Baltimore's Hope Christian Church.

 

June Hunt

, 

founder of Hope For The Heart. 

Hope for the Heart's website features a link for media inquiries, but th

e

 link isn't working. We reached out to the ministry through a contact form and by phone. We haven't yet received any personal responses

,

 but

 we can report we

 have been added to the ministr

y's

 e-mail list!

 
Varied responses from advisors (and former advisors) 
The following members and former members of The Christian Post Editorial Advisory Board offered the following responses.
Penny Nance is CEO of Concerned Women for America.  Nance asked The Christian Post to remove her from its list of advisors following the publication of MW's initial February report on Christian Post guilty pleas, but she has declined to be quoted. 
Dr. Greg Parsons is Global Director of the U.S. Center for World Mission.  "I haven't had any contact with The Christian Post for several years," Parsons said, and — like Kimball — he thinks his last contact with editors there was six years ago. 
Parsons participated in a national press event The Christian Post organized in 2010, and has spoken at chapel services at Olivet University. 
Parsons says he does not share the concern that many other evangelicals have about David Jang's theology. 
"I understand the theological concerns evangelicals have about Dr. Jang. I've met him three times, and talked briefly to him. My discussions with the leaders at The Christian Post and Olivet University took away my concerns." 
Parsons attributes criticism of Jang's theology to "things that happened—and got press—years ago that were misunderstandings, mistakes, or misstatements by young, zealous Korean followers of Jang." 
Parsons says he is consulting with other advisors before making a decision about remaining as an advisor. 
Rev. Mark Creech is Executive Director, Christian Action League of North Carolina.  Creech also serves as an unpaid columnist for The Christian Post, Barbwire.com, and RenewAmerica.com. Here's what he told us. 
I genuinely don't know enough about what you have been reporting on to speak intelligently. 

It is true that my name is listed as a member of the editorial board, but I have not had an active role in that regard for quite some time. My advice about the business or journalistic practices of CP has not been offered, sought, or given. I have had no experience with anyone associated with CP, except people on the journalistic side. 

No one with whom I ever had dealings gave even the slightest hint of wrongdoing, much less something scandalous in nature. Moreover, the people whom I know from CP are friends. I wouldn't speak via a public forum negatively about my friends, even if they were wrong. I'd save that for my private conversations with them. 

I'm less certain of the purity of your motives than I am of the character of the people I know at CP. 
One advisor told us that The Christian Post ignored a request made long ago to exit the group. 
"In my mind I wasn't on the team for years" after asking to "bow out," the advisor told us. "But apparently they never took my name off.  I thought since I wasn't engaging with them that they no longer consider me an advisor. I didn't think I was." 
But this advisor's name remained on The Christian Post's website for years, lending credibility to an organization that we now know was associated with criminal behavior.