Multiple Disasters, Plus COVID, Leave Christian Aid Ministries Strapped for Volunteers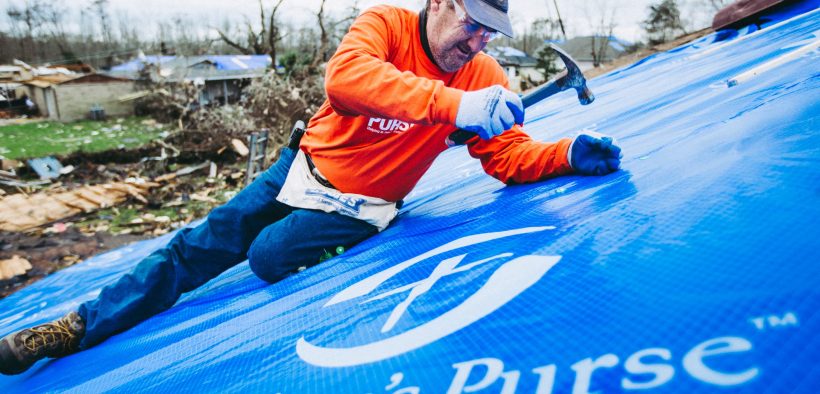 The year 2020 has seen its share of "acts of God." With more than two months still left in the hurricane season, the Atlantic has already brewed some 23 named storms. That's almost double the average for an entire season, according to the Washington Post. That's not counting the California and Oregon wildfires, the Midwest derecho, and the infamous COVID-19 pandemic.
Or, as the saying goes, when it rains it pours.
Christian aid ministries are mobilized to respond to natural disasters—but in an already busy year, the pandemic adds extra challenges that leave many strapped for volunteers.
In April, 6,000 Samaritan's Purse volunteers flooded Nashville after tornadoes ripped through. That was the last full-scale deployment. A week later, after more storms hammered Mississippi, the nonprofit was only able to send half that number.
When Hurricane Laura slammed into Louisiana and Texas as a Category 4 storm in late August, it left an estimated 200,000 without water. Lake Charles, which sustained some of the worst damage, saw streets impassable from splintered power lines, houses whose exteriors had been toppled, and windows shattered.
Ed Greene, deputy state director of New Mexico Baptist Relief and former National Park Service ranger, brought a crew of volunteers to Louisiana to clear downed trees after Hurricane Laura passed through. He told WORLD that of a list of 500 volunteers, only 20 had been deployed—half the typical number.
Greene, 73, credits that largely to the pandemic. "We tend to be an older, gray-beard volunteer group, just like most volunteer groups," he said. "So that just automatically throws a lot of us into the risk category. That's just a risk that some people can't take or are not willing to take."
Retirees are more likely to have flexible schedules and income, making them more likely to have the resources to volunteer. But they are also one of the demographics most vulnerable to COVID.
Tameka Sharp, head of Emergency Disaster Services for The Salvation Army, agreed, telling WORLD 75 percent of their volunteers are 65 years and older.
Even when older volunteers choose to deploy, social distancing requirements make it difficult for churches or other sites to accommodate them overnight.
"The numbers are down because we're unable to house as many people as we normally would," said Luther Harrison, director of U.S. disaster relief services for Samaritan's Purse.  He told WORLD that's the biggest challenge they've had.
In some cases, students are stepping up. Steve Masters leads the Baptist Collegiate Ministries at Louisiana State University in Baton Rouge. He told the Baptist Press he and more than 70 students and 15 adult volunteers from surrounding churches made a day trip to Lake Charles to cut up trees and haul debris to the street at nine homes.
"The students spent the day working hard helping others," Masters said. "They were energetic and flexible and worked very well together. They represented Christ in a great way."
Day trips have become more common in response to social distancing restrictions that make it difficult to stay overnight—but it also means volunteers are in and out a lot faster than normal in areas that need longer care.
In California, unemployment has increased the number of people needing meals and boxes of food from The Salvation Army. When government restrictions limited the number of organizations allowed to provide food assistance, requests increased 1,100 percent, public relations director of the nonprofit's Del Oro Division Samantha Jarosz told WORLD. When the wildfires erupted, that number grew. She said they've been able to keep up with demand by working longer hours.
In Lake Charles, La., Convoy of Hope had distributed more than 1.5 million pounds of food to victims of Hurricane Laura. Stacy Lamb, U.S. response director of Disaster Relief Services, told WORLD that while volunteer numbers fluctuated from one day to the next, the needs never exceeded the supply of volunteers.
Debora Chilson, who checked in volunteers for Convoy of Hope, said risk is a normal talking point in disaster relief. COVID-19 is just another one to add to the list.
"There doesn't seem to be too much concern. They take precautions, but nobody seems afraid of it," Chilson told WORLD.
Despite the pandemic, disaster relief continues. The Baptist Press reported that, as of mid September, Southern Baptist relief volunteers serving victims of Hurricane Laura had "served more than 93,700 hours, prepared more than 315,000 meals and serviced more than 1,100 homes that had significant storm damage. Following nearly 1,200 Gospel presentations, 263 people have made professions of faith in Christ."
"Southern Baptists have moved forward despite the hurdles caused by COVID-19," said Sam Porter, national director for SBDR with the North American Mission Board (NAMB) and Send Relief. "We are serving communities that have stared down these natural disasters."