Moody Bible Institute Apologizes For 70s and 80s Blackface Photos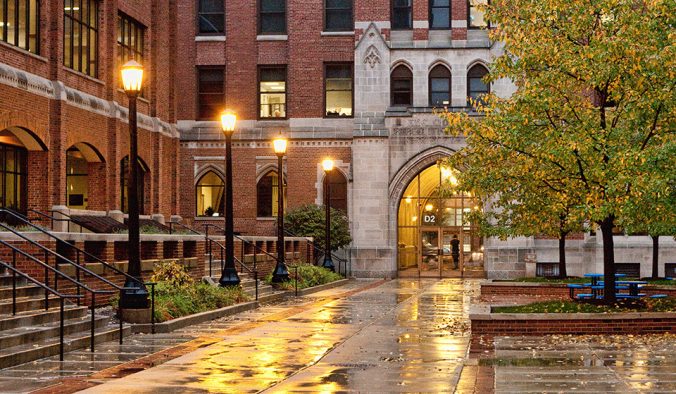 The leadership at Moody Bible Institute has apologized for historical photos of students in blackface published in yearbooks from the 1970s and 1980s.
In a message to students on the college's website posted Monday, Moody President Dr. Mark Jobe, Provost Dr. Dwight Perry and Trustee Chair Randy Fairfax said they wanted to "deeply apologize for these photos and the underlying ignorance and the racist foundation blackface represents," saying, "We are sorry for the insult and pain this type of intolerance and ignorance has caused in the past as well as in the present."
The photos from 1974 and 1984 depicted two white students in blackface impersonating African Americans.
"This behavior absolutely does not reflect how we envision our Moody community, which is grounded in God's Word and the gospel of Jesus Christ. It also undermines the advancements we have made together in the area of diversity," the leaders said.
Blackface photos in yearbooks from the era are not uncommon, with a 2019 investigation by USA Today of 1970s and 1980s yearbooks finding 200 examples of offensive or racist material from colleges in 25 states, Christianity Today reported.
And Liberty University president Jerry Falwell Jr. recently apologized for including in a tweet about COVID-19 masks a photo from Virginia Gov. Ralph Northam's 1984 medical school yearbook showing one student in blackface and another in Ku Klux Klan robes. Northam has denied he is one of the students depicted.
Moody pledged to examine its history "in order to clearly understand our past sins and mistakes" analyze its current ministry "to make sure we are reflecting God's values when it comes to all racial issues.
"We wholeheartedly commit to continue creating with you, by God's grace, a Moody community that reflects the call in 1 Peter 3:8–12 to be marked by unity of mind, sympathy, brotherly love, tenderness, and humility," the post concluded, with the leaders inviting students to "pray with us in the days ahead as, together, we navigate these issues with prayerful humility, leaning upon the Lord's strength and wisdom." 
Two weeks earlier, Jobe had called for prayers as its home city of Chicago and the nation experienced racial unrest following the death of George Floyd. 
"As followers of Christ, I want to challenge you at this crucial time to join me in praying for our country. Yes, there are sins, including racism, that we must repent of, bridges we need to build, and communities we need to help," Jobe said." I pray that the witness of the Moody community during this time will be one marked by faith, hope, and love. Listen to those around you—especially those who are marginalized, those who are hurting." 
Moody faced an earlier racial controversy in 2015 when posters for a "White Like Me" event hosted by a black student group were vandalized,  Christianity Today reported.
Then-president J. Paul Nyquist subsequently released a statement saying, "Racism and prejudice are products of a sin-laden world, and even though they are still far from being eliminated even from communities of believers, they must be regularly and systematically addressed so that each of us, as followers of Jesus may become aware of the areas in which we have been blinded to the racist views we still hold and humbly repent of them."