MinistryWatch's Top 10 Stories for the Month of April

James MacDonald, Charles Stanley, Lonnie Frisbee, and the United Methodist Church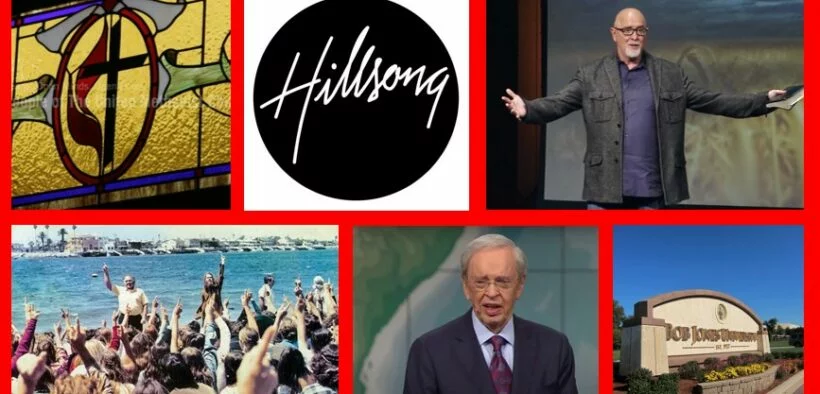 The following stories had the most page views at the MinistryWatch website during the month of April. We present them here in a "countdown" format, from 10 to 1. The first few sentences of each story are reproduced below. To read the entire story, click on the link. To read the Top 25 stories of 2022, click here.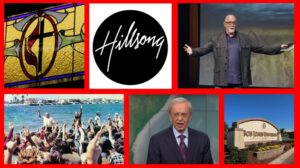 More than 180 churches have joined together to sue the North Georgia Conference and its leaders, seeking to leave The United Methodist Church with property. The lawsuit — filed by 186 churches March 30 in Cobb County Superior Court in Marietta, Georgia — involves more than a quarter of the North Georgia Conference's nearly 700 congregations. It's also the most congregations that have banded together in a single lawsuit since the denomination began undergoing a slow-motion separation after decades of intensifying debate over LGBTQ issues.
A 42-page whistleblower report detailing Hillsong Church's egregious spending accused the church of not promoting child sponsorship charity Compassion International "out of the goodness of their heart" but in exchange for $1 million a year. In what they said was the "most disgusting aspect" of the report, the whistleblower said Hillsong "charges Compassion $1,000,000 per year for the privilege of being their child sponsorship partner." Compassion, which has a donor confidence score of 92 in the MinistryWatch database, says it has worked with Hillsong for over 20 years.
Lonnie Frisbee is a name mostly lost to history, but he could be one of the most influential persons in the modern evangelical movement. There's no doubt that he is the man who put the "freak" in "Jesus Freak." And in his life we see some of the best and worst of evangelicalism. And in the way evangelical leaders dealt with him we see a pattern of cover-up that extends even to today. But to understand that, a bit of his biography is helpful.
A Florida judge has dismissed a lawsuit originally brought by more than 100 United Methodist churches wishing to immediately disaffiliate from the Florida Annual Conference of the United Methodist Church. Eighth Judicial Circuit Court Judge George M. Wright granted a motion to dismiss the suit April 17, saying the court lacked jurisdiction. "We applaud the court's ruling today. This clarifies that if a church wants to leave the Conference, it must follow the rules established by the denomination," Florida Bishop Tom Berlin said in a written statement from the conference.
Access to MinistryWatch content is free.  However, we hope you will support our work with your prayers and financial gifts.  To make a donation, click here.
Charles Stanley, the pastor at Atlanta megachurch First Baptist for 51 years and longtime leader of the Southern Baptist Convention, died Tuesday at the age of 90. His life motto was "Obey God and leave all the consequences to him." Stanley also was the founder of In Touch Ministries, a global evangelical broadcasting company, and wrote more than 70 books. He was considered, along with Billy Graham and Charles Swindoll, to be one of the best preachers of his generation, per Christianity Today.
The chairman of the Bob Jones University board of trustees has resigned following pressure from the school's students, alumni, and donors. In an April 6 letter, John Lewis said he would step down from his position immediately. The decision is a surprise to many BJU watchers, since Lewis appeared to have had the upper hand in a conflict with BJU President Steve Petit. Just a week earlier, Pettit said he would resign at the end of this school year, in May. Pettit sent a letter to the BJU board March 21 saying would resign if Lewis did not relinquish his position as chair and step down from the body's executive commission.
On Easter Sunday, the worship band at Bethel Community Church in Redding, California, opened the service with "This Is Amazing Grace," a 2012 hit that has remained one of the most popular worship songs of the past decade. Chances are thousands of other churches around the country also sang that song — or one very similar to it. A new study found that Bethel and a handful of other megachurches have cornered the market on worship music in recent years, churning out hit after hit and dominating the worship charts. The study looked at 38 songs that made the Top 25 lists for CCLI and PraiseCharts — which track what songs are played in churches — and found that almost all had originated from one of four megachurches.
More Protestant church congregations close than open in a year in America. According to Lifeway Research, in 2019, 4,500 churches closed their doors while only 3,000 new churches were started. As they face closure, some churches are turning to a strategy found in the 2018 book, "Dying to Restart" by Greg Wiens and Dan Turner, not just to survive, but thrive. The West Side Church of God in Wichita, Kansas, decided to adopt the strategies in the book.
Former Chicago area megachurch pastor James MacDonald has been charged with two felonies for allegedly assaulting a woman during a dispute over parking. MacDonald, who was fired from Harvest Bible Chapel in 2019 and later disqualified from ministry for what church leaders called a "substantial pattern of sinful behavior," was arrested in Coronado, California, on March 22. According to details of the incident posted on social media by the Coronado Police Department, MacDonald, 62, was parking his truck when he hit a vehicle in an adjacent spot. When a 59-year-old woman got out of the other vehicle, MacDonald allegedly "jumped out of his truck and attacked the victim," according to police.
MinistryWatch stands for transparency and accountability. That's why we think it is important for Christian ministries to be as transparent as possible with donors and with the public. So MinistryWatch will grade every ministry in its database based on transparency. Today, we release a list of the ministries who have received a failing or "F" grade — approximately 20 ministries. Our transparency grade evaluates the ease with which donors can see into the finances of a ministry. The ministries on this list have failed to comply with three requirements.