Religious Nonprofits in the USA's "Evangelical Mecca" Face Unprecedented Challenges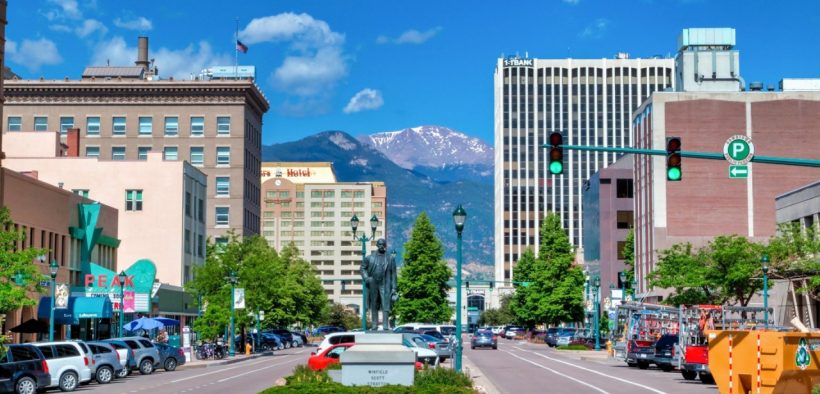 Colorado Springs is sometimes considered the center of the religious non-profit world.  The mid-sized city in the shadow of Pike's Peak is the home to thousands of churches and Christian ministries.  The city's religious nonprofits receive more than $1.75 billion a year from donors to provide a range of services, programs and products that reach around the world.
But the coronavirus pandemic has confronted these ministries with an unprecedented triple whammy: declining donations, unexpected expenses for sanitation and remaking workplaces for remote employees, and challenges in delivering their services, some of which are more needed now.
Headlines in the Chronicle of Philanthropy have been grim. "Nonprofit Finances Hit on Several Fronts," read one. Another said: "44 Percent of Nonprofits Have No Plans to Mitigate Losses From Canceled Fundraising Events."
How are ministries in the "evangelical mecca" faring?   We reached out to more than a dozen organizations to find out.
While all ministries expressed concern, those that deliver their services face–to–face are experiencing graver challenges than those that minister mainly through broadcasts, websites, social media, and podcasts.
But leaders of faith-based organizations see hope amid the chaos and death. As Americans hunker down at home, their spiritual hunger seems to be growing.
"This is a fruitful time for ministry," said Navigator staffer Karen Warin. "Everyone is suddenly available. Just in the past week I've walked with and prayed for women through marriage struggles, depression issues, anxiety over current events, and feelings of uselessness."  
Or as Focus President Jim Daly put it, "The coronavirus pandemic has been very bad for many things – but it has given many parents – myself included – extra time to talk with their children.
High Touch vs. High Tech
Compassion International, the Springs' largest ministry, helps more than two million children around the world with its budget of $960 million. But both its donations and its ability to reach children have been hampered by the virus.
"What we're going through is unprecedented," said an April letter to donors. 
Compassion donors sponsor children in 25 countries, each of which is charting its own course. With many of the schools and churches that help deliver its programs shut, the ministry created a robust web page providing country-by-country info and an extensive FAQ page.
Spokesman Tim Glenn said the virus arrived just as the ministry was ramping up major spring fundraising initiatives.
"Spring is typically a very busy time for Compassion, with our Compassion Sunday events in churches and Christian musical artists' spring tours," said Glenn. "We are working to reschedule as many events as possible for later in the year. We estimate that nearly 70,000 children will not be sponsored this spring, as a result of the hundreds of events that have been canceled or postponed."
To respond to that shortfall, the ministry has launched its "Team Up" campaign. Since 70,000 is the capacity of the average NFL stadium, Compassion has teamed up with professional athletes to find child sponsors willing to "fill a seat in the stadium" for $500, approximately what it costs to sponsor one child for one year. The campaign got a big break this week when Nate Solder of the New York Giants announced that he is donating one million dollars to the campaign, which has also drawn support from Chris and Jill Davis (Baltimore Orioles), Jason and Devin McCourty (New England Patriots), Kirk Cousins (Minnesota Vikings), and Nick Foles (Chicago Bears).
Glenn, in comments that echo other local leaders, says that while many donors are struggling, others are stepping up with larger gifts. 
"Many donors have been negatively impacted by COVID–19 and because of this have been forced to reduce their giving," he said. "Others have increased their giving at this time because of the increased need being experienced by the children we serve.
"While results are not yet final, initial indications are that Compassion will finish ahead of projections for April in our mid and major donor areas. However, the increase in need is greater than the increase in giving.
Compassion is paying its 844 Springs residents as they work from home, and has spent funds on cleaning, sanitizing materials, personal protective equipment, no-touch thermometers, and wrist bands to identify workers permitted to access the building.
Focus Re-Focuses
Focus on the Family reports that while face to face programs have been hurt, its engagement with supporters has increased. 
"We have postponed our multi-city pro-life ultrasound event, ALIVE 2020, originally scheduled for May 9th, and we are planning to hold the event this coming fall," said spokesman Paul Batura. Marriage counseling programs through its Hope Restored ministry have been suspended.
Otherwise, Focus has experienced an increase in its engagement with supporters. 
"Our web traffic is up. We're very grateful to have experienced exponential digital growth on our digital platforms since the onset of the COVID-19 pandemic." 
Batura says prudent and timely preparation has helped. 
"By good planning and providence, prior to the pandemic hitting in February/March, our team had already been preparing a disaster recovery plan. The timing was such that we simply implemented the plan." 
Focus's daily broadcast, which is heard by 6.8 million people every week, has hosted nearly 20 COVID-19 related guests, including Dr. Francis Collins of the National Institutes of Health and the Surgeon General, Dr. Jerome Adams. 
Focus has long created high quality, award-winning video and audio content for children and families. Much of that material is free to stream as long as the virus rages. 
The $99 million ministry is paying its 571 Springs employees, most of whom are working from home. Those answer incoming calls to the ministry's counseling line are as busy as ever. 
"Although we are all working from home, Focus on the Family is 'open' and ready to help anyone with marriage and parenting issues," said Batura.
Andrew Wommack Changes Tune
Andrew Wommack initially expressed skepticism about coronavirus.
"I have zero fear of this," said the health-and-wealth preacher in early March on his Truth & Liberty broadcast. "If a germ touches me it dies."  He also predicted a quick return to normal. "This thing could turn around in a week to 10 days," he said.
Wommack criticized local and  national officials' responses. "This has been hyped by liberals as an opportunity to come against Trump," he said, threatening to disobey state restrictions. "In Colorado, we've got a governor who is openly homosexual and anti-Christian," he said. "I would defy" the restrictions on people's movements if they were to become "a long-term thing."
But in an April "praise report," Wommack was upbeat about his $68 million Woodland Park ministry. "I am more optimistic about the future than I have ever been," he said during a videotaped update.
Wommack said the virus had led his ministry to invest in technology that allows 140-150 of his 500 employees to work at home while answering phone calls from people who see his broadcasts. The result was the "highest call volume in one day we've ever had," citing the 6,435 calls answered on April 2.
Streaming views of "Andrew's Live Bible Study" on Tuesday evening have also risen dramatically: from 3,000 to over 10,000, according to Eileen Quinn.
In addition to the 200,000 hours of content on its website, the ministry has launched a quarantine-related project called The Isaac Newton Project. 
Wommack's Charis Bible College will host Campus Days 2020, an open house for prospective students, May 14-15. The event features speakers, worship services, and a Healing School at the campus.
A Summer Without Camp?
The youth ministry Young Life was anticipating 60,000-70,000 young people to attend events at its 22 U.S. camp properties and at other facilities.
But on April 9, the ministry announced it was suspending "any U.S. ministry activity involving person to person contact out of an abundance of caution and care for our staff as well as kids and their families." 
The ministry, which has a $427 million budget, considers camping one of its premiere experiences for young people. Camps were scheduled to start June 15. The ministry is considering cancellations and modifications and expects to know more next week. 
Spokesman Terry Swenson said the ministry will "continue to evaluate the situation, and anything we do will be consistent with our two primary commitments, the health and safety of campers, and complying with guidance from local and national agencies managing the outbreak."
Meanwhile, coronavirus has caused consternation among the Christian Camp and Conference Association's 870 member camps and conference centers, which typically host more than 5 million people each year. Leaders are considering their options.
"Many camps are taking a wait-and-see approach, encouraging parents to sign their kids up for camp now, and they will make adjustments if they need to," said Gregg Hunter, CCCA  president/CEO.
Some camps are canceling sessions, while others are finding creative ways of offering virtual camp experiences to kids. But the impact on the summer camping season—and camp budgets—will linger. 
"Some camps were financially prepared for a disaster, others may not have been," said Hunter. "It's heartbreaking for me to think of any camp closing for the summer let alone permanently closing. And, of course many are concerned about surviving this crisis – just like any local small business."
Canceled Events Hurt Bottom Line 
Here are just a few of the events cancelled because of the COVID Crisis:
The Evangelical 

P

ress Association also canceled its 

April

 convention at the Cheyenne Mountain Resort. The event would have brought a couple hundred Christian communicators to 

town.
When Springs-based Citygate Network (formerly the Association of Gospel Rescue Missions) canceled its May conference for 1,000 rescue mission leaders in Texas, the association lost a third of its annual income. 

 

President John 

Ashmen

 says the 

association

's financial hit happens at a time when its 

300 

member

s face unprecedented difficulties. There is increased demand for serving the homeless, families who have run out of money, and people who have been released from prisons to avoid contamination. But meeting that demand is frustrated by declining donations, as well as decreased capacity due to social distancing measures.
The National Day of Prayer is scheduled for May 7. Springs-based National Day of Prayer Task Force did not respond to a request for information. But according to Religion News Service, President Kathy Branzell said that barring a "miracle," this year's event will be virtual.

  "

We can shelter in place and still…pray in agreement and unity with one another," she said in an April video.
The 

newly-resurrected

 Promise Keepers says its 

going ahead with its plans to bring 80,000 Christian men to AT&T Stadium in Arlington, Tex

.,

 this summer.

  

In the 1990s, Promise Keepers brought some seven million men to events at football stadiums and in the nation's capital. The ministry, which then hit hard times, was resurrected last year by 

Ken Harrison

, the CEO of Springs-based 

WaterStone

, a Christian foundation.

  

"I want to reassure you right now that we're planning on being at AT&T July 31 and August 1," said Harrison in a statement. "

We have people coming from 47 different states and several countries as far away as Zimbabwe and Norway

….

We

 don't know what's going to come from all of this – the virus. We do know, though, that we don't let our lives be ruled by fear.

"
Summit Ministries 

brings

 

some 

1,200 young people a year 

to

 its 12-day Student conferences at its headquarters in Man

i

tou Springs.

 The first of this year's seven sessions were scheduled to begin May 17.

  

"We reluctantly canceled our first student training session scheduled to begin May 17 due to the continued restrictions on large gatherings," said Aaron Atwood, vice president of advancement.

  

The ministry will make decisions about its remaining six sessions "as we get closer to the dates."

  

In order to reach those who may not be able to attend sessions in person, the 

ministry  has

 launched Summit Virtual, an online conference training students in biblical worldv

i

ew

.
Ministries Adjust
The Navigators' ministry of evangelism and discipleship usually takes place at close range. While the medium may have changed, the message remains.  "Instead of meeting in someone's home, on a college campus, or at a coffee shop, we are engaging with them by video and telephone calls," said Gary Cantwell, chief communications officer of the $137 million ministry.
"We find that many people have more time and desire to connect with others, and that they welcome the chance to talk with someone about major life issues, which is an important part of the disciple-making relationship."
The ministry has also seen an increase in inquiries about applying the Bible to life's challenges, and a greater emphasis on  donations via phone and e-mail. 
The ministry is paying its 405 local employees to work from home, but furloughed 71 mostly part-time staff who worked at the Glen Eyrie Conference Center.  "We expect to bring them back as the conference center reopens in the near future," said Cantwell.  The ministry is offering daily #QuarantineSoulCare posts here.
The Association of Christian Schools International serves nearly 24,000 schools in more than 100 countries. Communication director Larry Lincoln says some 20,000 Christian schools have closed, with many transitioning to distance learning.
Lincoln says ACSI's income is stable, its nearly 80 local employees are mostly working from home, and the main unexpected expense was the thousands of dollars paid to sanitize its offices. Meanwhile, upcoming professional development events scheduled for summer and fall have been taken online. 
The association has hosted 10 online Town Hall events for educators and made teacher training available online, too, helping thousands of members. "ACSI remains committed to strengthening Christian schools and equipping Christian educators worldwide, especially during these trying times," said Lincoln.
Biblica, which does Bible translation, publishing, and distribution, has experienced problems overseas while experiencing more engagement in the U.S. through digital and social media. 
"We were especially challenged in the early days of the COVID-19 crisis on the international front, where a number of our staff members, especially those in Asia, were at high risk," said Blake Silverstrom, Vice President of Donor Engagement of the $13.5 million ministry with 30 employees in the Springs.
"A number of our global team and their families were directly affected. It also delayed vital translation, community programs and print projects across the globe."
Silverstrom said the ministry "strategically changed up marketing to express empathetic acknowledgement of such a difficult season." He acknowledged that income will suffer as a result of rescheduling large-scale investor events and international trips for donors.
Biblica and its partners are also offering free resources. "We created a new website called www.stronger.bible, where visitors can request a free Bible or have one sent to someone they care about," said Silverstrom. "The site also has a list of relevant downloads to help ease the stress and anxiety of isolation and uncertainty."