Ministries and Churches Receiving More than $1-M in Paycheck Protection Program Funds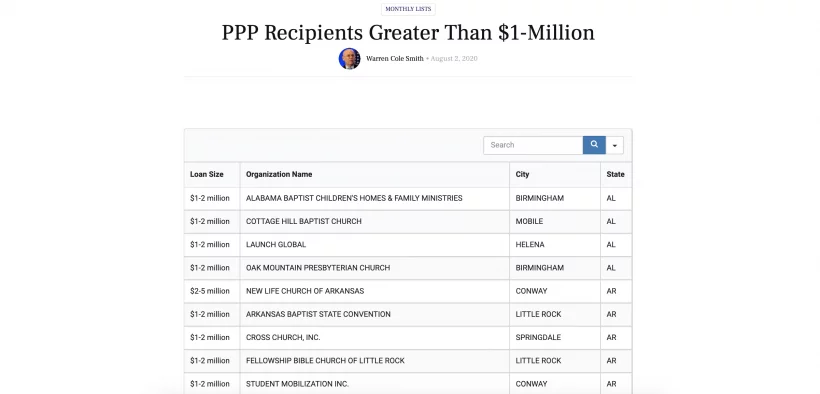 This month's MinistryWatch list is a departure for us because it is not a list curated from our own database.  It is a list of all evangelical Christian ministries and churches that received at least $1-million from the Paycheck Protection Program.
This list includes more than 400 ministries, and we have sorted them by state so you can more easily find the ministries in your city.
We have previously published articles about the PPP program.  It is MinistryWatch's position that it is not wrong for organizations to accept the funds, but non-profit organizations have a responsibility to their donors and to the public to be transparent and accountable regarding their acceptance of the funds, and their use of the funds.
| Loan Size | Organization Name | City | State |
| --- | --- | --- | --- |
| $1-2 million | ALABAMA BAPTIST CHILDREN'S HOMES & FAMILY MINISTRIES | BIRMINGHAM | AL |
| $1-2 million | COTTAGE HILL BAPTIST CHURCH | MOBILE | AL |
| $1-2 million | LAUNCH GLOBAL | HELENA | AL |
| $1-2 million | OAK MOUNTAIN PRESBYTERIAN CHURCH | BIRMINGHAM | AL |
| $2-5 million | NEW LIFE CHURCH OF ARKANSAS | CONWAY | AR |
| $1-2 million | ARKANSAS BAPTIST STATE CONVENTION | LITTLE ROCK | AR |
| $1-2 million | CROSS CHURCH, INC. | SPRINGDALE | AR |
| $1-2 million | FELLOWSHIP BIBLE CHURCH OF LITTLE ROCK | LITTLE ROCK | AR |
| $1-2 million | STUDENT MOBILIZATION INC. | CONWAY | AR |
| $2-5 million | CHRIST'S CHURCH OF THE VALLEY, INC, | PEORIA | AZ |
| $1-2 million | CENTRAL CHRISTIAN CHURCH, ARIZONA | MESA | AZ |
| $1-2 million | EAST VALLEY BIBLE CHURCH, INC | GILBERT | AZ |
| $1-2 million | PHOENIX GOSPEL MISSION, INC. | PHOENIX | AZ |
| $1-2 million | SUN VALLEY COMMUNITY CHURCH | GILBERT | AZ |
| $2-5 million | BAYSIDE COVENANT CHURCH, INC. | ROSEVILLE | CA |
| $2-5 million | CRESCENT VIEW SOUTH INC | LANCASTER | CA |
| $2-5 million | HARVEST CHRISTIAN FELLOWSHIP | RIVERSIDE | CA |
| $2-5 million | JEWS FOR JESUS | SAN FRANCISCO | CA |
| $2-5 million | LANCASTER BAPTIST CHURCH | LANCASTER | CA |
| b $2-5 million | MARINERS CHURCH | IRVINE | CA |
| b $2-5 million | CALVARY CHURCH | SANTA CRUZ | CA |
| b $2-5 million | SAN DIEGO ROCK CHURCH | SAN DIEGO | CA |
| b $2-5 million | SHADOW MOUNTAIN COMMUNITY CHURCH | EL CAJON | CA |
| b $2-5 million | UNION RESCUE MISSION | LOS ANGELES | CA |
| c $1-2 million | ABUNDANT LIVING FAMILY CHURCH | RANCHO CUCAMONGA | CA |
| c $1-2 million | AMAZING FACTS INTERNATIONAL | GRANITE BAY | CA |
| c $1-2 million | BIG VALLEY GRACE COMMUNITY CHURCH | MODESTO | CA |
| c $1-2 million | BRADSHAW CHRISTIAN SCHOOL | SACRAMENTO | CA |
| c $1-2 million | CALVARY CHAPEL | DOWNEY | CA |
| c $1-2 million | CALVARY COMMUNITY CHURCH OF CONEJO VALLEY | THOUSAND OAKS | CA |
| c $1-2 million | CALVARY CROSS CHURCH | SAN BRUNO | CA |
| c $1-2 million | CAPITAL CHRISTIAN CENTER | SACRAMENTO | CA |
| c $1-2 million | CHURCH DEVELOPMENT FUND | IRVINE | CA |
| c $1-2 million | CITYTEAM MINISTRIES | SAN JOSE | CA |
| c $1-2 million | COMPASS BIBLE CHURCH | ALISO VIEJO | CA |
| c $1-2 million | CORNERSTONE ADVISORS GROUP | PLEASANTON | CA |
| c $1-2 million | CORNERSTONE EVANGELICAL BAPTIST CHURCH | SAN FRANCISCO | CA |
| c $1-2 million | CORNERSTONE FELLOWSHIP | LIVERMORE | CA |
| c $1-2 million | COTTONWOOD CHURCH | LOS ALAMITOS | CA |
| c $1-2 million | CRENSHAW CHRISTIAN CENTER CHURCH | LOS ANGELES | CA |
| c $1-2 million | CROSSLINE COMMUNITY CHURCH | LAGUNA HILLS | CA |
| c $1-2 million | EASTLAKE COMMUNITY CHURCH | CHULA VISTA | CA |
| c $1-2 million | EASTSIDE CHRISTIAN CHURCH | ANAHEIM | CA |
| c $1-2 million | FIRST ASSEMBLY OF GOD OF FREMONT | FREMONT | CA |
| c $1-2 million | FIRST CHRISTIAN CHURCH OF HUNTINGTON BEACH | HUNTINGTON BEACH | CA |
| c $1-2 million | FOOTHILL CHURCH OF GLENDORA | GLENDORA | CA |
| c $1-2 million | FOREST HOME | FOREST FALLS | CA |
| c $1-2 million | GRACE CHURCH OF SIMI VALLEY | SIMI VALLEY | CA |
| c $1-2 million | GRACE COMMUNITY CHURCH OF THE VALLEY | SUN VALLEY | CA |
| c $1-2 million | HIGH DESERT CHURCH | VICTORVILLE | CA |
| c $1-2 million | HORIZON CHRISTIAN FELLOWSHIP RANCHO SANTA FE | RANCHO SANTA FE | CA |
| c $1-2 million | HUME LAKE CHRISTIAN CAMPS, INC. | FRESNO | CA |
| c $1-2 million | LAKE AVE CONGREGATIONAL CHURCH | PASADENA | CA |
| c $1-2 million | LIFE PACIFIC UNIVERSITY | SAN DIMAS | CA |
| c $1-2 million | LOS ANGELES INTERNATIONAL CHURCH OF CHRIST | IRVINE | CA |
| c $1-2 million | LOVE ROCK MINISTRIES INTERNATIONAL INC | SAN BERNARDINO | CA |
| c $1-2 million | ONE AND ALL CHURCH | SAN DIMAS | CA |
| c $1-2 million | OPEN DOORS WITH BROTHER ANDREW, INC | SANTA ANA | CA |
| c $1-2 million | RANCHO COMMUNITY REFORMED CHURCH | TEMECULA | CA |
| c $1-2 million | RESCUE MISSION ALLIANCE | OXNARD | CA |
| c $1-2 million | SANDALS CHURCH | RIVERSIDE | CA |
| c $1-2 million | SANTA ROSA CHURCH | SAN FERNANDO | CA |
| c $1-2 million | SHEPHERD OF THE HILLS HILLCREST CHRISTIAN CHURCH | PORTER RANCH | CA |
| c $1-2 million | ST JOHN'S LUTHERAN CHURCH OF ORANGE | ORANGE | CA |
| c $1-2 million | TEEN CHALLENGE OF SOUTHERN CALIFORNIA, INC. | RIVERSIDE | CA |
| c $1-2 million | THE FATHER'S HOUSE A CALIFORNIA NON-PROFIT RELIGIOUS CORPORATION | VACAVILLE | CA |
| c $1-2 million | THE GROVE COMMUNITY CHURCH | RIVERSIDE | CA |
| c $1-2 million | TRANSFORMATION MINISTRIES | COVINA | CA |
| c $1-2 million | TWIN LAKES BAPTIST CHURCH | APTOS | CA |
| c $1-2 million | UC ACADEMY INTERNATIONAL | RANCHO CUCAMONGA | CA |
| c $1-2 million | VALLEY BAPTIST CHURCH OF BAKERSFIELD, CALIFORNIA | BAKERSFIELD | CA |
| c $1-2 million | VALLEY CHRISTIAN CENTER OF DUBLIN, CALIFORNIA | DUBLIN | CA |
| c $1-2 million | WATER OF LIFE COMMUNITY CHURCH | FONTANA | CA |
| c $1-2 million | WEST ANGELES CHURCH | LOS ANGELES | CA |
| c $1-2 million | WORLD IMPACT, INC. | LOS ANGELES | CA |
| b $2-5 million | CHERRY HILLS COMMUNITY CHURCH | LITTLETON | CO |
| b $2-5 million | DAVID C COOK | COLORADO SPRINGS | CO |
| c $1-2 million | ASSOCIATION OF CHRISTIAN SCHOOLS INTERNATIONAL | COLORADO SPRINGS | CO |
| c $1-2 million | AUGUSTINE INSTITUTE INC | GREENWOOD VILLAGE | CO |
| c $1-2 million | DENVER SEMINARY | LITTLETON | CO |
| c $1-2 million | FAITH BIBLE CHAPEL INTERNATIONAL | ARVADA | CO |
| c $1-2 million | FLATIRONS COMMUNITY CHURCH | LAFAYETTE | CO |
| c $1-2 million | INTERNATIONAL STUDENTS, INC. | COLORADO SPRINGS | CO |
| c $1-2 million | NEW LIFE CHURCH | COLORADO SPRINGS | CO |
| c $1-2 million | RED ROCKS CHURCH | LITTLETON | CO |
| c $1-2 million | WOODMEN VALLEY CHAPEL | COLORADO SPRINGS | CO |
| c $1-2 million | YOUTH FOR CHRIST/USA | ENGLEWOOD | CO |
| c $1-2 million | GUIDEPOSTS A CHURCH CORPORATION | DANBURY | CT |
| c $1-2 million | MINISTRY OF CARING | WILMINGTON | DE |
| a $5-10 million | GRACE FELLOWSHIP OF WEST PALM BEACH INC | WEST PALM BEACH | FL |
| b $2-5 million | BAYSIDE COMMUNITY CHURCH OF SARASOTA INC | BRADENTON | FL |
| b $2-5 million | CELEBRATION CHURCH OF JACKSONVILLE, INC. | JACKSONVILLE | FL |
| b $2-5 million | CHRIST FELLOWSHIP CHURCH INC. | PALM BEACH GARDENS | FL |
| b $2-5 million | CHRISTIAN PRISON MINISTRY INC | ORLANDO | FL |
| b $2-5 million | FAITH ASSEMBLY OF GOD OF ORLANDO INC | ORLANDO | FL |
| b $2-5 million | LIGONIER MINISTRIES INC | SANFORD | FL |
| b $2-5 million | MINISTERIO INTERNACIONAL EL REY JESUS INC. | MIAMI | FL |
| b $2-5 million | PIONEERS | ORLANDO | FL |
| b $2-5 million | THE TRINITY BAPTIST CHURCH OF JACKSONVILLE, INC. | JACKSONVILLE | FL |
| b $2-5 million | THE WINTER PARK METHODIST CHURCH, INCORPORATED | WINTER PARK | FL |
| c $1-2 million | BELL SHOALS BAPTIST CHURCH OF BRANDON | BRANDON | FL |
| c $1-2 million | CALVARY CHAPEL FELLOWSHIP OF MELBOURNE | MELBOURNE | FL |
| c $1-2 million | CHRIST FELLOWSHIP BAPTIST CHURCH, INC. | MIAMI | FL |
| c $1-2 million | CORAL BAPTIST CHURCH INC. | CORAL SPRINGS | FL |
| c $1-2 million | CORAL RIDGE PRESBYTERIAN CHURCH INC. | FORT LAUDERDALE | FL |
| c $1-2 million | CROSSPOINT UNITED METHODIST CHURCH, INC. | NICEVILLE | FL |
| c $1-2 million | FIRST BAPTIST CHURCH OF NAPLES, INC. | NAPLES | FL |
| c $1-2 million | FIRST BAPTIST CHURCH OF WEST PALM BEACH, FLORIDA | WEST PALM BEACH | FL |
| c $1-2 million | GRACE FAMILY CHURCH OF NORTH TAMPA, INC | LUTZ | FL |
| c $1-2 million | HABITAT FOR HUMANITY OF LEE AND HENDRY | NORTH FORT MYERS | FL |
| c $1-2 million | MANDARIN CHRISTIAN CHURCH OF JACKSONVILLE FLORIDA, INC. | JACKSONVILLE | FL |
| c $1-2 million | MCGREGOR BAPTIST CHURCH, INC | FORT MYERS | FL |
| c $1-2 million | MEADOWBROOK CHURCH, INC. | OCALA | FL |
| c $1-2 million | NORTHLAND, A CHURCH DISTRIBUTED INC | LONGWOOD | FL |
| c $1-2 million | ONEHOPE, INC | POMPANO BEACH | FL |
| c $1-2 million | PALM HARBOR UNITED METHODIST CHURCH INC. | PALM HARBOR | FL |
| c $1-2 million | REAL LIFE CHRISTIAN CHURCH OF CLERMONT, INC | CLERMONT | FL |
| c $1-2 million | SPANISH RIVER PRESBYTERIAN CHURCH, INC. | BOCA RATON | FL |
| c $1-2 million | THE CHURCH OF ELEVEN22, INC. | JACKSONVILLE BEACH | FL |
| c $1-2 million | THE FIRST BAPTIST CHURCH OF ORLANDO, INC. | ORLANDO | FL |
| c $1-2 million | TRUSTEES IDLEWILD BAPTIST CHURCH CO INC | LUTZ | FL |
| c $1-2 million | VICTORY ASSEMBLY OF GOD OF LAKELAND FL INC | LAKELAND | FL |
| a $5-10 million | REFORMED UNIVERSITY FELLOWSHIP | LAWRENCEVILLE | GA |
| b $2-5 million | 12STONE CHURCH | LAWRENCEVILLE | GA |
| b $2-5 million | BAPTIST CONVENTION OF GEORGIA | DULUTH | GA |
| b $2-5 million | GLOBAL MINISTRIES OF THE UNITED METHODIST CHURCH | ATLANTA | GA |
| c $1-2 million | ADVENTURES IN MISSIONS | GAINESVILLE | GA |
| c $1-2 million | BIBLICAL MINISTRIES WORLDWIDE | LAWRENCEVILLE | GA |
| c $1-2 million | CALVARY BAPTIST TEMPLE | SAVANNAH | GA |
| c $1-2 million | COMMUNITY BIBLE CHURCH INC | STOCKBRIDGE | GA |
| c $1-2 million | COMPASSION CHRISTIAN CHURCH | SAVANNAH | GA |
| c $1-2 million | FIRST BAPTIST CHURCH OF WOODSTOCK GA, INC. | WOODSTOCK | GA |
| c $1-2 million | FREE CHAPEL WORSHIP CENTER, INC. | GAINESVILLE | GA |
| c $1-2 million | MISSION TO THE WORLD (PCA) INC | LAWRENCEVILLE | GA |
| c $1-2 million | MOUNT PARAN CHURCH OF GOD INC | ATLANTA | GA |
| c $1-2 million | MT BETHEL UNITED METHODIST CHURCH INC | MARIETTA | GA |
| c $1-2 million | PEACHTREE PRESBYTERIAN CHURCH INC | ATLANTA | GA |
| c $1-2 million | PEACHTREE ROAD UNITED METHODIST CHURCH, INC. | ATLANTA | GA |
| c $1-2 million | RAVI ZACHARIUS INTERNATIONAL MINISTRIES | ALPHARETTA | GA |
| c $1-2 million | SHERWOOD BAPTIST CHURCH OF ALBANY, GEORGIA, INC. | ALBANY | GA |
| c $1-2 million | ST LUKE UNITED METHODIST CHURCH | COLUMBUS | GA |
| c $1-2 million | THE METHODIST HOME OF THE SOUTH GEORGIA CONFERENCE, INC. | MACON | GA |
| b $2-5 million | LUTHERAN CHURCH OF HOPE | WEST DES MOINES | IA |
| c $1-2 million | DES MOINES CHRISTIAN SCHOOL | URBANDALE | IA |
| b $2-5 million | MISSION AVIATION FELLOWSHIP | NAMPA | ID |
| c $1-2 million | COLE COMMUNITY CHURCH, INC. | BOISE | ID |
| c $1-2 million | REAL LIFE MINISTRIES, INC | POST FALLS | ID |
| a $5-10 million | EVANGELICAL LUTHERAN CHURCH IN AMERICA | CHICAGO | IL |
| a $5-10 million | WILLOW CREEK COMMUNITY CHURCH, INC. | BARRINGTON | IL |
| b $2-5 million | AWANA CLUBS INTERNATIONAL | STREAMWOOD | IL |
| b $2-5 million | ELIM CHRISTIAN SERVICES | CRESTWOOD | IL |
| b $2-5 million | HARVEST BIBLE CHAPEL | ROLLING MEADOWS | IL |
| c $1-2 million | CALVARY TEMPLE CHURCH OF NAPERVILLE | NAPERVILLE | IL |
| c $1-2 million | CHRIST CHURCH OF OAK BROOK | OAK BROOK | IL |
| c $1-2 million | CLARETIAN MISSIONARIES SERVICE CORPORATION | CHICAGO | IL |
| c $1-2 million | COMMUNITY CHRISTIAN CHURCH OF NAPERVILLE | NAPERVILLE | IL |
| c $1-2 million | EVANGELICAL COVENANT CHURCH | CHICAGO | IL |
| c $1-2 million | FOURTH PRESBYTERIAN CHURCH | CHICAGO | IL |
| c $1-2 million | LAKE REGION CONFERENCE OF THE SEVENTH DAY ADVENTIST | MOKENA | IL |
| c $1-2 million | LIVING WORD CHRISTIAN CENTER | FOREST PARK | IL |
| c $1-2 million | PARKVIEW CHRISTIAN CHURCH IN ORLAND PARK | ORLAND PARK | IL |
| c $1-2 million | THE BIBLE LEAGUE | CRETE | IL |
| c $1-2 million | THE CHAPEL | LIBERTYVILLE | IL |
| c $1-2 million | THE CROSSING | QUINCY | IL |
| c $1-2 million | WHEATON BIBLE CHURCH | WEST CHICAGO | IL |
| c $1-2 million | WILLOW CREEK ASSOCIATION | BARRINGTON | IL |
| c $1-2 million | BLACKHAWK BAPTIST CHURCH, INC | FORT WAYNE | IN |
| c $1-2 million | CHURCH OF GOD MINISTRIES INC. | ANDERSON | IN |
| c $1-2 million | COLLEGE PARK CHURCH, INC. | INDIANAPOLIS | IN |
| c $1-2 million | EMMAUS CHRISTIAN CHURCH/CHRISTIAN CHURCH/ DISCIPLES OF CHRIST, INC. | INDIANAPOLIS | IN |
| c $1-2 million | GRACE COMMUNITY CHURCH OF HAMILTON COUNTY INC | NOBLESVILLE | IN |
| c $1-2 million | NORTHVIEW CHRISTIAN LIFE CHURCH INC | INDIANAPOLIS | IN |
| c $1-2 million | THE CHRISTIAN MISSIONARY FELLOWSHIP INC. | INDIANAPOLIS | IN |
| c $1-2 million | THE VOICE OF GOD RECORDINGS INC. | JEFFERSONVILLE | IN |
| c $1-2 million | THE WESLEYAN CHURCH CORPORATION | FISHERS | IN |
| c $1-2 million | TRADER'S POINT CHRISTIAN CHURCH, INC | WHITESTOWN | IN |
| c $1-2 million | TRINITY SCHOOLS | SOUTH BEND | IN |
| c $1-2 million | WORLD GOSPEL MISSION | MARION | IN |
| b $2-5 million | CHURCH OF THE RESURRECTION - UNITED METHODIST | LEAWOOD | KS |
| c $1-2 million | CHRISTIAN APPALACHIAN PROJECT INC. | PAINTSVILLE | KY |
| c $1-2 million | SOUTHLAND CHRISTIAN CHURCH OF LEXINGTON, KENTUCKY, INC. | NICHOLASVILLE | KY |
| b $2-5 million | FAMILY WORSHIP CENTER CHURCH/JIMMY SWAGGART MINISTRIES | BATON ROUGE | LA |
| c $1-2 million | BELLEVUE BAPTIST CHURCH | ALEXANDRIA | LA |
| c $1-2 million | BETHANY CHURCH | BATON ROUGE | LA |
| c $1-2 million | CHURCH OF THE KING INC | MANDEVILLE | LA |
| c $1-2 million | HEALING PLACE CHURCH | BATON ROUGE | LA |
| c $1-2 million | TRINITY CHURCH | NEW ORLEANS | LA |
| c $1-2 million | ADVENTIST DEVELOPMENT AND RELIEF AGENCY INTERNATIONAL | SILVER SPRING | MD |
| c $1-2 million | FROM THE HEART CHURCH MINISTRIES, INC. | SUITLAND | MD |
| c $1-2 million | STAR-K CERTIFICATION, INC. | PIKESVILLE | MD |
| b $2-5 million | Christian Reformed Church of North America | GRAND RAPIDS | MI |
| b $2-5 million | PRESBYTERIAN VILLAGES OF MICHIGAN | SOUTHFIELD | MI |
| b $2-5 million | RBC MINISTRIES | GRAND RAPIDS | MI |
| c $1-2 million | 242 COMMUNITY CHURCH | BRIGHTON | MI |
| c $1-2 million | DETROIT RESCUE MISSION MINISTRIES | DETROIT | MI |
| c $1-2 million | GENERAL SYNOD COUNCIL OF THE REFORMED CHURCH IN AMERICA | GRAND RAPIDS | MI |
| c $1-2 million | KENSINGTON COMMUNITY CHURCH | TROY | MI |
| c $1-2 million | LIFE ACTION MINISTRIES | BUCHANAN | MI |
| c $1-2 million | NORTHPOINTE CHRISTIAN SCHOOL | GRAND RAPIDS | MI |
| c $1-2 million | NORTHRIDGE CHURCH | PLYMOUTH | MI |
| c $1-2 million | RESURRECTION LIFE FULL GOSPEL CHURCH | GRANDVILLE | MI |
| c $1-2 million | WOODSIDE BIBLE CHURCH OF TROY | TROY | MI |
| b $2-5 million | EAGLE BROOK CHURCH | HUGO | MN |
| b $2-5 million | LIVING WORD CHRISTIAN CENTER | MINNEAPOLIS | MN |
| b $2-5 million | THE FELLOWSHIP EVANGELICAL FR | MINNEAPOLIS | MN |
| c $1-2 million | BETHLEHEM BAPTIST CHURCH OF MINNEAPOLIS | MINNEAPOLIS | MN |
| c $1-2 million | EVANGELICAL MOUNT OLIVET LUTHERAN CHURCH | MINNEAPOLIS | MN |
| c $1-2 million | GRACE CHURCH OF MINNESOTA INC | EDEN PRAIRIE | MN |
| c $1-2 million | HOSANNA LUTHERAN CHURCH OF LAKEVILLE | LAKEVILLE | MN |
| c $1-2 million | RIVER VALLEY CHURCH | BURNSVILLE | MN |
| c $1-2 million | THE CHURCH OF SAINT HUBERT OF CHANHASSEN, MINN. | CHANHASSEN | MN |
| c $1-2 million | THE CHURCH OF THE ASCENSION OF MINNEAPOLIS, MINNESOTA | MINNEAPOLIS | MN |
| c $1-2 million | THE CHURCH OF THE NATIVITY OF OUR LORD | SAINT PAUL | MN |
| c $1-2 million | WESTWOOD COMMUNITY CHURCH | EXCELSIOR | MN |
| c $1-2 million | WOODDALE CHURCH | EDEN PRAIRIE | MN |
| a $5-10 million | JOYCE MEYER MINISTRIES, INC. | FENTON | MO |
| b $2-5 million | INTERNATIONAL HOUSE OF PRAYER | KANSAS CITY | MO |
| b $2-5 million | JAMES RIVER CHURCH INC | OZARK | MO |
| b $2-5 million | KANAKUK MINISTRIES | BRANSON | MO |
| b $2-5 million | THE LUTHERAN CHURCH- MISSOURI SYNOD | SAINT LOUIS | MO |
| c $1-2 million | APOSTOLIC TABERNACLE | WELDON SPRING | MO |
| c $1-2 million | CHILD EVANGELISM FELLOWSHIP | WARRENTON | MO |
| c $1-2 million | COVENANT THEOLOGICAL SEMINARY | SAINT LOUIS | MO |
| c $1-2 million | INTERNATIONAL LUTHERAN LAYMENS LEAGUE | SAINT LOUIS | MO |
| c $1-2 million | AMERICAN FAMILY ASSOCIATION, INC. | TUPELO | MS |
| c $1-2 million | FIRST PRESBYTERIAN CHURCH OF JACKSON MISSISSIPPI INC. | JACKSON | MS |
| c $1-2 million | PINELAKE CHURCH, INC. | BRANDON | MS |
| b $2-5 million | ELEVATION CHURCH | MATTHEWS | NC |
| b $2-5 million | FIRST BAPTIST CHURCH OF INDIAN TRAIL, NC | INDIAN TRAIL | NC |
| b $2-5 million | FOREST HILL CHURCH | CHARLOTTE | NC |
| b $2-5 million | THE SUMMIT CHURCH | DURHAM | NC |
| c $1-2 million | BILTMORE BAPTIST CHURCH | ARDEN | NC |
| c $1-2 million | CALVARY BAPTIST CHURCH | WINSTON SALEM | NC |
| c $1-2 million | GRACE COMMUNION INTERNATIONAL | CHARLOTTE | NC |
| c $1-2 million | HICKORY GROVE BAPTIST CHURCH | CHARLOTTE | NC |
| c $1-2 million | HOPE COMMUNITY CHURCH OF NC, INC. | RALEIGH | NC |
| c $1-2 million | PLEASANT VIEW BAPTIST CHURCH | MORGANTON | NC |
| c $1-2 million | THE NC CONFERENCE OF THE UMC | GARNER | NC |
| c $1-2 million | VILLAGE BAPTIST CHURCH INC | FAYETTEVILLE | NC |
| c $1-2 million | CHRISTIAN UNION INC | PRINCETON | NJ |
| c $1-2 million | HAWTHORNE GOSPEL CHURCH | HAWTHORNE | NJ |
| c $1-2 million | LIQUID CHURCH | PARSIPPANY | NJ |
| c $1-2 million | THE FRIENDS OF ISRAEL GOSPEL MINISTRY | WESTVILLE | NJ |
| c $1-2 million | CALVARY ALBUQUERQUE | ALBUQUERQUE | NM |
| c $1-2 million | HOSANNA | ALBUQUERQUE | NM |
| c $1-2 million | SAGEBRUSH COMMUNITY CHURCH | ALBUQUERQUE | NM |
| c $1-2 million | CENTRAL CHRISTIAN CHURCH | HENDERSON | NV |
| c $1-2 million | LAKE MEAD CHRISTIAN MINISTRIES | HENDERSON | NV |
| b $2-5 million | FRIENDS OF THE ISRAEL DEFENSE FORCES | NEW YORK | NY |
| b $2-5 million | GRACE CHURCH SCHOOL | NEW YORK | NY |
| b $2-5 million | JERICHO ROAD MINISTRIES | BUFFALO | NY |
| b $2-5 million | REDEEMER PRESBYTERIAN CHURCH OF NEW YORK CITY | NEW YORK | NY |
| b $2-5 million | WORD OF LIFE FELLOWSHIP | SCHROON LAKE | NY |
| c $1-2 million | CHOSEN PEOPLE MINISTRIES, INC. | NEW YORK | NY |
| c $1-2 million | REDEEMER CITY TO CITY | NEW YORK | NY |
| c $1-2 million | THE BROOKLYN TABERNACLE | BROOKLYN | NY |
| c $1-2 million | THE BRICK PRESBYTERIAN | NEW YORK | NY |
| c $1-2 million | THE UPPER NY ANNUAL CONFERENCE OF THE UNITED METHODIST CHURCH | LIVERPOOL | NY |
| c $1-2 million | UNITED METHODIST WOMEN | NEW YORK | NY |
| b $2-5 million | CHRISTIAN HEALTHCARE MINISTRIES | BARBERTON | OH |
| b $2-5 million | CROSSROADS COMMUNITY CHURCH | CINCINNATI | OH |
| c $1-2 million | GROVE CITY CHURCH OF THE NAZARENE | GROVE CITY | OH |
| c $1-2 million | THE CHAPEL | AKRON | OH |
| c $1-2 million | THE SISTERS OF NOTRE DAME OF CHARDON, OHIO | CHARDON | OH |
| c $1-2 million | VINEYARD CHRISTIAN FELLOWSHIP OF COLUMBUS | WESTERVILLE | OH |
| c $1-2 million | WEST OHIO CONFERENCE OF THE UNITED METHODIST CHURCH | WORTHINGTON | OH |
| c $1-2 million | WORLD HARVEST CHURCH | COLUMBUS | OH |
| c $1-2 million | XENOS CHRISTIAN FELLOWSHIP INC | COLUMBUS | OH |
| a $5-10 million | LIFE. CHURCH OPERATIONS, LLC | EDMOND | OK |
| b $2-5 million | CROSSINGS COMMUNITY CHURCH | OKLAHOMA CITY | OK |
| b $2-5 million | BAPTIST CONVENTION OF OKLAHOMA | OKLAHOMA CITY | OK |
| b $2-5 million | VICTORY CHRISTIAN CENTER | TULSA | OK |
| b $2-5 million | WILLIE GEORGE MINISTRIES, INC | TULSA | OK |
| c $1-2 million | PHILADELPHIA CHURCH OF GOD, INC | EDMOND | OK |
| c $1-2 million | RHEMA BIBLE CHURCH | BROKEN ARROW | OK |
| c $1-2 million | ST. LUKE'S UNITED METHODIST CHURCH, INC. | OKLAHOMA CITY | OK |
| c $1-2 million | THE ASSEMBLY OF GOD CHURCH BROKEN ARROW, OK INC | BROKEN ARROW | OK |
| c $1-2 million | THE CHURCH AT BATTLE CREEK | BROKEN ARROW | OK |
| c $1-2 million | THE VOICE OF THE MARTYRS, INC. | BARTLESVILLE | OK |
| c $1-2 million | ARCHDIOCESE OF PORTLAND IN OREGON | PORTLAND | OR |
| c $1-2 million | CITY CHRISTIAN SCHOOLS | PORTLAND | OR |
| c $1-2 million | WESTERN SEMINARY | PORTLAND | OR |
| a $5-10 million | SPIRITRUST LUTHERAN | YORK | PA |
| b $2-5 million | ALLEGHENY EAST CONFERENCE | BOYERTOWN | PA |
| b $2-5 million | GENERAL CHURCH OF THE NEW JERUSALEM | BRYN ATHYN | PA |
| b $2-5 million | THE COALITION FOR CHRISTIAN OUTREACH | PITTSBURGH | PA |
| c $1-2 million | ASSOCIATION OF BAPTISTS FOR WORLD EVANGELISM INC | NEW CUMBERLAND | PA |
| c $1-2 million | BOEHMS REFORMED CHURCH UCC | BLUE BELL | PA |
| c $1-2 million | CALVARY CHAPEL OF PHILADELPHIA | PHILADELPHIA | PA |
| c $1-2 million | CHESTER CHARTER SCHOLARS ACADEMY | CHESTER | PA |
| c $1-2 million | MENNONITE CENTRAL COMMITTEE U.S. | AKRON | PA |
| c $1-2 million | NORTH WAY CHRISTIAN COMMUNITY | WEXFORD | PA |
| c $1-2 million | THE GAP: A MINISTRY OF INFAITH | EXTON | PA |
| c $1-2 million | REHACIENDO COMUNIDADES CON ESPERANZA, INC. | SAN JUAN | PR |
| b $2-5 million | NEWSPRING CHURCH, INC. | ANDERSON | SC |
| b $2-5 million | SEACOAST CHRISTIAN COMMUNITY CHURCH | MOUNT PLEASANT | SC |
| c $1-2 million | EAST COOPER BAPTIST CHURCH | MOUNT PLEASANT | SC |
| c $1-2 million | GRACE COMMUNITY CHURCH OF SC | GREENVILLE | SC |
| c $1-2 million | MIRACLE HILL MINISTRIES INC | GREENVILLE | SC |
| c $1-2 million | SC BAPTIST CONVENTION | COLUMBIA | SC |
| c $1-2 million | THE RELENTLESS CHURCH | GREENVILLE | SC |
| b $2-5 million | BOARD OF DISCIPLESHIP OF THE UNITED METHODIST CHURCH | NASHVILLE | TN |
| b $2-5 million | CHATTANOOGA CHRISTIAN SCHOOL | CHATTANOOGA | TN |
| b $2-5 million | EVERY NATION CHURCHES AND MINISTRIES | BRENTWOOD | TN |
| b $2-5 million | FIRST BAPTIST CHURCH CONCORD | KNOXVILLE | TN |
| b $2-5 million | THE UNITED METHODIST CHURCH | NASHVILLE | TN |
| b $2-5 million | GERMANTOWN UNITED METHODIST CHURCH | GERMANTOWN | TN |
| b $2-5 million | UNITED METHODIST PUBLISHING HOUSE | NASHVILLE | TN |
| b $2-5 million | UNITED METHODIST COMMUNICATIONS | NASHVILLE | TN |
| c $1-2 million | CBMC, INC. | CHATTANOOGA | TN |
| c $1-2 million | CHURCH OF GOD | CLEVELAND | TN |
| c $1-2 million | CHURCH OF THE CITY | FRANKLIN | TN |
| c $1-2 million | FELLOWSHIP EVANGELICAL FREE CHURCH | KNOXVILLE | TN |
| c $1-2 million | HOLSTON ANNUAL CONFERENCE OF THE UMC | ALCOA | TN |
| c $1-2 million | HOPE PRESBYTERIAN CHURCH | CORDOVA | TN |
| c $1-2 million | LONG HOLLOW BAPTIST CHURCH | HENDERSONVILLE | TN |
| c $1-2 million | PRECEPT MINISTRIES OF REACH OUT | CHATTANOOGA | TN |
| c $1-2 million | SECOND PRESBYTERIAN CHURCH OF MEMPHIS, TENNESSEE | MEMPHIS | TN |
| c $1-2 million | TENNESSEE BAPTIST MISSION BOARD | FRANKLIN | TN |
| c $1-2 million | WORLD OUTREACH CHURCH OF MURFREESBORO, TENNESSEE INC. | MURFREESBORO | TN |
| b $2-5 million | BAPTIST GENERAL CONVENTION OF TEXAS | DALLAS | TX |
| b $2-5 million | CHAPELWOOD UNITED METHODIST CHURCH | HOUSTON | TX |
| b $2-5 million | FIRST BAPTIST CHURCH OF DALLAS, TEXAS | DALLAS | TX |
| b $2-5 million | FIRST BAPTIST CHURCH OF HOUSTON | HOUSTON | TX |
| b $2-5 million | GRACE COMMUNITY OF TYLER | TYLER | TX |
| b $2-5 million | LAKE POINTE BAPTIST CHURCH | ROCKWALL | TX |
| b $2-5 million | MORNING MINISTRIES | SAN ANTONIO | TX |
| b $2-5 million | OAK CLIFF BIBLE FELLOWSHIP | DALLAS | TX |
| b $2-5 million | PINE COVE | TYLER | TX |
| b $2-5 million | POTTER'S HOUSE OF DALLAS | DALLAS | TX |
| b $2-5 million | ST. LUKE'S UNITED METHODIST CHURCH OF HOUSTON | HOUSTON | TX |
| b $2-5 million | ST. MARTIN'S EPISCOPAL CHURCH HOUSTON TEXAS | HOUSTON | TX |
| b $2-5 million | TRINITY BROADCASTING OF TEXAS | FORT WORTH | TX |
| b $2-5 million | WORD OF GOD FELLOWSHIP INC | BEDFORD | TX |
| b $2-5 million | WYCLIFFE SEED COMPANY | ARLINGTON | TX |
| c $1-2 million | APARTMENT LIFE | EULESS | TX |
| c $1-2 million | BAY AREA FIRST BAPTIST CHURCH | LEAGUE CITY | TX |
| c $1-2 million | CHASE OAKS CHURCH | PLANO | TX |
| c $1-2 million | CHRIST FOR THE NATIONS | DALLAS | TX |
| c $1-2 million | CHURCH UNLIMITED | CORPUS CHRISTI | TX |
| c $1-2 million | CONCORDIA LUTHERAN CHURCH | SAN ANTONIO | TX |
| c $1-2 million | CONGREGATION EMANU-EL | DALLAS | TX |
| c $1-2 million | COVENANT CHURCH | CARROLLTON | TX |
| c $1-2 million | DENTON BIBLE CHURCH | DENTON | TX |
| c $1-2 million | E3 PARTNERS MINISTRY | PLANO | TX |
| c $1-2 million | EAST-WEST MINISTRIES, INTERNATIONAL | PLANO | TX |
| c $1-2 million | FAITHBRIDGE UNITED METHODIST CHURCH | SPRING | TX |
| c $1-2 million | FELLOWSHIP CHURCH | GRAPEVINE | TX |
| c $1-2 million | FELLOWSHIP OF THE WOODLANDS CHURCH, INC. | THE WOODLANDS | TX |
| c $1-2 million | FIRST BAPTIST CHURCH OF ARLINGTON, TEXAS | ARLINGTON | TX |
| c $1-2 million | GRACE COMMUNITY CHURCH - CLEAR LAKE INC | HOUSTON | TX |
| c $1-2 million | GREEN ACRES BAPTIST CHURCH, TYLER TX | TYLER | TX |
| c $1-2 million | HIGHLAND MEADOWS CHRISTIAN CHURCH | COLLEYVILLE | TX |
| c $1-2 million | HILL COUNTRY BIBLE CHURCH OF AUSTIN | AUSTIN | TX |
| c $1-2 million | HILLSIDE CHRISTIAN CHURCH, INC. | AMARILLO | TX |
| c $1-2 million | INCARNATE WORD RETIREMENT COMMUNITY, INC. | SAN ANTONIO | TX |
| c $1-2 million | INSIGHT FOR LIVING | FRISCO | TX |
| c $1-2 million | MEMORIAL DRIVE PRESBYTERIAN CHURCH | HOUSTON | TX |
| c $1-2 million | MEMORIAL DRIVE UNITED METHODIST CHURCH | HOUSTON | TX |
| c $1-2 million | MOBBERLY BAPTIST CHURCH OF LONGVIEW TEXAS | LONGVIEW | TX |
| c $1-2 million | NIGHT LIGHT CHURCH WORLD OUTREACH AND WORSHIP CENTERS, INC | HOUSTON | TX |
| c $1-2 million | PRINCE OF PEACE CHRISTIAN SCHOOL | CARROLLTON | TX |
| c $1-2 million | STONEBRIAR COMMUNITY CHURCH | FRISCO | TX |
| c $1-2 million | SUGAR CREEK BAPTIST CHURCH | SUGAR LAND | TX |
| c $1-2 million | THE AUSTIN STONE COMMUNITY CHURCH | AUSTIN | TX |
| c $1-2 million | THE GRACE PRESBYTERIAN CHURCH OF HOUSTON | HOUSTON | TX |
| c $1-2 million | THE HILLS CHURCH OF CHRIST | NORTH RICHLAND HILLS | TX |
| c $1-2 million | TRINITY CHURCH OF LUBBOCK | LUBBOCK | TX |
| c $1-2 million | TRINITY CHURCH OF THE ASSEMBLIES OF GOD | CEDAR HILL | TX |
| c $1-2 million | WHITE'S CHAPEL UNITED METHODIST CHURCH | SOUTHLAKE | TX |
| c $1-2 million | WOODSEDGE COMMUNITY CHURCH | SPRING | TX |
| c $1-2 million | ALFRED STREET BAPTIST CHURCH | ALEXANDRIA | VA |
| c $1-2 million | AMERICAN CENTER FOR LAW & JUSTICE, INC | VIRGINIA BEACH | VA |
| c $1-2 million | BAPTIST GENERAL ASSOCIATION OF VIRGINIA | HENRICO | VA |
| c $1-2 million | CULPEPER BAPTIST RETIREMNT COMMUNITY, INC | CULPEPER | VA |
| c $1-2 million | GOOD NEWS JAIL & PRISON MINISTRY | HENRICO | VA |
| c $1-2 million | LIBERTY BAPTIST CHURCH | HAMPTON | VA |
| c $1-2 million | MCLEAN BIBLE CHURCH | VIENNA | VA |
| c $1-2 million | THOMAS ROAD BAPTIST CHURCH | LYNCHBURG | VA |
| c $1-2 million | CEDAR PARK ASSEMBLY OF GOD OF KIRKLAND WASHINGTON | BOTHELL | WA |
| c $1-2 million | CHURCHOME | KIRKLAND | WA |
| c $1-2 million | FIRST ASSEMBLY OF GOD LIFE CENTER | TACOMA | WA |
| c $1-2 million | NEW LIFE CHURCH @ RENTON | RENTON | WA |
| c $1-2 million | NORTHSHORE CHRISTIAN CHURCH | EVERETT | WA |
| b $2-5 million | WISCONSIN EVANGELICAL LUTHERAN SYNOD | WAUKESHA | WI |
| c $1-2 million | JOURNEY CHURCH OF THE ASSEMBLIES OF GOD, INC. | KENOSHA | WI |
| c $1-2 million | ST MARCUS EVANGELICAL LUTHERAN CHURCH, INC. | MILWAUKEE | WI |
| c $1-2 million | NORTH PARKERSBURG BAPTIST CHURCH | PARKERSBURG | WV |