How Mississippi Turned Your Tax Dollars into Welfare for the Rich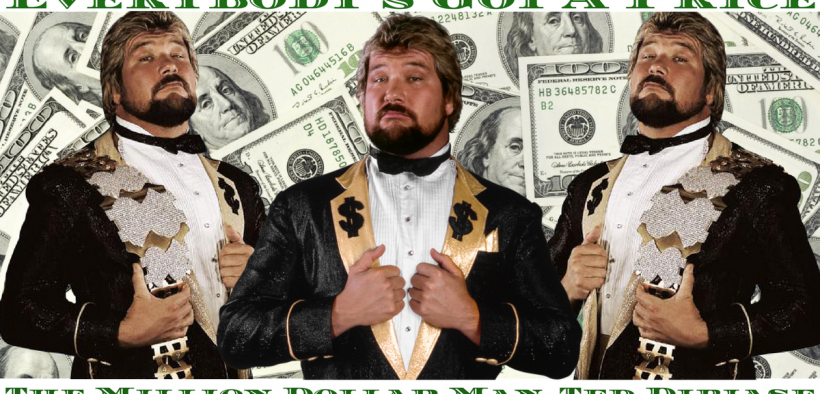 A recent state audit finds that some $94 million in federal block grants intended to help the state's poorest residents has instead gone to dozens of well-connected friends, family members, and at least one Christian ministry, in what The Clarion-Ledger in Jackson called "Mississippi's largest embezzlement scandal on record."
"Money meant to help poor Mississippians was instead used to buy expensive cars, sponsor a college baseball tournament, hire family members of a top state official and pay Brett Favre for speeches he never gave," wrote Clarion-Ledger reporter Luke Ramseth.
Among the recipients of the misdirected money are a ministry and companies affiliated with Christian speaker and author Ted DiBiase, who found fame in the ring as the World Wrestling Federation's "Million-Dollar Man." The title of the inspirational autobiography he wrote for Multnomah in 1997 now seems eerily revealing: Every Man Has His Price.
The Mississippi Department of Human Services paid $2.1 million to DiBiase's Heart of David Ministries for speeches, school assemblies and wrestling events after his son Brett was hired as the department's deputy administrator. The state audit found that the father "never performed" some of the work he was paid to do.
Ted DiBiase founded Heart of David in 1999, and he has reportedly spoken at events sponsored by Promise Keepers and New Zealand's Youth of the Nation. And he likes to travel in style.
Mississippi Today reporter Anna Wolfe uncovered a receipt for one DiBiase's trip: $3,000 for an American Airlines ticket, and $1,800 for a stay at Fairmont Miramar Hotel & Bungalows, a luxury hotel in Santa Monica.
Brett DiBiase is one of six people indicted so far. In addition to the welfare funds he doled out to his dad, he also paid for his own drug abuse treatment at a ritzy Malibu recovery center and supported two companies owned by his brother, Ted Jr.: Priceless Ventures LLC and Familiae Orientem.
Hand-outs to the well connected, not "welfare queens"
Furor over alleged abuses of government aid by "welfare queens" and other alleged scammers inspired Mississippi's conservative Republicans to create a Temporary Assistance for Needy Families program that give families minimal direct cash assistance, focusing instead on programs designed to help them achieve "self-sufficiency."
They created a system that handed out government cash to the wealthy and well-connected, not the poor and needy.
"The welfare caseload continued to plummet as the state reported spending more money on programming," reported Mississippi Today. "Mississippi spent about 5 percent of $135 million TANF dollars on direct assistance for families." 
Money flowed through two non-profits for "programs" like Brett Favre's non-speeches and Ted DiBiase's non-events.
Program payments were typically made up-front, and there was usually no paper trail, no effort to verify that program events even happened, and no assessment program effectiveness. 
As The New York Times reported this week:
The [state's] audit found that more than $98 million from the federal, or TANF, was funneled to the two Mississippi-based nonprofit groups over three years. About $94 million of that was "questioned" by state auditors, meaning the money was in all likelihood misspent or the auditors could not verify that it had been spent legally…
Welfare funds paid for luxury vehicles, expensive travel, college baseball tournaments, religious concerts, privately-owned schools, rents on empty properties, loan payments, investments in a medical company, and "the $9,500-a-month mortgage on former football star Marcus Dupree's ranch in a gated Flora community."
In addition to Brett Favre's $1.1 million haul, $5 million went for a new volleyball stadium at the University of Southern Mississippi, where Favre's daughter played volleyball.
No federal, state oversight 
John Davis, a good friend and possible business partner of the DiBiase family, spent decades in the Mississippi Department of Human Services before becoming its leader in 2016. He quickly moved to exercise complete control over expenditures while evading any serious outside scrutiny. 
The department's financial irregularities were well known long before the embezzlement scandal broke. They were only exposed when department employees expressed their concerns to then-governor Phil Bryant, who turned the whistleblowers' documents over to state auditors.
Davis was arrested in February, even as various state and federal investigations continue, in order to prevent further miss spending.
Ted DiBiase grew up with wrestling—his dad brawled as "Iron" Mike DiBiase in the 1950s—and he passed the tradition on to his sons.
Ted's fame came playing the "Million Dollar Man," a character created by WWF CEO Vince McMahon. Fans loved to boo the villain for his arrogance and wealth.
In the ring, he wore an outfit covered with dollar bills. When he won a match, he would stuff bills into his defeated opponent's mouth. Outside the ring, he wallowed in a "rock 'n roll" lifestyle of drugs, alcohol and women before becoming an "authentic Christian" and launching his ministry.
DiBiase explained McMahon's concept for his character in a 2016 interview with ESPN:
"One thing everybody hates is someone who by virtue of their wealth thinks they are better than everybody…cocky, nose in the air, 'I am better than you,' looks down at people…
"I hate people like that myself."