Christian Couple Dedicate Their Lives To Caring For Afghans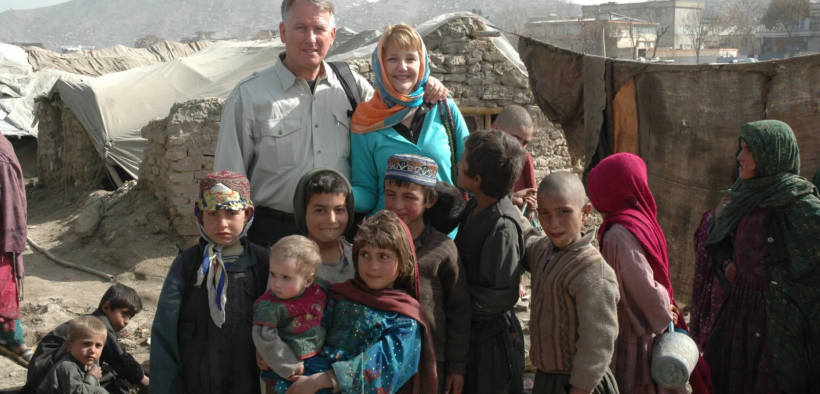 The Afghan children call him "Grandpa."
Longtime minister Ken Durham prefers "Top Gun." At least that's how he describes his friend, retired Air Force Lt. Gen. John Bradley.
"I love that he was a fighter pilot," Durham said. "He is the kind of guy you build TV shows around: Top Gun meets Jesus Christ."
The 75,000 U.S. Air Force reservists under Bradley's command in the final years of his  41-year career just called him General Bradley.
Bradley and his wife, Jan, founders of the Lamia Afghan Foundation, spent a lifetime moving from base to base and up through the ranks of the U.S. military, serving country, community and churches. Then in 2008, in what John calls a five-minute conversation, they decided to spend their retirement helping the people of Afghanistan.
Through the foundation, they provided more than 3.5 million pounds of humanitarian aid over 13 years. They built seven schools and clinics, provided prosthetics for children injured in war and built relationships with other organizations and Afghans who became their partners and dear friends.
The future of those schools and the people they came to love and admire fell into jeopardy this summer. As the American military prepared for its final withdrawal, the Afghan government and military imploded, and the Taliban quickly resumed control.
The Bradleys had lost friends before in Afghanistan—volunteers murdered by the Taliban because they worked with Americans, because they helped educate girls. As U.S. troops withdrew, the couple hoped to help 500 Afghans escape the country and the reprisals they believed were inevitable.
At publication time, about a dozen family members of one Afghan-American physician in Houston and two small children, relatives of an Afghan-American friend in Virginia, had made it out. The children were at the gate when an Aug. 26 explosion killed 13 U.S. service members and scores of Afghan civilians.
Their older brother was left behind to hide with their father and mourn their mother who died in the explosion.
The older brother calls the Bradleys "Grandma and Grandpa."
A legendary pilot
John Bradley is one of five brothers who served in the military.
One brother—Bobby, a naval radar intercept officer—was killed during training just a year after graduating from the U.S. Naval Academy.
John was accepted to the Air Force Academy but flunked out in his third year, just months after Bobby died, which their father believed was the cause. But, John says, he "wasn't killing it the first two years either." He transferred to the University of Tennessee, enlisted in ROTC, made the Dean's List and earned the top ROTC award at graduation in 1967.
He chuckled at himself when he added, "I don't think the Air Force even knew they had a lieutenant general who had flunked out of their own academy."
Clearly, the academic detour did not slow his career.
Access to MinistryWatch content is free.  However, we hope you will support our work with your prayers and financial gifts.  To make a donation, click here.
He entered the Air Force, and determined to volunteer for service in Vietnam, he picked an airplane that would send him there.
In Vietnam, he flew the first of his 337 combat missions. The Bradleys' only child, Leigh Ann Kosmas, said flying fighter jets was her father's first love.
A fellow pilot, officer and friend called him legendary.
"He's got around 7,000 hours, mostly on fighter and attack aircraft, which is unheard of," said retired Major Gen. Eric Overturf of Arlington, Va., who flew with John and has known the Bradleys for more than 20 years.
"He was a recipient of the Distinguished Flying Cross and had an amazing record as a pilot," the fellow general said. "But more importantly, he's the kind of instructor and fighter lead every wingman wants to fly with.
"He's a selfless servant leader who has dedicated himself to taking care of people," Overturf said. "He lives the way he thinks—what would Jesus do? He never says it out loud, but he's dedicated first and foremost to trying to do the right thing, whether it's a wingman trying to get through bad weather or in Afghanistan."
First love and true love 
If flying was his first love, John Bradley met his true love after Vietnam, and after he left the regular Air Force for full-time reserve duty at Barksdale Air Force Base in Louisiana, where Jan was working as a secretary to a personnel officer.
The daughter of a Church of Christ minister and a second-generation graduate of Lipscomb University in Nashville, Tenn., she said, "I thought, 'This is a pretty nice guy. I'm pretty crazy about him. I think this is going to work.'"
They married less than a year later—March 22, 1975—at the Blanchard Church of Christ in Shreveport, and it has worked for 46 years.
Kosmas said the family's service tradition began long before Afghanistan, often with her mother doing the organizing while her father traveled extensively. They moved from Shreveport to Austin, Texas; Kansas City, Mo.; Washington, D.C.; Fort Worth, Texas; and back to D.C. Today, they live in Nashville, Tenn.
"I remember visiting children's hospitals with my mother as a child," Kosmas said, "and after Hurricane Andrew participating in humanitarian efforts — going to base and collecting things to send to folks in Florida whose life had been destroyed."
Mike Tune, minister for the Church of Christ in Falls Church, Va., knew the Bradleys during John's second assignment to the Pentagon. He recalled Jan organizing a relief effort after Hurricane Katrina destroyed an Air Force retirement home.
"A lot of those (airmen) were transferred here, so Jan organized special relief collections," Tune said. "Then the very next year she became acquainted with some amputees at Walter Reed and started sewing clothing for them — adjusting the clothing for amputees."
Lamia grabbed his heart
Durham, a former minister at the Falls Church congregation, knew the Bradleys during their first tour in Washington. John Bradley completely redefined Durham's previous image of a general as an "uber macho person who likes to give orders."
"I'm sure he can be tough if he needs to," Durham said, "but he has this gentle spirit. He doesn't have a self-important bone in his body."
Durham renewed his friendship with the Bradleys when they retired in Nashville, and he was on the Bible faculty at Lipscomb. And over many cups of Starbucks coffee, he got to hear about Lamia, the girl who changed everything:
"He met Lamia. She grabs his heart, and she became the kick starter for what he and Jan wanted to do, which is provide things women have been denied for centuries. … He's a man with a passion that comes right out of the heart of Jesus when it comes to helping people."
Neither John nor Jan can speak without emotion about the now 22-year-old young woman whose name inspired their foundation and whose resolve pushed her through a crowd of boys to beg an American general for boots.
"If I hadn't met her, I don't know that I'd have even thought about this work," John Bradley said. "It was a 9-year-old girl that touched my heart."
He could not forget her face, aged beyond her years by the harsh Afghan winter. When he returned home and told Jan about the encounter, she began gathering blankets, clothing and other materials for the Afghans Lamia came to personify.
But even before 40,000 pounds of supplies for that first shipment were gathered from thrift stores, discount stores and church members, before it was all washed, folded and stacked in the Bradley's basement, they gathered four boxes of basic provisions for Lamia and her family—and boots in three sizes to be sure she'd have a pair that fit, and Aveeno lotion for her wind-ravaged face. Those boxes were sent to Bagram air base north of Kabul with instructions to find Lamia and her family. And on his next trip, the American general took a bicycle.
Jan eventually got to meet Lamia, too. After John's retirement, the couple visited her in her home 15 times before it became too dangerous for them, and for the Afghans they worked with, to travel there. Together they sat down with the village elders.
"Our focus was to get Lamia in school," Jan said. "The old men sat in a row, nodded their heads. 'Yes, we want our girls to be educated,' they'd say."
But ultimately those elders didn't really want Lamia to be educated. They wanted the American couple to buy land for $20,000. Americans cannot own land in Afghanistan.
"Our greatest disappointment in all these many years is we were not able to educate Lamia," Jan said. "She will continue to cook over a hole in the ground like her grandmother and great-grandmother before her."
Still, the Bradleys believe that because of Lamia, they have been able to educate tens of thousands of girls.
"They've gone to school, been educated. Some have gone to universities. So we don't regret anything we've done," Jan said. "We're happy, we're proud, we're sorry, we're disheartened, we're brokenhearted about what's happened to Afghanistan. But we think about those girls and their education.
"The Taliban can't take that away from them. It's in their heart. In their soul. In their mind."
'Americans have the watches. We have the time.'
The schools the Bradleys built are closed, at least for now. The foundation completed its seventh school the week before Kabul fell and the Taliban took over. On the Monday of its scheduled opening for 1,100 girls, it sat empty.
"I'm deeply disappointed that the airlift ended," John said. "A lot of people will review what's happened the last few months, the last few years. People say we should have started the evacuation before we pulled troops out—that's my opinion."
But the Bradleys wish it had been different long before the summer of 2021.
Jan said she wishes that back in 2001, there had been a Marshall Plan for Afghanistan, a plan to rebuild a devastated country (like what occurred in Europe after World War II).
"Our driver said, 'Mom, why didn't we start building factories, rebuilding schools and roads?'"
Yes, he called her 'Mom.'
"Everyone calls them 'Mom and Dad.' The children call them 'Grandma and Grandpa— it could be an Afghan thing," their daughter Leigh Ann explained. "But because they are given those names and titles—it's this reverent thing, and it adds to their desire to help those people."
"That's what should have been done," Jan told the driver, and will tell anyone who asks. "You can't win a war by fighting—I've always said in order to beat extremism, you have to eliminate the desperation of poverty and illiteracy."
John agrees with his wife, but because he was working in the Pentagon in 2001, he saw the focus shift from Afghanistan to Iraq. He saw the history before it was history. Generals understand such things.
"We should have not tried to set up a Jeffersonian Democracy," he said emphatically. "Everyone has tried to conquer Afghanistan. No one has been successful. No one ever will be.
"There's a great saying in Afghanistan: 'Americans have the watches. We have the time.' There's a lot of truth in that."
In 2011, the Bradleys made their case in Washington, encouraging lawmakers to provide funds for food, education and clean water.
"All the people at the top, it went in one ear and out the other," Jan said. "Most had never been to Afghanistan, and if they had, they had not been outside the wire."
Pundits have speculated that the outcome would have been the same five years ago or five years hence. But in 2016, the Bradleys were hopeful.
"Five years ago, there was great hope and promise in Afghanistan," Jan recalled. "For women and girls, the country was moving forward. We were building schools, continuing our work, putting prosthetics on children."
How the end came so quickly is difficult for them to understand. But it did. And so they went to work trying to get 500 souls out of the country—partners and volunteers and their family members.
Kosmas, the Bradleys' daughter, took more than a week off work from her job as senior communications director for Kutak Rock LLP, a nationwide law firm based in Minneapolis, to help file the paperwork that the State Department and Department of Defense assured them would result in their people getting a call to come to the airport gate, and a flight to freedom.
Her parents say they couldn't have done it without her computer skills.
"One of the hardest parts for me," Kosmas said, "was putting together the documents. I have their names, dates, date of birth, photos and what they'll wear to the airport. And there are so many children, and I see their faces. And now, in hindsight, I know they don't have a shot because it didn't work."
It didn't work for most of them. But for one large family, and two small children, all the work, some luck and providence, made a difference.
'I would have no one by now'
The Houston physician was working in Afghanistan in 2008 when the Bradleys brought a woman to the hospital where he was on call. Her rare condition required extensive tests and surgery. Bradley told the doctor, whose name is being withheld because of security concerns, he would pay for it.
"That was an Afghan lady, and he had come all the way from the U.S. to help an Afghan woman," the doctor said, still amazed.
They stayed in touch. The physician moved to the U.S. in 2012. The retired general wrote a letter of recommendation that helped the doctor get a residency in New York.
Then in June of this year, the doctor's wife and five children, all U.S. citizens, went back to Afghanistan for his brother's wedding. Their scheduled return flight on Aug. 15, the day the Taliban took over and the airport closed, never happened.
The doctor needed to get his wife and children home, but also his brothers' families who were in jeopardy because of their own work for American NGOs and because he was an American—18 people in all, 12 of whom were children.
The Bradleys went to work on the phone and computer. The physician worked all day at the Kingwood hospital in suburban Houston where he is an internal medicine specialist. At the end of his day, it was morning in Afghanistan, so his calls would begin.
"We were all working 24-7, nonstop, with a lot of stress," he said.
When he heard about the explosion at Hamid Karzai airport, he knew that his family had been there just 12 hours earlier. A friend called to tell him, "This is exactly the spot. They had to cross the sewage canal—had to pass the kids from one side to the other in the middle of the night."
"If my family was delayed by 12 hours," the doctor said, "I would have no one by now."
Ultimately, a variety of circumstances led to 18 family members getting through. The Bradleys were involved with most of those.
The doctor continues to worry about his three sisters and their families still in Afghanistan.
"The Taliban are very smart this time," he said, "They can use smartphones. They can track people. It's very dangerous."
'Thank Grandpa Bradley'
Ferishta, whose last name is being withheld because of security concerns, also calls the Bradleys "Mom and Dad."
"They are like my parents," she explained. "It's not just a custom."
Ferishta came to the U.S. in 2013, taking advantage of the Special Immigrant Visa program that helps people whose lives are in danger because of their employment, usually for a U.S. company or the U.S. government.
She found work as a temp, then in finance for Democracy International. Today she's a finance officer for an American company. She became involved in charities that helped immigrants find jobs, and some that supported the poor in Afghanistan. That's how she met the Bradleys.
After arriving in the U.S., she brought her parents to live with her, and they both got green cards. She had begun the process of sponsoring her brother and his family to join them when things fell apart in Kabul, and she asked the Bradleys for help.
Paperwork was filed with the State Department and DOD, but the promised phone calls never came, so the family decided to go to the gate with the papers they had and a letter from General Bradley. A 16-year-old neighbor helped them take the children through the dense crowds.
When the explosion happened, Ferishta's 14-year-old nephew saw his parents on the ground and thought they were both dead. That's what Ferishta knew when she called the Bradleys.
"She called me one morning. She was crying so badly, 'Mom! Mom!'" Jan Bradley recalled.
Over the next few days, they learned that Ferishta's nephew stayed alone at the gate until the Taliban made him leave. The parents were taken to a hospital where the mother died. On the night his wife died, Ferishta's brother joined his son at a safe house where they spent hours calling hospitals, trying to locate the two youngest children.
Eventually they learned that some Marines had helped the children and young neighbor through the airport gate and to the military hospital. From there they were flown to Ramstein air base in Germany, and after a few more days, to Walter Reed National Military Medical Center in Maryland.
"At least my niece and nephew are in this country—they are in safe hands," Ferishta said. She hopes to bring them home but knows that could be a long process. Meanwhile, Tom Bradley, John's brother, takes her each day from Alexandria to Bethesda for the allowed one-hour visit.
"I don't know when the family will be united," she said. "Even yesterday it was so hard for me, and I carried a strong face to hide the pain of knowing that their mother is no longer with them, because the kids still don't even know."
So the Bradleys are at work again. Still. They are still trying to get 500 Afghan friends and partners out of the country via overland routes, trying to work with the State Department to get money to Afghanistan to buy food, trying to decipher the systems that will allow the two young patients to go to a new home in America with their aunt and grandparents.
"He works on their case day and night," Ferishta said. "He did whatever he could. And I trust him that he will also help with this process as he promised me. He will work so hard."
While she waits, she exchanges phone calls and videos, including one from her nephew, still hiding in Kabul.
The three-star general choked up a bit. "Can I break your heart?"
That 14-year-old boy, in hiding in Kabul with his father, sent a 14-second video to his aunt in Alexandria.
"Please thank Grandpa Bradley for trying to reunite my family," he said.
"Think about that," the general said quietly. "That's a keeper for me."
This article originally appeared in Religion UnPlugged. It is reprinted with permission.