Bluegrass Festival Commemorates Victims, Heroes Of 9/11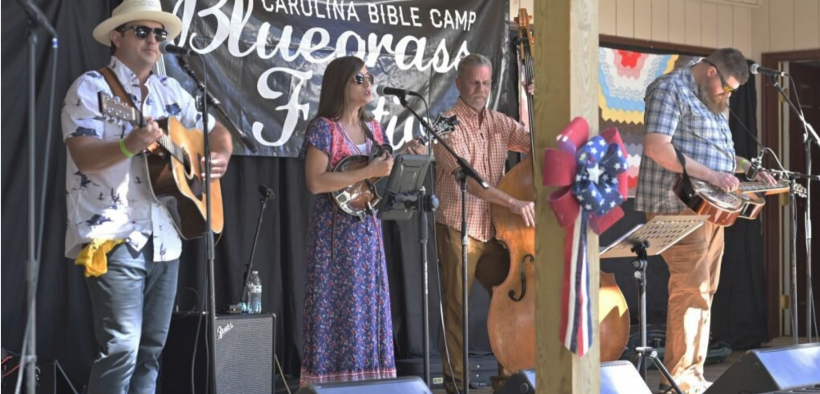 Carolina Bible Camp's all-day bluegrass festival Saturday was a time for pickin', fellowship and remembrance.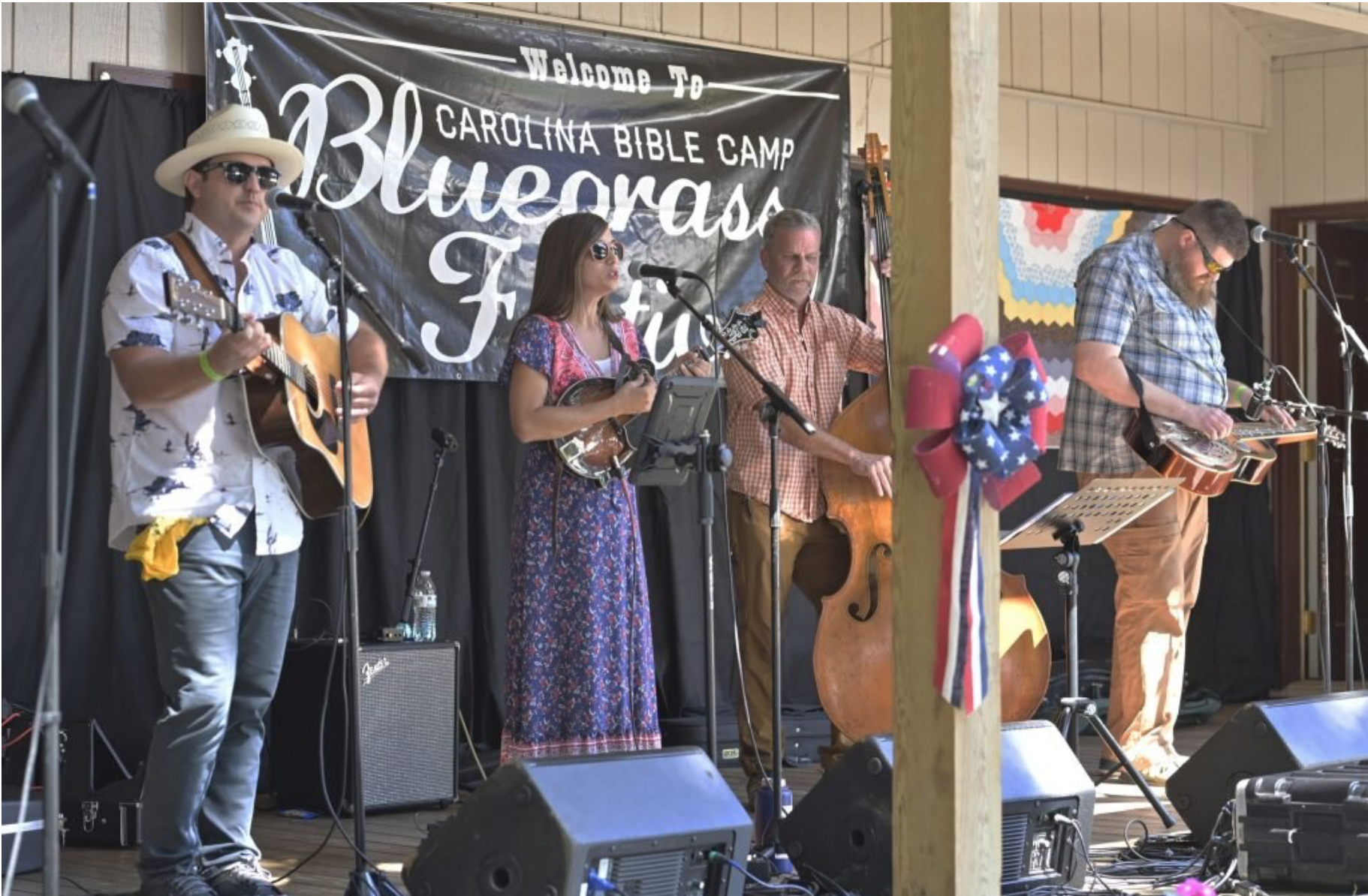 Hundreds of bluegrass fans converged on the rustic camp, about 60 miles north of Charlotte, to hear artists such as Scythian, Joe Mullins & The Radio Ramblers and His & Hers.
But before the banjos, mandolins and guitars took over the wooden stage—normally the camp dining hall's front porch—the crowd paused to reflect on the nearly 3,000 lives lost in the Sept. 11, 2001, terrorist attacks.
"This is a very important day in our nation's history — the 20th anniversary of 9/11," Dennis Conner, minister for the Brooks Avenue Church of Christ in Raleigh, told attendees seated in folding chairs on the lawn. "We're just blessed and thankful to God that we continue to enjoy our freedoms and the way of life that we have here."
On a sunny day with high temperatures in the 70s, red, white and blue ribbons adorned hay bales and wooden planks as a group called Wilkes Seniors on Stage sang "The Star-Spangled Banner." 
Talitha Vickers, news reporter and anchor for WXII-TV in Winston-Salem, led the reciting of the Pledge of Allegiance.
Retired Gen. Roger A. Brady, who at one time commanded all U.S. Air Forces in Europe, told the crowd that every generation experiences a defining moment—be it the 1941 attack on Pearl Harbor for his parents' generation or the 1963 assassination of President John F. Kennedy for his own generation.
Access to MinistryWatch content is free.  However, we hope you will support our work with your prayers and financial gifts.  To make a donation, click here.
"We talk about my parents' generation … as perhaps the Greatest Generation, and I don't dispute that at all," said Brady, a member of the Brooks Avenue church. "We're beholden to them, and we stand on their shoulders."
But he praised the "9/11 generation" and the hundreds of thousands of men and women who volunteered for military service in an era with no draft.
Brady recalled a husband and wife—both C-17 pilots—who had left active duty before Sept. 11. 
After the attacks, they decided not to retire.
"They said, 'Can we stay? We've trained our whole lives for this, and we can't leave now,'" Brady said. "We said, 'Sure. Come on back. We need you.' 
"And there were many who did that. They were like the firefighters who ran back into the tower. They were like the nurses who showed up. They were like all the people who said, 'It's time for us to serve.'
Lessons at Ground Zero
About 600 miles away in New York, 11 students from Harding University in Searcy, Ark.—all too young to remember 9/11—visited the Sept. 11 memorial this week.
The students' educational trip also included meeting the firefighters of Engine 54, Ladder 4, Battalion 9 in Midtown Manhattan. That firehouse lost 15 of its own on 9/11, the biggest loss in the New York City Fire Department.
"One of the most impactful experiences for me in the museum was hearing the voices of the friends and family members of those that died that day," said Everett Kirkman, 21, a member of the Downtown Church of Christ in Searcy. "Reading a story about someone is one thing—and can be moving in itself—but hearing the tone, and the love in each person's voice that spoke, was powerful."
Sara McClaran, 20, whose home congregation is the A&M Church of Christ in College Station, Texas, said: "One of the most powerful things to me was hearing the messages of the passengers on the plane that went down (in Pennsylvania)—Flight 93. I have no doubt that each one knew they were going to die, and yet in their calls, there was no panic or terror or really much fear.
"There was just a calm certainty—a peace, if you will—as they made sure their family knew they were loved. Those passengers knew their fate, they accepted it, and they worked to make sure no one else died with them. Peace and courage like that is extraordinary."
Like the students, millions across the U.S.—and around the world—solemnly marked Saturday's anniversary.
"After 20 years let's not forget," David Shannon, president of Freed-Hardeman University in Henderson, Tenn., said on Facebook. "Say a prayer for our land today and especially the families and friends who lost so much on 9/11. May God bless America."
'Too important a day to let go'
Back in North Carolina, Lisa Brewer, a member of the Wilkesboro Church of Christ, welcomed the return of the bluegrass festival, which she directs. The COVID-19 pandemic forced its cancellation last year.
Ticket sales for the outdoor festival raise thousands of dollars a year to support the Carolina Bible Camp and Retreat Center, which is associated with Churches of Christ. 
Given the 9/11 anniversary, the festival offered free admission this year to military veterans, law enforcement and first responders.
"It's too important a day to let go without recognition," said Lisa, whose husband, Greg, a Wilkesboro deacon, serves on the Carolina Bible Camp board.
When the hijacked planes crashed into the World Trade Center, Vickers, the Winston-Salem news anchor, was working as a journalist across the Hudson River in New Jersey.
"I could see the flames," said Vickers, a nondenominational Christian.
Her older brother, retired Army Spc. Ripton Vickers, served in Afghanistan and South Korea. She wrote a children's book, "Why My Hero Had To Go," inspired by her nephew Jared's dismay over his father leaving to serve overseas. She read that book Saturday morning to children at the festival.
Gary Scruggs, a member of the Kannapolis Church of Christ and a bluegrass festival volunteer, worked as a contractor in Afghanistan for two years. His son, retired Army Capt. Ben Scruggs, served nine months in combat in Afghanistan as part of the war launched in response to the attacks.
The older Scruggs said he appreciated the recognition given to the military at Saturday's festival.
"I know we can sometimes overdo it," he said. "But I think we need to keep showing our respect for the military and keep that instilled in our young people. This is an all-volunteer group, and we may need volunteers again."
Editor's Note: This article was originally posted at The Christian Chronicle. Bobby Ross Jr. is a columnist for Religion Unplugged and editor-in-chief of The Christian Chronicle. A former religion writer for The Associated Press and The Oklahoman, Ross has reported from all 50 states and 15 nations. He has covered religion since 1999.