Andrew Wommack Violates State Orders, Wages Legal Battle, and Cancels Event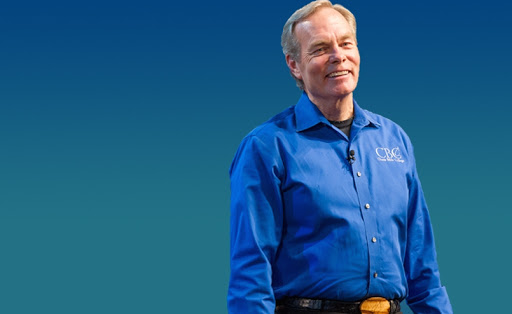 In the six months since the first case of COVID-19 was reported in the U.S., health-and-wealth preacher Andrew Wommack has called the virus a liberal hoax, claimed it would disappear by March, dismissed its risks to him and other true believers, and said he could never picture Jesus wearing a mask.
Now, the ministry may be facing legal trouble after Wommack disobeyed state mandates limiting crowd sizes to 175 people and then refused to honor a cease-and-desist order issued by the attorney general as Wommack hosted 300-500 people at his weeklong Summer Family Bible Conference at Charis Bible College in the mountains near Colorado Springs, Colo.
"We want to protect everyone from getting sick, but this is a violation of our constitutional right to peaceably assemble," Wommack told The Gazette in Colorado Springs.
Wommack, who had threatened to resist crowd-size orders for months, has now asked for legal help from the conservative Liberty Counsel of Lynchburg, Va., which describes the battle in dramatic language:
"Power-drunk governors and other state officials are resorting to bullying tactics to silence churches and houses of worship…Throughout history, tyrants have targeted followers of God…the state of Colorado is trying to shut down Wommack's Bible Conferences."
An official with the Colorado Department of Public Health and Environment told The Gazette, "We will monitor the situation and evaluate our legal options, which can include further enforcement of the cease and desist through court action."
But within days, Wommack canceled a Kingdom Youth Conference scheduled for this past weekend. The cause? The virus. One of the 300-500 people who attended the Family Bible Conference later tested positive for COVID-19.
Wommack plans to continue the fight against restrictions, as he said on his Facebook page:
"We are firmly in the 'crosshairs' of our liberal state government. Liberty Counsel has agreed to represent us and we are fighting back. I believe it is not only our constitutional right but our duty to stop this extreme overreach of government that allows people to riot and pillage but not assemble to worship the Lord."
Liberty Counsel claims that Colorado's efforts to restrict crowds represent an attempt to "shut down one of the largest Christian ministries in the world." In 2018, Wommack's various ministries had an income of $63 million.
The legal group's website also said this case "is far more personal because AWMI played a significant role in healing someone within the Liberty Counsel Ministry family." The person was not named.
Liberty Counsel attorney Robert Mast claims that limiting crowds to 175 people violates Womack's First Amendment rights, but he saw no problem with the state limiting public events to 50 percent of venue capacity, which at Charis would be 1,750 people, ten times the state's limit.