Andrew Wommack Oversees Growing Empire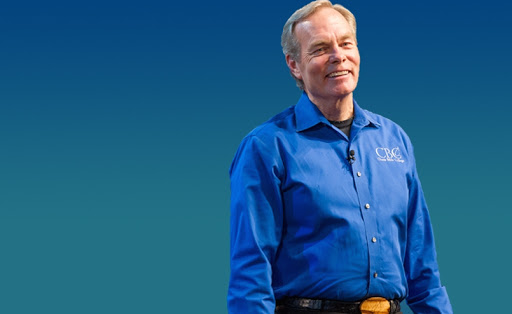 The health and wealth gospel that Andrew Wommack has preached for decades seems to work pretty well for Andrew Wommack. 
"I haven't been sick to speak of in 52 years," said the 70-year-old teacher, author, and founder of Colorado-based Andrew Wommack Ministries International, Charis Bible College, and the radio and TV broadcasts, the Gospel Truth and Truth & Liberty.
Not even the coronavirus pandemic poses a threat to his health. "I have zero fear of this. If a germ touches me it dies," he said on a recent Truth & Liberty broadcast featuring Lance Wallnau.
His wealth seems to be as strong as his health.  Wommack's ministry grew 60 percent between 2014 and 2017, according to a story in the Colorado Springs Gazette.
And that's just the last few years of what has been a long upward trajectory for his ministries.  Wommack's ministry had income of $2 million in 1995. That rose to $68 million by 2019.
Ministry assets have also risen rapidly, from $9.7 million in property and equipment in 2008, to $103 million a decade later.
What has driven the growth? 
TV has played a big part. Wommack's Gospel Truth was originally a radio show from its debut on a station in Childress, Tex., in 1976.  In 2000, when it added a TV broadcast version, Wommack's audience and donor list exploded.
Wommack's personal wealth is difficult to confirm, but online sources put it at between $10- and $12–million. According to the ministry's 2016 Form 990 Wommack and his wife Jamie, the ministry's secretary/treasurer, earned a combined $340,321 from the ministry. Their income rose to $450,574 in 2017.
CEO Paul Milligan's income also rose, from $235,308 in 2016 to $293,077 in 2017. 
Wommack once declared that he would never go into debt to build his ministry.  "I've made a decision not to go into debt," Wommack said in a ministry video about his grand plans for his Woodland Park property. "If the money comes in, I'll do it, and if it doesn't, I won't." 
He apparently changed his mind about that to build his 500-acre sanctuary in the mountains west of Colorado Springs. The ministry's most recent Form 990 reports a different picture. The 2018 balance sheet shows that payable mortgages and notes grew nearly 500 percent, from about $3.5-million at the beginning of year to more than $15.5-million by the end of the year.
Over the same period, total liabilities more than doubled, from about $11.3-million to $24.4-million.
An auditor's note from the ministry's 2017 financial statement explains that the ministry's current liabilities exceed its current income by $6,000,000.
In addition, the auditor says, "Large capital additions and rapid personnel growth necessary to accommodate the organization's expanding activities" have resulted in "$3.7 million worth of negative cash flows from operating activities."
But the auditor says the ministry's successful track record of growing donation revenue should give it access additional sources of capital.
In 2018, $52–million of the organization's $63 million in income came from contributions. Its biggest expenses include salaries and related expenses ($21 million) and broadcast time ($13 million.)
Most of the funds for broadcast time went to a Bartonville, Tex., company called Integrity Media.  Integrity Media buys time on Christian and secular outlets for Andrew Wommack, but also for prosperity gospel preachers Jesse Duplantis and Kenneth Copeland.  David Neece is the president of Integrity Media.  He is the brother-in-law of Kenneth Copeland.
The 2017 report listed $9.5 million paid to Executive Custom Construction, a Colorado Springs company owned by Gary Erickson.  Previous reports show that over a 4-year period Wommack's ministry paid Executive Custom Construction about $95-million.  
MinistryWatch reached out to Wommack's organization to request an interview and a copy of their Sept. 2019 financial statement. But the response was the same response this reporter has received to more than a dozen requests made in recent years before the pandemic: none.   
Corporate Restructuring 
Wommack's ministry generally gets good ratings from Charity Navigator and other watchdogs, and is more transparent than many, providing access to many financial reports on its website (where they can be found under a drop-down menu for "Staff").
But in 2017, Andrew Wommack Ministries began a corporate restructuring process that will make tracking the ministry's finances much more difficult. New Life Association, Inc. was created to serve as the parent company of AWM and these corporate affiliates: 
Charis Bible Colleges, Inc. is now a separate entity overseeing the main Colorado campus

,

 a

s well as

 

nearly 50 

satellite campuses

 founded by Charis graduates

 in the U.S. and worldwide

.

 

Charis 

F

ood 

S

ervices, LLC is a for-profit company that f

ee

d

s students 

at the 

main campus

.

 
Charis 

T

heatrical 

P

roductions, LLC

 presents shows like "David: King of Jerusalem," "Heart of Christmas," and the Easter show "God 

With

 Us" at 

the 

main campus's 3,200-seat auditorium and 

at outside venues.

 

Charis Enterprises, Inc. is a C-corporation set up to manage deferred tax assets and liabilities.

 

And 

7M Ventures, Inc. is the 

corporate home of Wommack's growing political activism

.

 
A search of Wommack's website finds no results for any of these affiliated companies.
"Things like that just make me mad!"
Once largely apolitical, Wommack has become a conservative Christian powerhouse, and 7M Ventures, founded in 2017, is his political action and lobbying arm.  Wommack's co-founders in that venture are Lance Wallnau, whose website describes him as the "Trump Whisperer."  Another co-founder is "Christian America" historian David Barton.
7M is a 501(c)4 social welfare organization that can engage in political lobbying and campaigning. It is not required to reveal its donors, opening the doors for dark money political contributions.
The 7M name comes from Wommack's teaching on the Seven Mountains, which is summarized at the beginning of broadcasts and podcasts from The Truth & Liberty Coalition: "We believe we have a mandate to bring godly change to our nation and our world through the seven mountains or spheres of influence."
The seven mountains are religion, family, education, government, media, arts & entertainment, and business. 
Wommack isn't a fiery televangelist. He comes off as a warm, friendly soft-spoken, homey, teacher with a southern nasal twang. On the Truth & Liberty broadcasts, he smiles as he eviscerates political enemies. He talks about the things that make him mad: 
Opposition to 

President

 Trump:

 

"Why are so many Christians blinded and can't see how God is using Trump? I do believe that there is a demonic deception that is blinding people."
Opposition to Supreme Court nominee Bret Kavanaugh: "Liberals are crazy…They are malicious. They are evil … As a rule, liberals are vicious and mean."
Overcoming Sickness 
Like his friend Kenneth Copeland, who spoke at the dedication of Charis, Wommack teaches that it's never God's will for us to be sick. He is applying that approach to the coronavirus and governmental responses, including Colorado's stay-at-home pandemic policies.
"In Colorado, we've got a governor who is openly homosexual and anti-Christian," he said, smiling, on a recent Truth & Liberty broadcast, "and if (this policy) was to become a long-term thing, I would defy it (if it made a specific) stand against the church."
As for the virus itself?
"This has been hyped by liberals as an opportunity to come against Trump," he said in early March. "This thing could turn around in a week to 10 days."