50 Largest Evangelism and Discipleship Ministries — 2022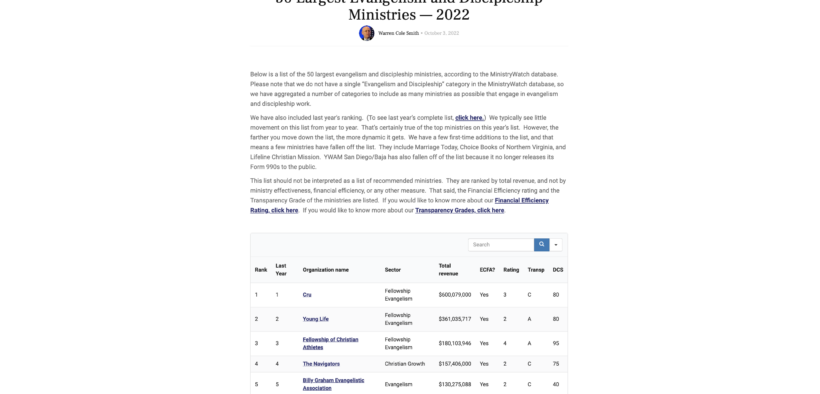 Below is a list of the 50 largest evangelism and discipleship ministries, according to the MinistryWatch database.  Please note that we do not have a single "Evangelism and Discipleship" category in the MinistryWatch database, so we have aggregated a number of categories to include as many ministries as possible that engage in evangelism and discipleship work.
We have also included last year's ranking.  (To see last year's complete list, click here.)  We typically see little movement on this list from year to year.  That's certainly true of the top ministries on this year's list.  However, the farther you move down the list, the more dynamic it gets.  We have a few first-time additions to the list, and that means a few ministries have fallen off the list.  They include Marriage Today, Choice Books of Northern Virginia, and Lifeline Christian Mission.  YWAM San Diego/Baja has also fallen off of the list because it no longer releases its Form 990s to the public.
This list should not be interpreted as a list of recommended ministries.  They are ranked by total revenue, and not by ministry effectiveness, financial efficiency, or any other measure.  That said, the Financial Efficiency rating and the Transparency Grade of the ministries are listed.  If you would like to know more about our Financial Efficiency Rating, click here.  If you would like to know more about our Transparency Grades, click here.