Weekly Review

Billy Graham Evangelistic Association, Donor Advised Funds, and Salary Information for 500 Christian Ministries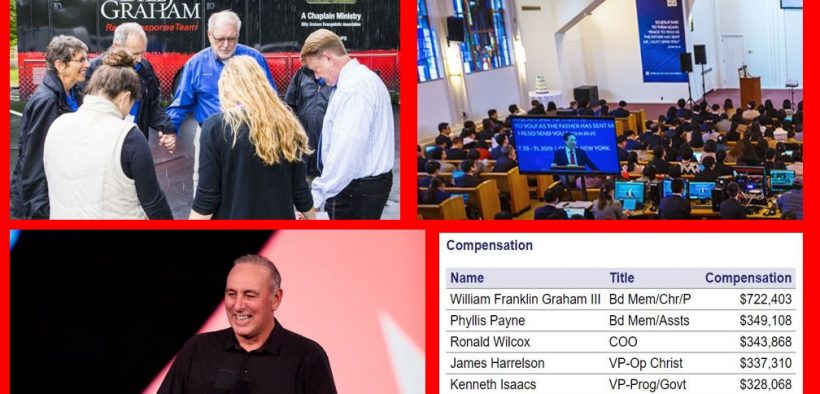 In The Ministry Spotlight:  Billy Graham Evangelistic Association.  The Billy Graham Evangelistic Association does not release its Form 990s to the public.  At MinistryWatch, we believe that is a bad practice, for reasons we identify here.  Nonetheless, a great deal of financial information is available from BGEA's audited financial statements, and we use that information in our ministry profile of the organization, a summary you can find here, in our Ministry Spotlight.
On Today's MinistryWatch Podcast.  Each week, MinistryWatch brings you news about Christian ministries, as well as the latest in charity and philanthropy, news that we examine from a Christian worldview perspective.  Our goal is to help us become better stewards of the resources God has entrusted to us.  On today's program, controversial pastor and ministry leader David Jang is in the news again, and we take a look at the growth of Donor Advised Funds.   We also ask:  Is Colorado Springs losing its cool as a home for Christian ministries?  We begin today with more news from Hillsong Church.  You can hear the podcast on iTunes, Spotify, Stitcher, and other podcast apps, or you can simply click here.
Salary Data In MinistryWatch Database. Just a reminder that if you go to the profile of a ministry in the MinistryWatch database, you'll now see salary information for every executive listed on the ministry's Form 990.  We have salary information for more than 3000 executives from more than 500 ministries.  So check out this new addition by clicking on the red button at the top of this page.  That takes you to our database.  (Or click here.)  The search engine is right there, and you can type in the name of a ministry you're interested in and our profile will pop right up – now, with compensation information for the top executives.
Access to MinistryWatch content is free.  However, we hope you will support our work with your prayers and financial gifts.  To make a donation, click here.
ECFA Changes.  The following organizations have had membership status changes in the Evangelical Council for Financial Accountability.  ADDITIONS: NONE  REMOVALS:  NONE
MinistryWatch Database Changes.  MinistryWatch now has more than 760 ministries in its database.  These ministries represent more than $30-billion in total revenue, most of that donor revenue from evangelicals. The following ministries have their profiles updated with the most recent year's financial data.  The Financial Efficiency Rating and the Transparency Grade of each ministry is in parenthesis. If this rating represents a change from the previous year, that change is noted:  Christian Children's Home of Ohio (Up from 1 to 4 Stars, Transparency Grade: A), Coachella Valley Rescue Mission (Down from 4 to 3 Stars, Transparency Grade: A), Downtown Rescue Mission Inc. (Down from 4 to 3 Stars, Transparency Grade: A), Holston United Methodist Home for Children (Down from 3 to 1 Star, Transparency Grade: A), Kingdom Advisors (Up from 3 to 4 Stars, Transparency Grade: A), Lifesong for Orphans (Up from 4 to 5 Stars, Transparency Grade:A ), Wall Watchers / MinistryWatch.com  (4 Stars, Transparency Grade: Changed from D to C). The following ministries have been added to the MinistryWatch database with the most recent year's financial data: All God's Children International (5 Stars, Transparency Grade: A), Buckner Children and Family Services (3 Stars, Transparency Grade: A), Christian Family Care Agency (4 Stars, Transparency Grade: A), Holt International Children's Services (1 Star, Transparency Grade: A), Hope and Home (2 Stars, Transparency Grade: A), Lifeline Children's Services Inc.  (2 Stars, Transparency Grade: A), Lydia Home Association (3 Stars, Transparency Grade: A), Mercy Multiplied America (4 Stars, Transparency Grade: A)