Weekly Review

Falwell update, Julie Roys joins podcast, ECFA Drops Members, MinistryWatch Rating Updates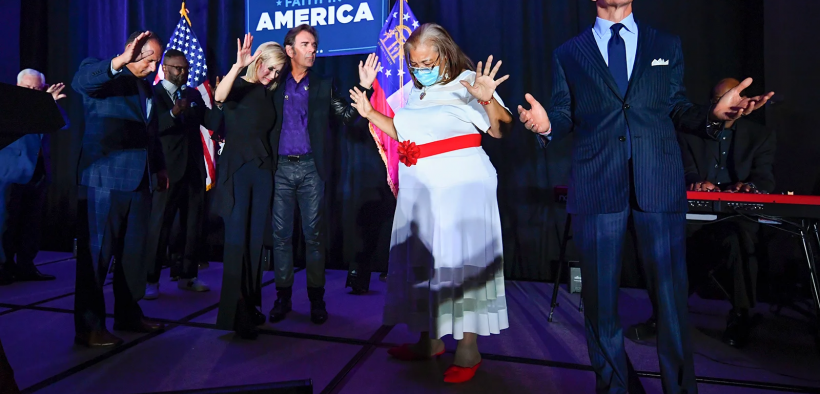 Falwell Update. If you aren't getting Falwell Fatigue (and we here at MinistryWatch are), you might be interested in a new article posted last night by Politico, with yet more accusations of sexual impropriety by Becki Falwell.  We have chosen not to feature the story.  These accounts are beginning to feel a bit like "piling on."  We think the more important stories are what the board will do next, and who will be the next president.  But if you're interested, you can find the story here.
Trump's Pentecostal/Charismatic Base. News reports often talk about Trump's "evangelical" base, but two writers for Religion News Service make the case that Trump supporters often come from the Pentecostal/charismatic wing of the evangelical movement.  To read more, click here.
On Today's Podcast.  Each week, the MinistryWatch podcast brings you news about Christian ministries, as well as the latest in charity and philanthropy, all designed to help us become better stewards of the resources God has entrusted to us.  On today's program, Jerry Falwell Jr. has resigned as president of Liberty University, walking away with a reported $10.5-million severance package.  What lessons can the evangelical church learn from the Falwell Fiasco?  Also on today's podcast:  Two hurricanes hit the Gulf Coast, and terrible straight-line winds level crops in the Midwest.  Christian relief ministries are responding.  And Christian publishing giant David C. Cook struggles to re-invent itself in the face of massive shifts in publishing and music.  We've got a profile.  You can hear the podcast on iTunes, Spotify, Stitcher, and other podcast apps, or you can simply click here.
MinistryWatch Extra with Julie Roys.  A quick reminder that starting next week, we are going to be posting a second podcast episode each week.  Natasha Smith and I will continue our weekly roundup of the week's MinistryWatch news, posted each Friday.  The extra episode will be an interview with a writer or leader of a ministry we have a reporting partnership with.  This week's guest is Julie Roys.  Julie is the brains behind The Roys Report, which has broken a lot of important stories in the ministry world.  She talks about her approach to journalism and we discuss why and how journalism can play an important role in educating the Body of Christ and in enhancing the credibility of the church in the world.  To learn more, or to listen, click here.
ECFA Changes.  The following organizations have had membership status changes in the Evangelical Council for Financial Accountability.  ADDITIONS: The Hope Center of Hagerstown (Hagerstown, Md.)  REMOVALS:  Matthew 10 International Ministries (Knoxville, Tenn.), Maryland Bible Society (Glen Arm, Md.), Christian Community Assistance (Ft. Worth,Tex.), Barnabas & Partners (Charlotte, N.C.)
MinistryWatch Rating Changes. The following ministries have their profiles updated with the most recent year's financial data.  The Financial Efficiency rating of each ministry is in parenthesis. If this rating represents a change from the previous year, that change is noted: Bibles for the World (Down from 2 to 1 Star, Transparency Grade: Advocates International (3 Stars, Transparency Grade: A), Aglow International (Down from 4 to 3 Stars, Transparency Grade: C), Alliance Defending Freedom (2 Stars, Transparency Grade: A), American Bible Society (1 Star, Transparency Grade: A), American Family Association (3 Stars, Transparency Grade: A), American Leprosy Missions (1 Star, Transparency Grade: A), Asian, Access Life Ministries (2 Stars, Transparency Grade: A), Audio Scripture Ministries (Down from 3 to 2 Stars, Transparency Grade: A), Bethesda Mission (3 Stars, Transparency Grade: A), Bible Study Fellowship (4 Stars, Transparency Grade: A), Biblica / International Bible Society (1 Star, Transparency Grade: A), Billy Graham Evangelistic Association (3 Stars, Transparency Grade: C), Blessings International (3 Stars, Transparency Grade: A), Bright Hope International (3 Stars, Transparency Grade: A), Catholic Medical Mission Board (5 Stars, Transparency Grade: D), Catholic Relief Services (Down from 5 to 4 Stars, Transparency Grade: D), Childcare Worldwide / Childcare International (3 Stars, Transparency Grade: A), ChildFund / Christian Children's Fund / CCF (Down from 3 to 2 Stars, Transparency Grade: C), Christian Aid Ministries (Down from 5 to 4 Stars, Transparency Grade: A), Christian Appalachian Project (4 Stars, Transparency Grade: C), Christian Freedom International (3 Stars, Transparency Grade: A), Coalition for Christian Outreach / CCO (2 Stars, Transparency Grade: A), Eternal Perspective Ministries / Randy Alcorn (3 Stars, Transparency Grade: D), Reliant Mission (3 Stars, Transparency Grade: C), Village Missions (4 Stars, Transparency Grade: A)