Quarterly Results Show Salem's Troubles Continue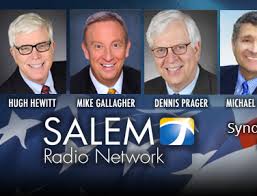 Salem Media Group, one of the nation's largest Christian broadcasters and the only one that is publicly traded (NASD:  SALM) released its results for the quarter ended June 30, 2020.  The results show continued deterioration in Salem's core broadcasting, digital, and publishing businesses.
For the quarter ended June 30, 2020, when compared to the same quarter in 2019, Salem's revenue decreased 18.3 percent to $52.9-million from the previous year's $64.7 million.  Operating expenses fell, but that didn't keep the company from posting an operating loss nearly a million dollars for the quarter, compared to a profit of $5.6-million for the same period in 2019.
Salem owns nearly 100 Christian and conservative talk radio stations, and it syndicates programs for such conservative celebrities as Dennis Prager and Eric Metaxas.  Broadcasting remains the largest portion of its revenue, though it also continued to decline.  Net broadcast revenue decreased 19.6 percent to $39.5 million for the second quarter, compared to $49.1 million for the second quarter last year.
Digital media, which had been an area of growth for Salem in the past, also showed a decline.  Digital media revenue decreased 5.2 percent to $9.4 million from $10.0 million.  Publishing revenue also fell, 29.8 percent to $4.0 million from $5.6 million the year before.
As MinistryWatch previously reported, Moody's Investors Service downgraded Salem Media Group's "corporate family rating" and senior secured notes rating to Caa1 from B3. The future-looking outlook was also lowered from stable to negative.  According to Moody's, any company with a "C" rating is a "poor quality and very high credit risk."
Salem Media Group owns one of the largest chains of Christian radio stations in the country.  Its 2019 revenue was more than $250-million, though it will likely fall short of that number this year.  It owns about a hundred radio stations.  Salem also owns the conservative book imprint Regnery Publishing and the popular website Townhall.com.
According to Moody's, "The downgrade reflects weaker than expected performance that Moody's projects will persist in the next few quarters."  Revenue has fallen at Salem in recent quarters due to "the shift of ad dollars to digital mobile and social media, competitive conditions for local radio ad dollars, and declines in local block programming revenue."
Block programming is primarily revenue from Christian ministries who air programs on Salem.  Among Salem's largest purchasers of block programming time are David Jeremiah's Turning Point Ministries, Charles Stanley's In Touch Ministries, and Focus on the Family.  "National block programming is less reliant on advertising dollars due to its recurring nature," the Moody's report said, "although its local block programing has declined."
Moody's said, "While the company has a broad footprint, Salem's top two markets (Los Angeles and Dallas) accounted for approximately 22 percent of net broadcasting revenue in 2019.  The station portfolio is largely in the top 25 markets with the vast majority of signals on the less attractive AM band."
The rating service also noted that though the company has very little cash and "weak performance in recent years."
On Aug. 28, 2020, Salem Media Group (SALM) was trading for about $1.03 per share.  In 2004 it traded for more than $30 per share.  Aside from a few rallies along the way, the stock has been on a steady slide since then.