Weekly Review

NY Times Misrepresents Church's Role in COVID, Museum of the Bible Re-Opens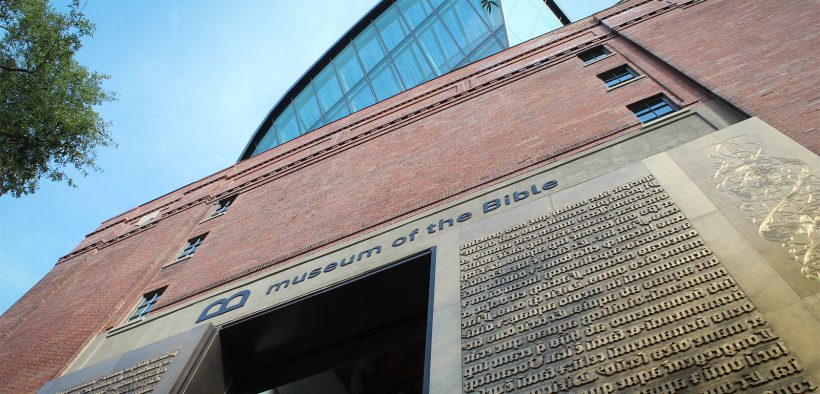 Are Churches "Super-Spreaders"?  A New York Times story said, "Churches Were Eager to Reopen. Now They are a Major Source of Coronavirus Cases."  But is that true?  According to John Stonestreet at The Colson Center, the answer is "no."  He said, "The very data included in the article fell far short of backing up that claim: roughly 650 Coronavirus cases have been traced to 40 or so churches across the U.S.
That's point-zero-two percent of all confirmed cases in the U.S., traced to point-zero-one percent of the estimated 350-thousand churches in America."  The Times must have gotten the message.  A few days after the story ran, it quietly changed the headline. Still, Stonestreet said, "this kind of click-baiting mis-representation of the facts, especially in what seems like an obvious attempt to malign the Church, will not engender trust in the nation's 'paper of record.'"
Museum of the Bible Welcomes Thousands. Since its reopening on Jun. 22, Museum of the Bible has welcomed thousands of visitors through its Gutenberg Gates.  "No lines, no wait, it was quick and easy and painless and we got in in a couple of minutes," said a visitor interviewed for the Museum's "Welcome Back: Safe & Fun" video. Another visitor remarked, "the safety measures in place helped me feel secure and safe."  Donna Jonas, Chief Operating Officer at Museum of the Bible, said the MOTB has 430,000 square feet of space and six floors of exhibits — the equivalent of 7 football fields — so it has no trouble adhering to all District of Columbia Covid-19 social distancing guidelines, which are among the strictest in the nation. Museum of the Bible is regularly cleaned and sanitized and protective measures are in place to ensure the health and safety of all.
On Today's Podcast.  Each week, Natasha Smith (no relation!) and I bring you news about Christian ministries, as well as the latest in charity and philanthropy, all designed to help us become better stewards of the resources God has entrusted to us.  On today's program, one of the nation's largest software providers for non-profit fundraising, Blackbaud, was hacked, and the data of millions of people were potentially put at risk.  Also on today's program, theologian J.I. Packer died last week.  We have an appreciation for his work not just as theologian, but as a ministry builder.  We also have the latest in our Generous Living series.  This week, a businessman who employs prisoners, and gives his profits away.  We begin today with new data about the impact of the Covid Crisis on non profits, and that data is not encouraging.  You can hear the podcast on iTunes, Spotify, Stitcher, and other podcast apps, or you can simply click here.
ECFA Changes.  The following organizations have had membership status changes in the Evangelical Council for Financial Accountability.  ADDITIONS: Youth With A Mission—San Diego/Baja (Chula Vista, Calif.), Align Life Ministries (Lebanan, Penn.), Church CO+OP (Houston, Tex.)  REMOVALS: Apartment Life (Euless, Tex.), Go Be Love International (Nashville, Tenn.), Marmon Valley Ministries (Zanesfield, Ohio), Ozark Conference Center and Camp Solgohachia 9Solgohachia, Ark.)
MinistryWatch Rating Changes.  The following ministries have their profiles updated with the most recent year's financial data.  The Financial Efficiency rating of each ministry is in parenthesis. If this rating represents a change from the previous year, that change is noted: International Friendships, Inc. (2 Stars, Transparency Grade: A), Joshua Fund (4 Stars, Transparency Grade: A), Lamb & Lion Ministries (5 Stars, Transparency Grade: A), Leading The Way with Dr. Michael Youssef (3 Stars, Transparency Grade: A), Mercy Ships (1 Star, Transparency Grade: A), The Navigators (Down from 3 to 2 Stars, Transparency Grade: C), Nazarene Compassionate Ministries, Inc.  (5 Stars, Transparency Grade: A), One Child Matters, formerly Mission of Mercy (3 Stars, Transparency Grade: A), One Collective, formerly International Teams (4 Stars, Transparency Grade: A), Open Doors with Brother Andrew, Inc.  (Up from 2 to 3 Stars, Transparency Grade: A), Operation Blessing International / OBI / Pat Roberts (5 Stars, Transparency Grade: A), Persecution Project Foundation (5 Stars, Transparency Grade: A), Pioneers, Inc.  (Up from 3 to 4 Stars, Transparency Grade: A), Precept Ministries International / Jack and Kay Arthur (2 Stars, Transparency Grade: A), Quiet Hour (1 Star, Transparency Grade: C), RReach Ramesh Richard Evangelism (3 Stars, Transparency Grade: A), Samaritan's Purse / Operation Christmas Child / Franklin Graham (3 Stars, Transparency Grade: A), SAT 7 / SAT-7 North America (3 Stars, Transparency Grade: A), SIM USA, Inc. (3 Stars, Transparency Grade: C), Unbound pka Christian Fdtn for Children and Aging (4 Stars, Transparency Grade: C), Voice of the Martyrs / VOM, The (3 Stars, Transparency Grade: C), Water Mission (3 Stars, Transparency Grade: A)