Weekly Review

Billy Graham Chaplains In NYC, Links for COVID-19 Government Help, Foundations Asked To Speed Decision-Making Process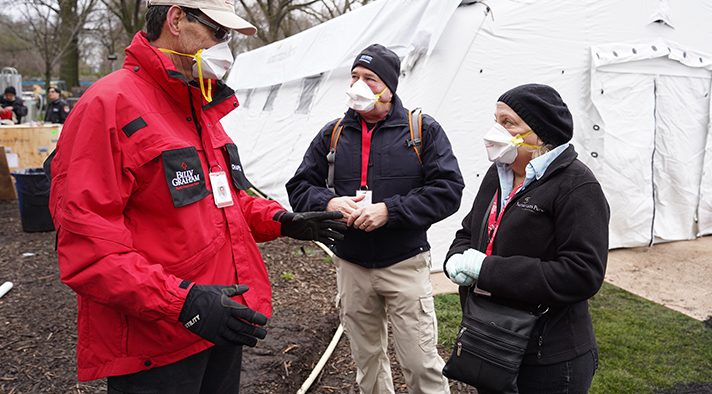 Graham Chaplains Deploys To NYC.  The Billy Graham Rapid Response Team (RRT) has sent crisis-trained chaplains to New York City, to serve in conjunction with the Samaritan's Purse Emergency Field Hospital that has been set up to treat COVID-19 (coronavirus) patients.  Franklin Graham, president of the Billy Graham Evangelistic Association (BGEA) and Samaritan's Purse, and his son Will Graham, who is vice president of BGEA, were both on hand at BGEA's Charlotte headquarters to pray with the chaplains before they departed for New York City. "People are dying from the coronavirus, hospitals are out of beds, and the medical staff are overwhelmed," said Franklin Graham. "I'm thankful for all the companies and individuals across this country that are pulling together and doing their part in this battle." 
Foundations Funding COVID Projects.  The Non-Profit Times is reporting, "Leaders at nine of the nation's most influential nonprofit funding and infrastructure organizations are pushing funders to loosen their guidelines on grants during the COVID-19 pandemic crisis."  According to NPT, "The nine organizations issued a joint statement calling on foundations to significantly increase grant spending during this crisis. The statement was issued jointly by the leaders of BoardSource, the Center for Effective Philanthropy (CEP), the Council on Foundations (COF), Grantmakers for Effective Organizations (GEO), Hispanics in Philanthropy (HIP), Independent Sector (IS), the National Center for Family Philanthropy (NCFP), the National Committee for Responsive Philanthropy (NCRP), and United Philanthropy Forum (UPF)."  The statement comes after a push by the COF to get foundations onboard to increase funding which has resulted in leaders at more than 400 foundations agreeing to do so.
COVID-19 Relief Information.  The federal government has set up the following web-pages to help small businesses, churches, and Christian ministries learn about and apply for temporary aid.  For information about the Paycheck Protection Program (PPP), click here.  For information about the Economic Injury Disaster Loan (EIDL) Emergency Advance, click here.   For information about Small Business Administration Bridge Loans, click here.  And for those folks following the Interim Final Rule (IFR) for the PPP above (with respect to religious liberty issues, etc.), click here.
Lifeline or Millstone?  If you're still not convinced that your church or ministry should take government funds, you're not alone.  WORLD Magazine has a helpful article to help you sort out the issues.  You can read it here. 
ECFA Changes.  The following organizations have had membership status changes in the Evangelical Council for Financial Accountability.  REMOVALS:  Grace Community Church of the Valley (Sun Valley, Calif.)  Northwest Baptist Foundation (Vancouver, Wash.)  Patrick Henry College (Purcellville, Va.), Mid-America Reformed Seminary (Dyer, Ind.), Carolina College of Biblical Studies (Fayetteville, N.C.)  Village Church of Barrington (Barrington, Ill.)
MinistryWatch Rating Changes.  The following ministries have their profiles updated with the most recent year's financial data.  The Financial Efficiency rating of each ministry is in parenthesis.  If this rating represents a change from the previous year, that change is noted:  Haven of Rest Ministries (2 Stars, Transparency Grade:  C), Hermano Pablo Ministries (3 Stars, Transparency Grade:  D), Galcom International USA (5 Stars, Transparency Grade:  D), Faith Broadcasting (3 Stars, Transparency Grade:  A), World Witness (Down from 4 Stars to 3, Transparency Grade:  C), Freedom in Christ Ministries (4 Stars, Transparency Grade:  A), India Gospel Outreach (2 Stars, Transparency Grade:  A)