Weekly Review

ECFA Membership Changes, MinistryWatch Database Changes, On This Date At MinistryWatch.com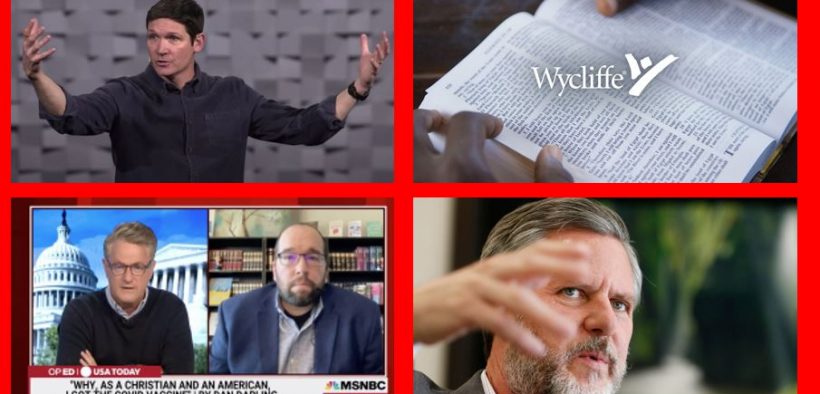 MinistryWatch 1000 Database Changes.  MinistryWatch now has more than 1,000 ministries in its database. These ministries represent more than $35-billion in total revenue, most of that donor revenue from evangelicals. The following ministries have their profiles updated with the most recent year's financial data. The Financial Efficiency rating of each ministry is in parenthesis. If this rating represents a change from the previous year, that change is noted: American Center for Law and Justice (N/A Stars, Transparency Grade: C, DCS: Up 30 to 40), Bible League International (1 Star, Transparency Grade: A, DCS: Up 65 to 80), Christ in Youth (4 Stars, Transparency Grade: A, DCS: Up 65 to 70), Cornerstone Television Network, Inc.  (1 Star, Transparency Grade: A, DCS: Up 65 to 80), CSI Ministries Inc. (2 Stars, Transparency Grade: C, DCS: Up 70 to 75), East-West Ministries International (3 Stars, Transparency Grade: C, DCS: Up 75 to 90), French Camp Academy (3 Stars, Transparency Grade: A, DCS: Up 85 to 90), Giving Children Hope (5 Stars, Transparency Grade: C, DCS: Up 65 to 70), Lifesong for Orphans (3 Stars, Transparency Grade: A, DCS: Up 95 to 100), Miami Rescue Mission (2 Stars, Transparency Grade: A, DCS: Down 85 to 80), Opportunity International (1 Star, Transparency Grade: C, DCS: Up 65 to 70), Pioneer Bible Translators (2 Stars, Transparency Grade: A, DCS: Up 80 to 85), SEND International (N/A Stars, Transparency Grade: C, DCS: Up 50 to 55), Student Mobilization, Inc.  (4 Stars, Transparency Grade: A, DCS: Down 90 to 80), Timothy Christian Schools (4 Stars, Transparency Grade: A, DCS: Up 70 to 85), White's Residential and Family Services / Josiah Whites (2 Stars, Transparency Grade: A, DCS: Up 85 to 90), World Renew (1 Star, Transparency Grade: A, DCS: Up 80 to 85)
On the Podcast:  Wycliffe Bible Translators, World Vision, Matt Chandler and The Village Church.  On today's program, more promises, but few details, from the Bible translation industry.  We'll have the latest from Wycliffe Bible Translators.  And a former World Vision staffer gets 12 years in prison after an Israeli court found he aided a terrorist group.  But his supporters – including World Vision itself – say he's innocent.  We begin today with the story of Matt Chandler, who is taking a leave of absence from his role as pastor of The Village Church.
You can hear the podcast on iTunes, Spotify, Stitcher, and other podcast apps, or you can simply click here.
ECFA Changes.  The following organizations have had membership status changes in the Evangelical Council for Financial Accountability.  ADDITIONS:  None.  REMOVALS:  Southern New Hampshire Rescue Mission (Nashua, N.H.)
On This Date At MinistryWatch.com.  ONE YEAR AGO:  The spokesman for the National Religious Broadcasters was fired for promoting vaccines on the MSNBC "Morning Joe" cable news show, Religion News Service has learned.
Daniel Darling, senior vice president of communications for the NRB, was fired Friday (Aug. 27) after refusing to admit his pro-vaccine statements were mistaken, according to a source authorized to speak for Darling.  Read more here.  TWO YEARS AGO:  Liberty University is opening an independent investigation into Jerry Falwell Jr.'s tenure as president, a wide-ranging inquiry that will include financial, real estate, and legal matters, MinistryWatch reported Sept. 1, 2020.  In a statement, the board said it had retained an outside firm to investigate "all facets" of the school's operations under Falwell, and that it was "committed to learning the consequences that have flowed from a lack of spiritual stewardship by our former president."  Read more here.
Send Us Your News Tips.  Do you have a story idea for MinistryWatch?  If so, send us an email.  A lot of the stories we do originate from our readers and listeners.  They send us news tips, press releases, emails, questions, and links.  So, if you have a story you'd like us to cover, or a ministry that you think needs a closer look, please email us.  Our email is [email protected].  That will come directly to my desk, and we'll take it from there.  
Access to MinistryWatch content is free.  However, we hope you will support our work with your prayers and financial gifts.  To make a donation, click here.
Salary Data Now In MinistryWatch Database.  We now have salary information for nearly 6,000 executives from more than half of the ministries in the MinistryWatch 1000 database.  So check out this new addition by clicking on the red button at the top of this page, or click here.  That takes you to our database.  The search engine is right there, and you can type in the name of a ministry you're interested in and our profile will pop right up – now, with compensation information for the top executives.
75 Red Flags.  MinistryWatch has released a new free booklet, "75 Red Flags To Consider Before Donating For A Christian Ministry."  To read more, and to download your free, printable copy of the 18-page booklet, click here.
MinistryWatch Video.  A reminder that we have created a short (3.5 minutes) video that explains what we do here at MinistryWatch, and why.  If you're new to MinistryWatch, I hope you'll check it out.  To find it, click here.