Universal Life Church Ministries Sues Pa. County for Blocking Internet Minister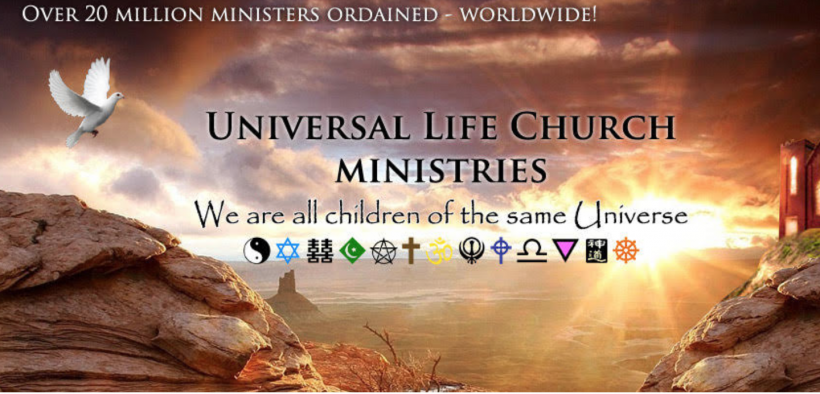 A county north of Philadelphia is the latest government entity to be sued by Universal Life Church Ministries for its unwillingness to recognize as a legal wedding officiant a minister ordained through ULCM's online process.
The non-profit, non-denominational organization says in the federal lawsuit that the Bucks County Register of Wills told Stephen H. Moser that he could not preside at legal wedding ceremonies specifically because he was ordained through the internet.
The complaint alleges that denying Moser the right to perform marriages violates the establishment, free exercise, and equal protection clauses of the U.S. Constitution. The suit asks the court to confirm that ULCM ministers may solemnize legal weddings under Pennsylvania law going forward.
Universal Life Church Ministries, based in Seattle, says it has ordained more than 20 million ministers via the internet. It lists as its founding principle, "we are all children of the same universe" and asks its ministers to embrace two beliefs:
Do only that which is right
Every individual is free to practice their religion in the manner of their choosing, as mandated by the First Amendment, so long as that expression does not impinge upon the rights or freedoms of others and is in accordance with the government's laws.
Access to MinistryWatch content is free.  However, we hope you will support our work with your prayers and financial gifts.  To make a donation, click here.
The Pennsylvania case is not the first time the ULCM has sought legal acknowledgement of the validity of its ministers' credentials.
In June of 2019, ULCM and some of its ministers sued several Tennessee officials who began to enforce a state law that explicitly barred ministers who were ordained online from solemnizing marriages within the state. The ULCM was able to secure a restraining order blocking the new law from taking effect, and in December the court said the case could continue.
A similar lawsuit was filed in August 2019 against Cleveland County, North Carolina, Register of Deeds Betsy Harnage, saying she unconstitutionally used her position to block an ordained ULCM minister from exercising the religious right to officiate a legal wedding ceremony. However, that case was dropped after officials disclosed that the couple involved had failed to follow the proper procedure for obtaining a marriage license.
"This case had everything to do with procedure and nothing to do with religious discrimination," Cleveland County Senior Staff Attorney Elliot Engstrom said in a news release.
Harnage later said, "I hope that ULC and others will do their due diligence and gather all of the facts before making harmful allegations."