Texas Pastor and Son Plead Guilty to Theft from Elderly Members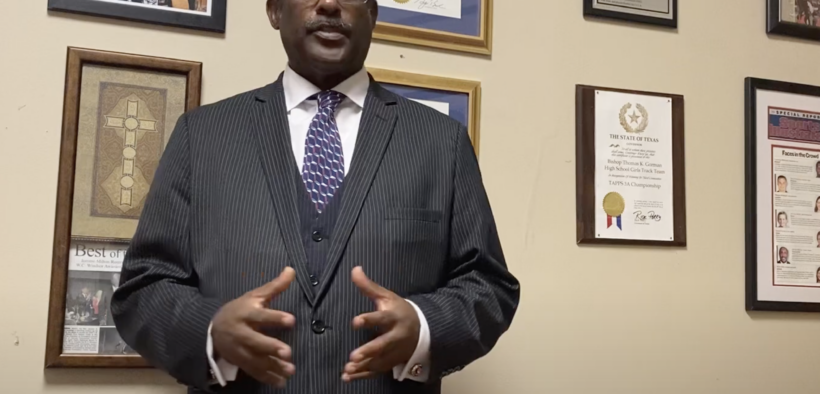 A pastor in Tyler, Texas, and his son have recently pleaded guilty to charges of stealing from an elderly couple in his congregation, Open Door Bible Church.
According to the plea agreements as reported in the Tyler Morning Telegraph, 67-year-old Jerome Rocky Milton will serve six months in jail and 10 years on probation. His son, Jerome Anthony Milton, age 27, was sentenced to two years deferred adjudication.
The elder Milton was arrested in October 2021 for theft between $2,500 and $30,000 and two counts of credit or debit card abuse against the elderly. He reached an agreement with prosecutors in August.
Milton was acting as power of attorney for the elderly couple, but used their credit and ATM cards to pay for personal expenses, including making car loan and repair payments. Bank records showed that Milton withdrew almost $4,000 in cash from the couple's bank account. 
A church member grew suspicious of Milton's activity with the elderly couple and notified their son, who reported the matter to local police. 
Multiple checks were written from the couple's account to Milton and his personal and church accounts according to a police affidavit cited by KLTV news.
"I'm always being called a thief, always taking the money. I took care of Mr. and Mrs. Brown. It's not something I asked for, not something I sought. They brought an attorney in to give me durable power of attorney," Milton said to CBS19 in his defense. "I was in charge of all of their medical care, I was in charge of all of their finances and I paid bills."
However, their son said Milton left just 28 cents in the Browns' bank account.
Milton's son was also involved in the crime, using the couple's credit cards to make withdrawals. The younger Milton reached a plea deal last week and will be the subject of a restitution hearing in February to repay the stolen funds.
The elder Milton was later also charged with money laundering and theft of property from a church and a non-profit ministry—Pleasant Hill Missionary Baptist Church and East Texas Communities Foundation, respectively. 
Access to MinistryWatch content is free.  However, we hope you will support our work with your prayers and financial gifts.  To make a donation, click here.
The charges for money laundering involve events from 2017 in which Milton was accused of taking between $30,000 and $150,000 from the church and the foundation.
He is also accused of transferring the proceeds from theft between bank accounts. 
In 2018 his previous church, Greater New Pleasant Hill Baptist Church in Tyler, asked Milton to leave because of "his handling of finances and other suspicious behavior on his part," court documents cited in several news reports allege.
According to reports by the local Tyler Morning Telegraph, the elder Milton's arrest came only a few months after celebrating 50 years in the ministry. 
In addition to serving as a pastor, Milton was the coach of track and field for the Bishop Gorman Catholic School for over 20 years. In 2018, the school named its stadium in his honor.
Financial exploitation and fraud committed against elderly people is a significant problem in the United States.
According to research, there are over 8.68 million cases of elder financial abuse in the U.S. each year with losses exceeding $113 billion. 
The Financial Crimes Enforcement Network (FinCEN) reported that, on average, elderly financial fraud involves a transfer of over $50,000. It also found that family members are most often the perpetrators of these crimes. 
The Department of Justice, AARP, and the American Banking Association offer resources to help detect and prevent elder financial fraud and exploitation.