South Carolina Megachurch Threatened With Eviction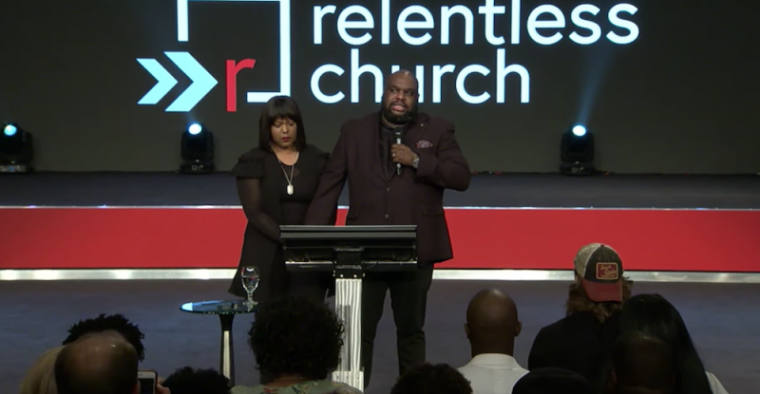 The Greenville, S.C., church run by the Rev. John Gray has been threatened with eviction by the church that owns the property where his Relentless Church congregation meets.  
Gray, a former associate pastor at Joel Osteen's Lakewood Church in Houston, started Relentless two years ago with his wife, Aventer, when Redemption Church founders Ron and Hope Carpenter moved their ministry to California, leaving Gray to take over the congregation.  
Redemption Church retained ownership of the 17-acre property and buildings, which the Carpenters and Redemption agreed to lease to Relentless Church during a transition period. 
In a letter from Greenville attorney John Devlin that Relentless received Nov. 27, Redemption said it was terminating the lease agreement and directed Relentless to vacate the premises by Dec. 31, Gray's spokesperson, Holly Baird, told The Greenville News in an emailed statement. 
John Gray has retained James Stephen Welch from the firm McGowan, Hood and Felder LLC to represent Relentless, according to the Christian Post.  
Welch said in a letter Thursday that after Ron Carpenter and Redemption didn't "follow through" on the original transition agreement, a new lease was negotiated giving Relentless the right to lease the property until the new church could buy it.  
Welsh's letter said the Grays and Relentless are current with their lease payments.  The letter from the Carpenters calling for the lease termination did not mention overdue payments.  
However, the letter from Welch claims that Facebook messages allegedly written by Hope Carpenter claimed Relentless was several months behind on its bills, that John Gray was "very dishonest" and "a shady man," and that Redemption would be "taking the church back."  
"We are also having a hard time understanding how any entity, much less a Christian ministry, can expect a church the size of Relentless to move in 30 days, especially when the rent is current. Could it be that the threat of eviction of a 30-day notice is really so the Carpenters can do exactly what Hope has outlined in her Facebook DM? I sincerely hope not," Welch said in a part of the letter quoted by Christian Post.  
In a sermon Sunday, Aventer Gray alluded to negative social media messages and threats against the church, and said, "I have a message for you, devil. You can't do anything with Relentless Church. Agree with me. You can't do anything with Relentless Church," The Greenville News reported. 
Before launching Relentless Church, John Gray was an associate pastor at Lakewood Church in Houston, Joel Osteen's church. Shortly after moving to Greenville, the Grays bought a $1.8 million home in Greenville suburb Simpsonville, and John Gray bought Aventer a $200,000 Lamborghini as an anniversary gift.  
In February, John Gray told his congregation that the Carpenters had left behind millions of dollars of debt and that the church needed $250,000 to repair the roof.  
Relentless Church has about 15,000 members, and its online sermons have been viewed by hundreds of thousands of visitors.