Richmond Pastor Who Defied Social Distancing Orders Dies of COVID-19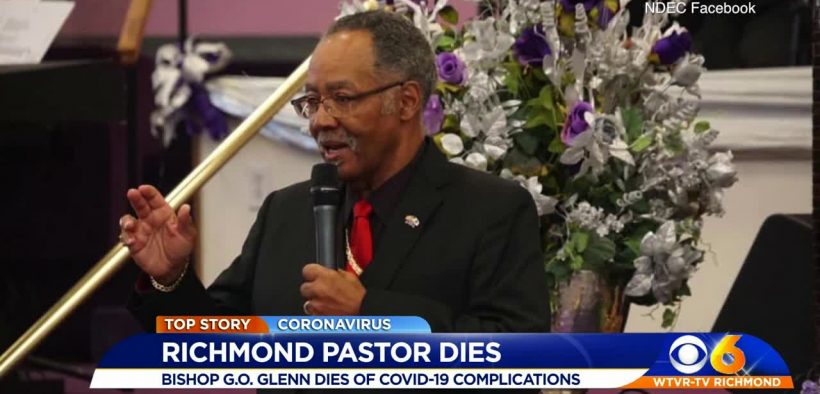 A Richmond evangelical preacher who told his congregation "God is larger than this dreaded virus" after defying state social distancing recommendations has died of COVID-19. 
Bishop Gerald O. Glenn, 66, died April 11. The church announced the pastor's death in a video on its Facebook page that was posted on Easter Sunday.  
Bryan Nevers, a church elder, said in the video that funeral arrangements will be announced in the next few days and that they will adhere to Virginia's quarantine guidelines.  
Glenn continued to hold services at Richmond's New Deliverance Evangelistic Church even after the spreading coronavirus threat led government officials to warn against gatherings of 10 or more people, preaching to 185 congregants March 18, per The Washington Post, and saying at a March 22 service he would continue "unless I'm in jail or the hospital," the New York Post reported.  
"I firmly believe that God is larger than this dreaded virus. You can quote me on that," he said at the later service, repeating the statement for emphasis.  
Virginia Gov. Ralph S. Northam had closed non-essential businesses and banned gatherings of more than 10 people on March 17 in response to the spreading pandemic. Northam expanded the mandate to a stay-at-home order March 30.  
Glenn's wife, Mother Marcietia Glenn, 65, also has tested positive for the virus, according to their daughter, Mar-Gerie Crawley, who urged people to "understand the severity and the seriousness of this, because people are saying it's not just about us, it's about everyone around us." 
Crawley told the Richmond Times-Dispatch her father was sick for about a week before he was hospitalized but that it was not uncommon for him to have fevers and viruses because he had diverticulitis.  
Glenn founded New Deliverance Evangelistic Church in 1995. In addition to being the church's head pastor, he was the first black police chaplain of the Chesterfield Police Department after a career as a police officer in Portsmouth, per the Times-Dispatch.  
He also served as a liaison in Chesterfield County's conflict over Confederate memorials and helped run now-Sen. Mark Warner's Crime in Minority Communities Initiative Task Force when Warner was Virginia's governor.
In a memorial statement, Warner said Glenn had been a "great friend for more than 20 years" and an "extraordinary" spiritual and community leader. 
Virginia Sen. Tim Kaine in an April 11 Twitter post called Glenn a friend and a pillar of the Richmond faith community.  
"May all do as much for so many," Kaine said.