Safe Families for Children: An Alternative to Foster Care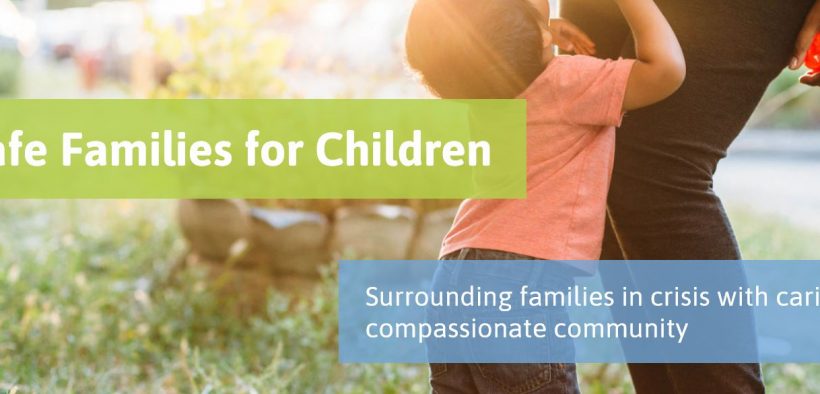 The Tisdales are familiar with the routine of caring for children dealing with trauma.  
With two years of foster care experience, the couple knows the drill well when new children enter their home. "Spend the first afternoon playing, comforting, and really just doing anything at all to distract," Julie Tisdale says. "And then brace yourself for bedtime … the first night is always the hardest." 
But her most recent opportunity to help a group of three toddlers was different, she wrote in a Dec. 12 article, "An Alternative To Foster Care", on the North Carolina Family Policy Council's website. These kids aren't in foster care and their mom hasn't lost custody. The Tisdales are hosting them through Safe Families for Children, a faith-based nonprofit working with volunteers, churches and partner groups focused on helping families in crisis.  
Founded in 2003, Safe Families has 100 chapters around the country.  According to founder Dr. Dave Anderson, Safe Families for Children is an answer to a simple question: "Could the Church be the answer to helping families in crisis stabilize and thrive?" 
"Partnering with the local church, we are a volunteer driven and professionally supported movement committed to serving families in crisis," the Safe Families website said. "Our goal is to train and unleash churches to live out biblical hospitality so that families in crisis are supported with caring, compassionate community." 
The organization seeks to accomplish three objectives: Protect children, provide help for the family in crisis, and reunite families at the appropriate time.  Since 2003, Safe Families for Children has facilitated more than 35,000 "hostings."  That's their word for a family taking in one or more children.  The average length of a stay is 45 days, and more than 90 percent of the children go back to their parents when they are in a better position to care for their children.  A majority of the children in Safe Families for Children program are under the age of five.  To date, more than 4,600 churches have been partners in the program. 
The Tisdale's say it is a great, Christian-based alternative to foster care.  
"There's someone acting as a coach for Mom, and someone else who helps with things like shopping for work clothes and getting to appointments," she said. 
The Tisdales also have received much needed help with meals during the week, babysitting, and a variety of other needs.
"When we needed more clothes for the kids, and as we've run out of diapers, people brought them to our home," Tisdale said. "So many people have come around this family to support them as they pursue stability." 
Foster parents receive a stipend from the state, but volunteers with Safe Family do not.  But Tisdale says Safe Family allows more freedom to make routine decisions without the burden of a bureaucracy.  The focus remains the same in making sure the children's parents can provide a safe home.  It's "a warmer sort of help, community rather than systems," Tisdale said. 
"Many realize that losing their kids is a real possibility if they don't get help," she writes. "I admire these parents who ask for help and entrust their children to others so they can get back on their feet and parent again.  
"The sort of community that Safe Families offers to these parents is a beautiful model for other organizations who are seeking to help and love the vulnerable within our communities," she writes. 
She noted that "foster care has its place, but Safe Families offers a hopeful alternative for families who are in crisis but are not to the point of losing their children."   
The children talk to their mother nearly every day, Tisdale said, and visits are scheduled anytime the parent sets them up. 
"And while we've been taking care of her kids, Mom's been working on getting a job, figuring out more stable housing, and getting her kids into daycare so she can maintain her job once they return home to her," Tisdale writes. "In all of that, this organization is supporting her." 
And the kids seem to have responded better than those in the foster care system, Tisdale said.  
As foster parents, the couple "became very familiar with traumatized children and the ways trauma affects their behavior." But Safe Families kids, she said, seem different. 
"There are no crazy tantrums or violent outbursts. They're happy, normal toddlers," Tisdale writes. "This is the difference I'm seeing between kids who are gently handed off by their mom, and kids who are taken away by social workers from a traumatic situation." 
Yes. The first night of a new routine will probably always remain a challenge, but Tisdale said the anxiety didn't seem to last long. The children will go back to their mother and because these kids weren't removed, the mother sees the host family more as "allies."  
"She knows we've come to love her kids," Tisdale writes. "Like her children, she's come to trust us.  
"After they go home," she writes, "I hope we'll be able to maintain a relationship with the children and continue to act as friends and supports for this family. This hosting may end, but relationships continue."