Ravi Zacharias Dead at 74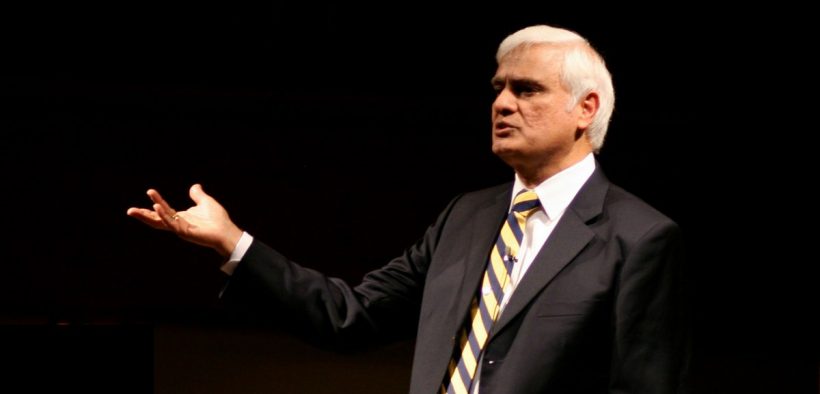 Famed apologist Ravi Zacharias has died, following a short battle with an aggressive cancer.  He was 74 years old.
His daughter Sarah Davis made the announcement on the website of Ravi Zacharias International Ministries, the global apologetics ministry he founded.
She wrote, "It was his Savior, Jesus Christ, that my dad always wanted most to talk about. Even in his final days, until he lacked the energy and breath to speak, he turned every conversation to Jesus and what the Lord had done. He perpetually marveled that God took a seventeen-year-old skeptic, defeated in hopelessness and unbelief, and called him into a life of glorious hope and belief in the truth of Scripture—a message he would carry across the globe for 48 years."
Zacharias had battled several health issues in recent months, including emergency back surgery. These follow 48 years in ministry, during which Zacharias has traveled to more than 70 countries as an international speaker and has written or edited more than 25 books on topics such as apologetics and theology. He founded RZIM in 1984 and launched Zacharias Institute—an apologetics training center—in 2017 in Atlanta, where he lived with his wife Margie.  RZIM now has about 200 employees in 16 offices around the world, with 10 traveling speakers.
Zacharias began in ministry with the Christian and Missionary Alliance (CMA). His best selling book was Can Man Live Without God?, which sold about 500,000 copies in 1995. His most recent book, The Logic of God: 52 Christian Essentials for the Heart and Mind, won the Evangelical Christian Publishers Association's 2020 Christian book award in the Bible study category.
His career was not without controversy.  Zacharias faced claims that he overstated his academic background and implied he had earned a doctorate degree. Over the years, RZIM and Zacharias's publishers revised his biographies to clarify that he has received honorary doctorates and removed references to "Dr. Zacharias."
According to Christianity Today, "Zacharias was also involved in a legal dispute over 'sexually explicit' communication with a woman he met through his speaking ministry. Her lawyer said Zacharias had groomed and exploited her. Zacharias sued, and the lawsuit was settled out of court with a non-disclosure agreement.  MinistryWatch investigated the episode and you can read our analysis here.
When RZIM announced a week ago that Zacharias was sick with cancer, many friends and followers posted messages on Twitter with the hashtag #ThankyouRavi to express gratitude for his ministry.
"Through the years, @RaviZacharias has been a role model on how to powerfully & persuasively defend the gospel while being gentle & winsome," apologist Lee Strobel tweeted. "I've always appreciated his personal warmth when we've partnered. Ravi, I love who you are & what you've done!"
He is survived by his wife Margie, and their three children. 
The Zacharias family asked that in lieu of flowers gifts be made to the ongoing work of RZIM.  "Ravi's heart was people," Sarah Davis said.  "His passion and life's work centered on helping people understand the beauty of the gospel message of salvation. Our prayer is that, at his passing, more people will come to know the saving grace found in Jesus through Ravi's legacy and the global team at Ravi Zacharias International Ministries."